Hismation
Chronic Idiopathic Constipation (CIC) is characterized by chronic presence of constipation symptoms due to unknown causes and not due to any underlying illness or an effect of medication. 16% to 17% adults in Europe and US suffer with constipation. Chronic constipation is more common among women and older adults over the age of 65. Among these, 80% of the institutionalized geriatrics are reported to suffer from chronic constipation.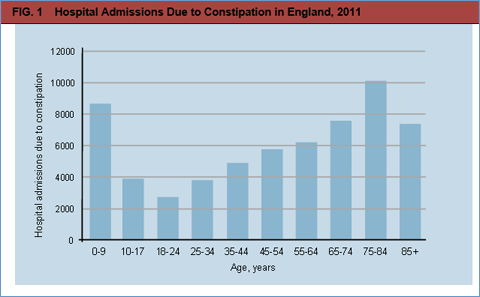 The global chronic idiopathic constipation drugs market is expected to undergo significant growth in the next few years due to the phenomenal growth in disease prevalence and geriatric population pool, which has led to growing adoption of CIC drugs. FDA approvals and ongoing successful clinical trials are driving this market towards growth. Moreover, growing geriatric population and rise in healthcare spending across both developed and developing regions are creating potential scope for global CIC drugs market.
North America has the highest contribution in the CIC drugs market by over the counter (OTC) drugs. There is a huge demand for prescribed constipation drugs in developed markets of US, US, Germany, France, Spain and others. Bisacodyl, Senna and polyethylene glycol are some of the major OTC drugs widely adopted across the world.
Future regulatory approvals for Elobixibat and Plecanatide are expected to create further growth opportunities in the market. For instance, Lecanatide has successfully accomplished phase 3 trials for CIC treatment and is being under further evaluation for IBS-C. It is observed that CIC market is open for further novel pharmacological solutions, thus exhibits additional growth potential for market entrants.
CIC drugs assist in alleviating abdominal pain, straining and facilitates bowel movements in patients. Lubiprostone efficiently provides relief from these conditions and is also used for treating IBS-C. On the other hand, sertain patient specific side effects such as nausea, occasional stomach pain, tightness of throat and others may hold back the demand for newer drugs. Thus the market players are increasingly focusing on introduction of further safer pharmacological alternatives.
Growth in awareness about the disease and increase in disease prevalence, particularly the geriatric patient pool has urged the need for prompt and safest possible CIC drugs. The CIC drugs market is estimated to reach USD 2.5 Bn by 2022, progressing at a CAGR of 6.4% during 2016-2022. Growth in demand for CIC drugs in developing markets of Asia Pacific and rest of the world serve as a significant opportunity for the market players intending to enhance their international footprint. The huge gap of unmet needs in the lesser developed economies coupled with growing healthcare awareness will serve as growth facilitators in these regions.