Collagen meniscus implant market to exhibit dynamic growth during the forecast period
The global collagen meniscus implant (CMI) market is witnessing a steady growth, expected to grow at a CAGR of 5.3%. Globally, the increasing commonness of arthritis, sports injury, and numerous bone disorders will drive the overall market growth. Collagen meniscus implants are completely absorbable implant and biological, made from purified collagen. It is specifically designed to faciliate the growth of new tissue. For e.g. Stryker Collagen Meniscus Implant (CMI®). Collagen meniscus implants deliver enhanced mobility and functioning to different age groups including pediatrics, and adults. Globally, increasing hospital admissions due to knee fractures, road accidents, sports injury, and bone infection along with meniscus replacement procedures are major factors driving the overall growth of the collagen meniscus implants market.
Market Synopsis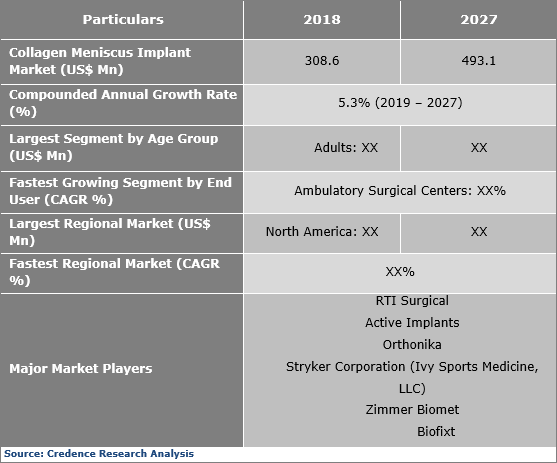 Sports related injuries in adults expected to register higher growth by the end of 2027
According to the American Journal of Sports Medicine, around 1 million orthopedic intervention procedures comprising meniscus are executed annually in the United States and more than 400,000 procedures in Europe region. Collagen meniscus implant is a viable and safe treatment procedure for both chronic and acute meniscus injuries. Meniscus related injuries have also been associated with degenerative joint changes, long-term dysfunction, and osteoarthritis of the knee. Collagen meniscus implants are biocompatible scaffolds and biological, consisting of type 1 collagen (absorbable) proposed to be used for restoration of the meniscus tissue defects and injuries in adults and as well as pediatrics.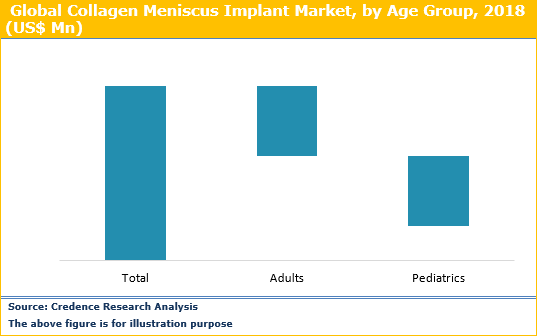 Ambulatory surgical centers segment to witness a significant CAGR
According to STANFORD CHILDREN'S HEALTH, in the U.S., more than 770,000 children (ages 14 and younger), are treated in hospitals and medical emergency rooms for sports-related injuries every year. In the U.S., surgical procedures of the meniscus are performed on an estimated 850,000 patients every year. Increasing sports related injuries related to exercise/exercise equipment, soccer, basketball, athletics, football and others will drive the demand for collagen meniscus implant market. Additionally, enhanced medical infrastructure along with the advancement in implant procedures with improved outcomes in patients safely will further spur revenue growth in the hospitals, ASCs and orthopedic clinics segment.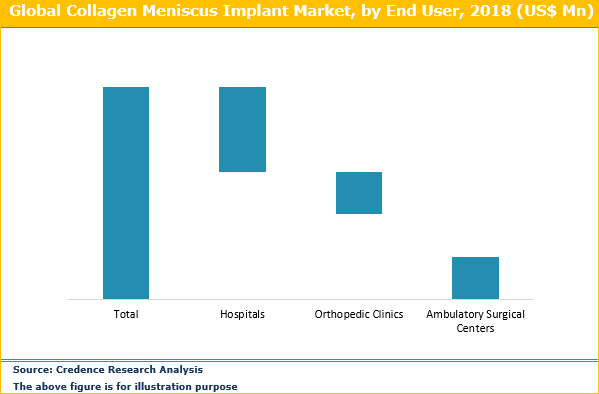 Increased research and development with strong product pipelines in the developed regions
Major players in the collagen meniscus implant market are RTI Surgical, Active Implants, Orthonika, Stryker Corporation, Zimmer Biomet, Biofixt and others. Novel product launches with higher patient safety and compatibility (for all age groups), acquisitions, novel technology expansion along with improved R&D on collagen meniscus implants will further drive the market growth. For e.g. In Sep 2016, Stryker Corporation acquired Ivy Sports Medicine, LLC, whose product range is comprised of an inclusive minimally invasive meniscal repair platform (Collagen Meniscus Implant (CMI®)).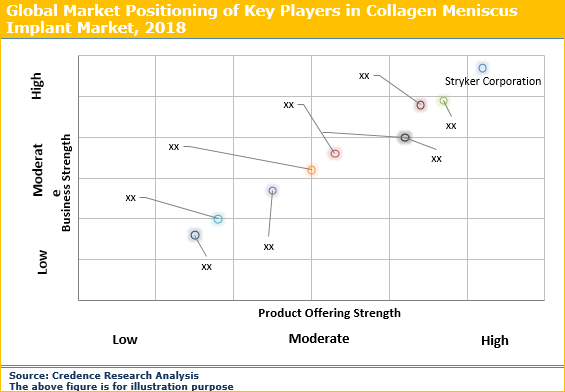 Historical & Forecast Period
This study report represents analysis for each segment from 2017 to 2027 considering 2018 to be the base year. Compounded Annual Growth Rate (CAGR) for each of the respective segments estimated for the forecast period from 2019 to 2027.
Report Scope by Segments
Market Segmentation
ATTRIBUTE
DETAILS
Research Period
2017-2027
Base Year
2018
Forecast Period
2019-2027
Historical Year
2017
Unit
USD Million
Segmentation

Age Group Segment (2017–2027; US$ Mn)
• Adults
• Pediatrics

End Use Segment (2017–2027; US$ Mn)
• Hospitals
• Orthopedic Clinics
• Ambulatory Surgical Centers

Geography Segment (2017–2027; US$ Mn)
• North America (U.S. and Rest of North America)
• Europe (U.K., Germany, France, and Rest of Europe)
• Asia Pacific (Japan, China, India, and Rest of Asia Pacific)
• Rest of World (Middle East & Africa (MEA), Latin America)
The present report also figure out qualitative and quantitative market evaluation factors such as key market trends, market drivers, restraints and opportunities that provides a better understanding of the global market. Moreover, the global report also encompasses graphical illustration of competition landscape based on their market value, business strength, product portfolio and strategies such as new product launch, technology expansion, acquisitions, licensing agreements and partnerships.
Key questions answered in this report
What are the current market trends and dynamics in the collagen meniscus implant market and valuable opportunities for emerging players?
Which segment accounts for the fastest CAGR during the forecast period and why?
Which end user segment holds a larger market share and why?
Are low and middle-income economies investing in the collagen meniscus implant market?
What is the market trend and dynamics in emerging markets such as Asia Pacific, Latin America and Middle East & Africa?