"Dermal fillers market to exhibit dynamic growth during the forecast period"
The global dermal fillers market is growing efficiently, expected to grow at a CAGR of 6.6%. Globally, growing minimally invasive cosmetic procedures has significantly increased the revenue of dermal fillers. Innovative application launches along with raised demand for medical aesthetics, and promising pipeline products in the aesthetics industry are factors driving the overall growth of dermal fillers market globally. Increasing commonness of imbalance diet, stress and insomnia among individuals will further spur revenue growth during the forecast period.
Market Synopsis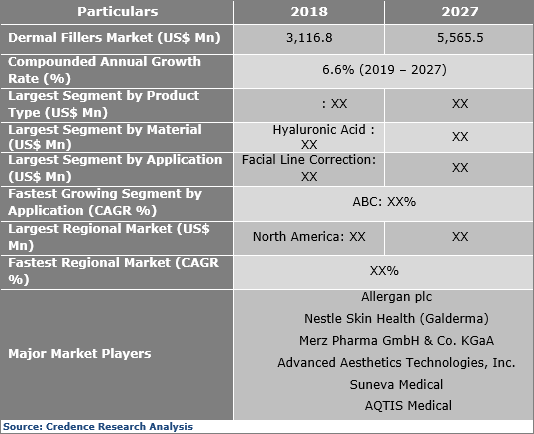 Get a sample copy for more information
"Biodegradable segment is expected to register higher growth by the end of 2027"
Dermal fillers can be both non-biodegradable and biodegradable (natural). Use for natural products is on the rise on a global scale, mainly utilized for wrinkles and sagging of the skin. These products are applied through tiny facial injections, also utilized in the form of non-invasive procedures to rejuvenate skin by removing wrinkles, augmenting lips, and scars via replacing the lost skin. The growing trend of consuming anti-aging treatments, and overall demand to look younger, majorly in the female population are major factors driving the market growth. Additionally, rising facial and skin-related surgeries performed in male population along with usage of branded products in the developing nations will enhance the overall growth of the market.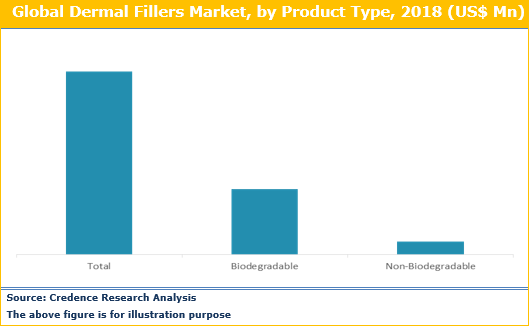 Get a sample copy for more information
"Hyaluronic Acid segment is expected to register higher growth by the end of 2027"
In 2018, hyaluronic acids generated maximum revenue share in the market and will expand at a healthy CAGR during the forecasted timeline. In 2017, as per the statistics by the International Society of Aesthetic Plastic Surgery, internationally more than 3.2 million hyaluronic acid dermal filler procedures were performed annually. Increasing skin care treatments and minimally invasive surgeries are important factors driving the global market. More than 90% of the facial injectable surgeries are performed on females, the utilization of hyaluronic acid on a major scale in the overall dermatology procedures will drive the demand on a global scale. Additionally, new technology advancement and availability of absorbable products, polymers & particles, collagen, and other materials will propel the growth of the market.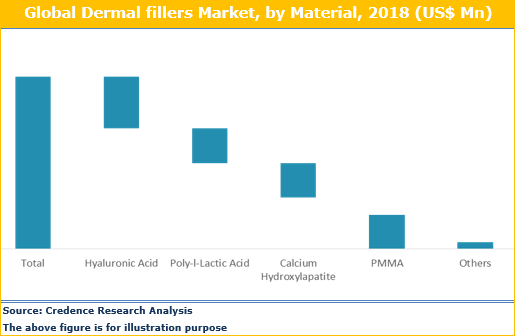 "Increasing population, expansion of dermatology clinics, Spas and the presence of top players holds the U.S. in dominant position"
In 2018, the U.S. generated maximum revenue share in the dermal fillers market due to an increase in expansion of branded dermal fillers with raising awareness about newer minimally invasive procedures at low cost. Increasing utilization of facial injections and branded synthetic products in dermatology clinics and Spas will drive the growth in the near future. The overall growth of the aesthetic fillers along with demand for the ever-expanding range of hyaluronic acid dermal fillers in the Asia Pacific and Western Europe will further spur revenue growth in the global market. The single-phase hyaluronic acid dermal fillers will boost the demand, major applications for acne treatment, wrinkle removal, rhinoplasty, lip augmentation, and others will further spur revenue growth on a global scale.
Get a sample copy for more information
"Increased research and development with strong product pipelines in the developed regions"
Major players in the dermal fillers market are Allergan plc, Nestle Skin Health (Galderma), Merz Pharma GmbH & Co. KGaA, Advanced Aesthetics Technologies, Inc. Suneva Medical, AQTIS Medical, Teoxane Laboratories, Bioha Laboratories, Dr. Korman Laboratories Ltd., Laboratoires Vivacy, SCULPT Luxury Dermal Fillers LTD, Prollenium Medical Technologies and others. Major manufacturers are developing natural products with enhanced applications for age groups. Partnerships, acquisitions, and enhanced R&D will boost the expansion of the dermal fillers market in the developing countries in the near future.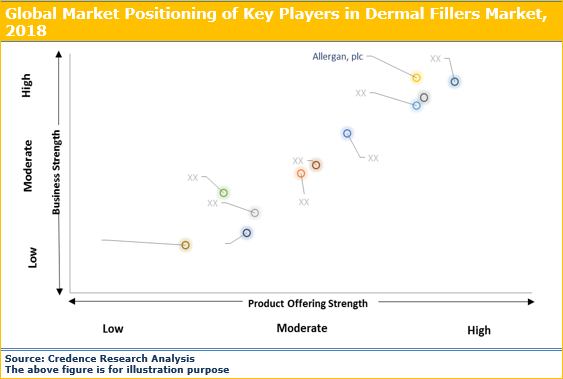 Historical & Forecast Period
This study report represents analysis for each segment from 2017 to 2027 considering 2018 to be the base year. Compounded Annual Growth Rate (CAGR) for each of the respective segments estimated for the forecast period from 2019 to 2027.
Report Scope by Segments
Market Segmentation
ATTRIBUTE
DETAILS
Research Period
2017-2027
Base Year
2018
Forecast Period
2019-2027
Historical Year
2017
Unit
USD Million
Segmentation

Product Type (2017–2027; US$ Mn)
• Biodegradable
• Non-Biodegradable

Material (2017–2027; US$ Mn)
• Hyaluronic Acid
• Poly-l-Lactic Acid
• Calcium Hydroxylapatite
• PMMA
• Others(Polyalkylimide)

Application (2017–2027; US$ Mn)
• Facial Line Correction
• Lip Enhancement
• Butt enhancement
• Knee Rejuvenation
• Others (Neck Wrinkle, Earlobe Rejuvenation, Breast Rejuvenation)

Geography (2017–2027; US$ Mn)
• North America (U.S., Canada)
• Europe (U.K., Germany, Rest of Europe)
• Asia Pacific (Japan, China, Rest of Asia Pacific)
• Latin America (Brazil, Mexico, Rest of Latin America)
• Middle East & Africa (GCC, Rest of Middle East & Africa)
The current report also comprehends qualitative and qualitative market valuation factors such as key market drivers, market trends, restraints and opportunities that gives a better market understanding of the overall dermal fillers market. Additionally, the global report also comprises graphical representation of competitive landscape based on their market initiatives and strategies, product portfolio and business strengths.
Key questions answered in this report
What are the current market trends and dynamics in the dermal fillers market and valuable opportunities for emerging players?
Which segment accounts for the fastest CAGR during the forecast period?
Which product type segment holds a larger market share and why?
Are low and middle-income economies investing in the dermal fillers market?
What is the market trend and dynamics in emerging markets such as Asia Pacific, Latin America and Middle East & Africa?