Industry Outlook
The global genomics market held US$ 13,122.9 Mn in 2017 and expected to grow at compound annual growth rate (CAGR) of 10.4% during the forecast period from 2018 to 2026. The exploration of genomics has surpassed in the last three decades to massive advancements in the technology that allowed the researchers to sequence larger pieces of genome. Polymerase chain reaction (PCR) techniques, microarray and next-generation sequencing have made the whole genome sequencing cost effective and highly efficient. These advancements in the technology has assisted in the various fields of applied biology such as clinical genomics, discovery and development of novel drugs and personalized medicine for various chronic diseases. For instance, genomics have revolutionized point-of-care testing across various infectious diseases, cancer and congenital ailments enabling analysis of novel analytes, broad spectrum analytical performances and better turnaround time. Various biotechnology companies have ventured in the market of genomics changing the dynamics of the market. In 2003, the cost of sequencing of human genome of approximately US$ 3 billion. However, launch of highly advanced next-generation sequencing products by Illumina, Inc., have significantly decreased the cost of human genome sequencing to US$ 1,000. Thus, dramatic decrease in the cost of sequencing and growing investments in biopharmaceutical research have driven the growth of global genomics market. Projects such as Human Genome Project, Saudi Human Genome Program (SHGP), and U.K. 100,000 Genome Projects are further projected to drive the market for genomics worldwide. However, huge investment and research infrastructure required for genomics research are some of the major restraining factor for the growth of this market.
Market Synopsis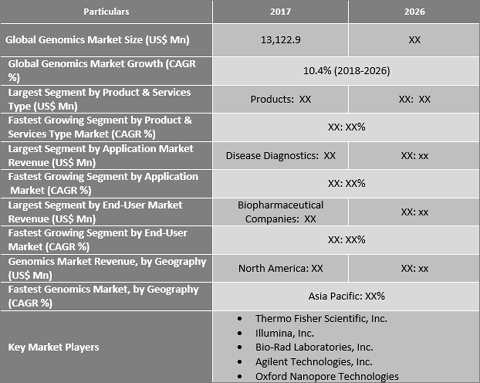 Get a sample copy for more information
"Increased Adoption of NGS to Drive the Genomics Market"
In 2017, products segment held the largest share in the global genomics market. The product segment is further segmented in instrumentation technology and consumables/reagents sub-segment. The instrumentation technology segment is projected to grow at a significant rate during the forecast period owing to high adoption of NGS platforms. Simplified workflow on NGS, significant reduction in costs of NGS instruments and reagents, and growing implementation of NGS in clinical application such as oncology, genetic studies, and reproductive health will further drive the market during the forecast period. With the advent of microarrays and microfluidics in point-of-care diagnostics and advancements in PCR and nucleic acid amplification technologies in DNA sequencing will further drive the market.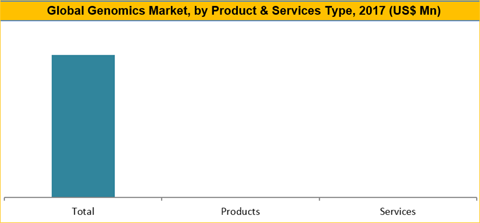 Get a sample copy for more information
"North America Dominated the Global Genomics Market"
In 2017, North America held the largest share in the global genomics market owing to huge investments on genomic research by government institutions, growing awareness regarding genetic analysis such as direct-to-consumer genetic testing, non-invasive prenatal testing and other genetic testing in the region. Moreover, growing number of budding biotechnology companies offering various genetic testing services in the region and presence of major biopharmaceutical giants in the region further make North America the most lucrative market in the global genomics market. Asia Pacific is projected to witness fastest growth during the forecast period owing to increasing genetic R&D activities, growing healthcare infrastructure focusing of genomic studies for drug discovery and disease treatment. Moreover, reducing cost of genomics services and foreign investments in the region further drive the growth of market.
Get a sample copy for more information
Historical & Forecast Period
This research report presents the analysis of each segment from 2016 to 2026 considering 2017 as the base year for the research. Compounded annual growth rate (CAGR) for each respective segments calculated for the forecast period from 2018 to 2026.
Report Scope by Segments
Genomics market report furnishes quantitative analysis along with its latest market trends. The market is segmented based on product & services type, application, end-user and geography.
ATTRIBUTE
DETAILS
Research Period
2016-2026
Base Year
2017
Forecast Period
2018-2026
Historical Year
2016
Unit
USD Million
Segmentation

By Product & Services Type (2016–2026; US$ Mn)
• Products
o Instrumentation Technology
 Sequencing Technology
 Microarray
 Polymerase Chain Reaction (PCR)
 Nucleic Acid Extraction and Purification
 Other Technologies
o Consumables/Reagents
• Services
o Genomic Services
o Sequencing Services
o Data Analysis

By Application (2016–2026; US$ Mn)
• Disease Diagnostics
• Drug Discovery
• Personalized Medicine
• Agriculture and Animal Research
• Other Applications

By End-User (2016 – 2026; Mn)
• Academic and Government Research
• Hospitals & Clinics
• Biopharmaceutical Companies
• Clinical Research

Geography Segment (2016–2026; US$ Mn)
• North America (United States and Canada)
• Europe (U.K., Germany, Rest of Europe)
• Asia Pacific (China, Japan, Rest of Asia Pacific)
• Latin America (Brazil, Mexico, Rest of Latin America)
• Middle East and Africa (GCC, Rest of MEA)
Market is studied in order to understand the current dynamics and future trends in the global genomics market. The study includes market size and forecast for all considered segments presented in the report for the period from 2016 to 2026, along with respective compound annual growth rate (CAGRs) for the forecast period from 2018 to 2026, considering 2017 as the base year. The key players currently engaged in genomics market include Thermo Fisher Scientific, Inc., Bio-Rad Technologies, Inc., Illumina, Inc., Danaher Corporation, BGI, Pacific Biosciences, Oxford Nanopore Technologies., Myriad Genetics, Inc., among others. The companies are engaged in launch of novel products and tools to maintain their position in the market. Mergers & acquisitions are an important growth strategy undertaken in the industry to keep a competitive edge in the market. For instance, Thermo Fisher Scientific acquired Life Technologies in 2016 to become the market leader in the genomics market.
Key questions answered in this report
How the global genomics market will perform during the forecast period from 2018 to 2026?
What are the latest trends in the genomics market and valuable opportunities for key players?
Who are the leading players in the global genomics market?
Which is the leading/and fastest region in the global genomics market?
What are drivers and restrains governing the global genomics market?
What are the applications of genomics and which is the currently leading application?