Industry Outlook
Demand for home fragrances has witnessed a steady growth over the past few years and expected to display a similar trend in the coming years as well. Asia Pacific expected to display a faster growth rate compared to the other regions for home fragrances, with China, India and Japan displaying promising growth during the forecast period. High population growth is a key reason for the growth of this market in Asia pacific. Further, growing middle class population is a key factor driving the demand for home fragrances market. Further, rising demand for automation has led the manufacturers to develop auto spray home fragrances, which are designed to operate on their own at regular intervals, thereby making it the fastest growing segment as compared to other home fragrance products.
Based on distribution channel, supermarkets and hypermarkets captured the major chunk of the market in 2017 because of high consumer inclination towards this mode of distribution channel for buying home fragrance products. However, millennials are more inclined towards online purchases as online purchasing is associated with several benefits such as heavy marketing activities taken up by the e-commerce giants, heavy discounts, and home delivery options among others, thus making the online channel segment the fastest growing segment during the forecast period.
Market Synopsis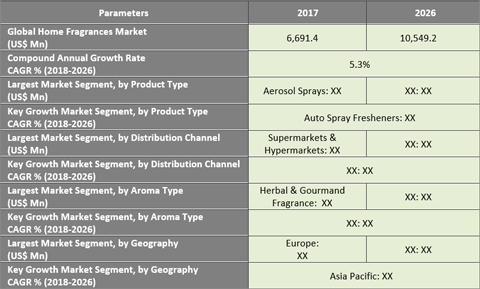 Get a sample copy for more information
"Aerosols spray held the lion's share in the home fragrance market in 2017"
In 2017, the aerosols spray held the lion's share in the home fragrance market while auto spray fresheners segment projected to witness the fastest CACR during the forecast period. Factors such as increased demand for "natural" ingredients based home fragrance products, emergence of fragrances for reduction of stress and change in moods, and rising focus on performance and functionality of home fragrance products, such as controlled release systems, prolonged top notes, and increased stability driving the global home fragrance market. Moreover, luxury lifestyle leading to adoption of high-tech and premium home fragrance products such as smart app based diffusers also contributing the growth of home fragrance market.

Get a sample copy for more information
"Online distribution channel expected to witness highest CAGR owing to increasing penetration of online purchasing in developed as well as developing economies"
In terms of value, the supermarket & hypermarket segment accounted for a market share close to 50% in 2017. However, online channel segment expected to witness highest CAGR from 2018 to 2026 owing to increasing penetration of online purchasing in developed as well as developing economies. As part of their strategy to increase the sales of home fragrance products, companies are focusing on adopting various ecommerce platforms, owing to the fact that it helps to minimize the maintenance cost. Some home fragrance products have a shorter life span with close expiry dates. Hence, the companies cannot stock these items in volumes in physical stores. In addition, maintaining manual record of each item is a complicated process and hence brick and mortar based retail stores having increasing competition from online sales channels. Hence, convenience factor of consumer expected to drive the online retail segment during the forecast period.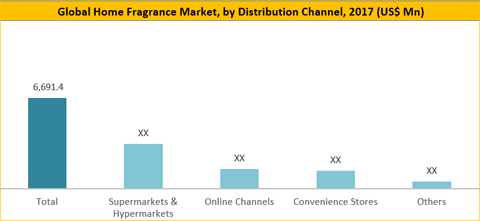 Get a sample copy for more information
"Growing demand from Asia Pacific projected to catapult the market growth"
Europe held market share of more than 30% in 2017 followed by North America closely followed by Asia Pacific with market share of more than 20% in 2017. However, during the forecast period, the growth of North American and European market would be slower due to low population rise as compared to developing regions like Asia pacific. Despite the fact that Europe expected to dominate the market during the forecast period and the Asia Pacific market expected to witness highest growth rate from 2018 to 2026. Increasing demand for home fragrance products from millennials followed by rising awareness related to benefits offered by these products expected to drive the global home fragrance products market.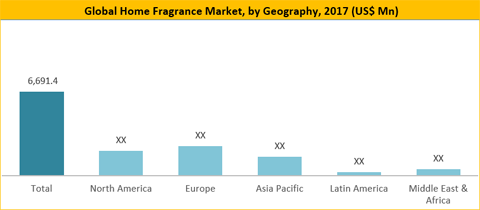 "Leading brands are aggressively looking for expansion"
The global home fragrance market comprises of large number of regional and international players thus making the market fragmented in nature. Some of the major players operating in the market are 3M Company, SC Johnson & Son, Inc., Air Esscentials, Givaudan S.A, Scent Air, Newell Brands, Bath & Body Works, Korona Candles S.A, Reckitt Benckiser, Procter & Gamble among others. Manufacturers compete among themselves on delivering high quality products in order to gain competitive advantage.
Geographic expansion, merging, acquisition and new product launch are some of the strategies adopted by the players to remain competitive among themselves. The 3M Company is a multinational conglomerate operating in the fields of consumer goods, industry and healthcare and is one of the dominant player in this market.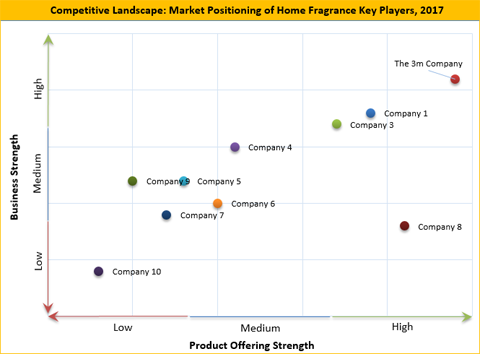 Historical & Forecast Period
2016 – Historical Year
2017 – Base Year
2018-2026 – Forecast Period
Report Scope
The report enlightens the thorough outline of global home fragrance market by categorizing the market in different segment given below:
ATTRIBUTE
DETAILS
Research Period
2016-2026
Base Year
2017
Forecast Period
2018-2026
Historical Year
2016
Unit
USD Million
Segmentation

By Product Category (2016–2026; US$ Mn)
• Aerosol Sprays
• Plug-in Fresheners & Refills
• Auto Spray Fresheners & Refills
• Gels
• Freshener Blocks
• Candles
• Others

By Distribution Channel (2016–2026; US$ Mn)
• Supermarkets & Hypermarkets
• Online Channels
• Convenience Stores
• Others

Geography Segment (2016–2026; US$ Mn)
• North America (United States and Canada)
• Europe (U.K., Germany, Rest of Europe)
• Asia Pacific (China, Japan, Rest of Asia Pacific)
• Latin America (Brazil, Mexico, Rest of Latin America)
• Middle East and Africa (GCC, Rest of MEA)
This research report describes leading continents and their major countries, along with profiles of key players operating in overall market and their planned developments. Our report further defines the overall market dynamics such as drivers, challenges, and opportunities prevalent in the market to understand global home fragrance market more explicitly. Our in-depth quantitative and quantitative analysis of each segment up to country level highlights revenue pockets and investment opportunities in the market.
Key questions answered in this report
What are the current market trends in the home fragrance market and valuable opportunities for the players?
How the regulations affect global as well as the regional markets?
Which are the prominent and recent innovations in the market?
Which is the most lucrative region for investment?
What is the market size and trends in emerging markets?
Which are the major distribution channels of home fragrance products and their market sizes?
Which are the leading players and their market position?