With the rising industrial development worldwide, the adjacent markets such as industrial automation and sensor networks too have witnessed paradigm shift over the period of time. Increasing competition across different industry verticals has forced the organizations to adopt advanced technologies that help enhancing the overall productivity and quality of products/processes. Industrial manufacturers are now more focused towards predictive maintenance so as to ensure minimal failure of equipment in its due life.
Wireless sensors network (WSN) comprises numerous small, cost-effective and low power consuming devices, called as nodes that operate by communicating with each other using a sophisticated sensor network. These nodes are deployed to collect information and can also be used to control various actuations. Over the period of time, wireless sensor networks have witnessed profound research and advancement including flexible installation in locations difficult to access, easy maintenance and low costs. This has made WSNs one of the most sought after technology across various fields ranging from agriculture, consumer goods to automation in industries.
WSNs include various sensor nodes used for monitoring temperature, pressure, humidity, vibration, flow and several others. Amongst these, wireless vibration sensor networks have witnessed profound significance, over the past several years, owing to their capability of reducing equipment downtime remarkably.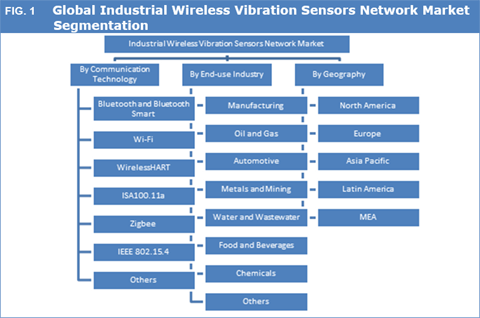 The report titled "Global Industrial Wireless Vibration Sensors Network Market- Growth, Future Prospects and Competitive Analysis, 2016 – 2024" offers strategic insights into the global wireless sensors network market along with the market size and estimates for the duration 2014 to 2024. The said research study covers in-depth analysis of multiple market segments based on communication technology, end-use industry and cross-sectional study across different geographies and sub-geographies. The study covers the comparative analysis of different segments for the years 2015 & 2024. The report also provides a prolific view on market dynamics such as market drivers, restraints and opportunities. In addition, the report covers a section providing analysis on the latest innovative solutions based on sensor technologies and industrial IoT.
In order to help strategic decision makers, the report also includes competitive profiling of the leading providers of wireless sensors network, market positioning and key developments. Some of the major players profiled in the report are ABB AS, National Instruments Corporation, SKF AB, Schaeffler Group, PRUFTECHNIK Dieter Busch AG, Evigia Systems, Inc., General Electric Company, I-Care Group, BeanAir, ETS Solutions Asia Pte Ltd., Preditec/IRM and Waites Wireless Sensor Technologies LLC.
Other in-depth analysis provided in the report includes:
Current and future market trends to justify the forthcoming attractive markets within the wireless sensors network industry
Market fuelers, market impediments, and their impact on the market growth
In-depth competitive environment analysis
Trailing 2-Year market size data (2014 – 2015)
SRC (Segment-Region-Country) Analysis
Overall, the research study provides a holistic view of the global industrial wireless sensors network market, offering market size and estimates for the period from 2016 to 2024, keeping in mind the above mentioned factors.