Industry Outlook
The growth in the large mining shovels market has been stable over the last few years, majorly supported by steady growth in population and consequent demand for metals and minerals worldwide. With continual technology advancements, the large mining shovel market would be benefitted from the replacement of obsolete systems with the state-of-the-art equivalents. The trend is more prevalent in matured Triad economies (the U.S., Europe, and Japan) where mine operators are replacing their old machinery with advanced solutions in order to provide quality aggregates and meet demand. In addition, stringent government regulations forcing mine operators to deploy advanced machinery and electrical shovels that comply with the emission and safety regulations is further supporting market demand.
Market Synopsis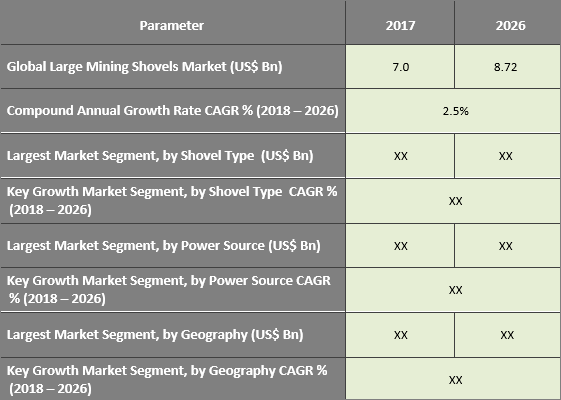 Get a sample copy for more information
"Dragline Shovel are Being Rapidly Replace by More Advanced Version of Bucket Shovels"
Dragline shovel is one of the biggest and most expensive mining equipment available for surface mining hence, dragline shovels are used for on-surface mining and high-value civil engineering projects. However, transportation of such shovels is highly complex and hence, are assembled on-site instead of driven it through by roads. Consequently, complexities associated with dragline shovels is providing a pathway to bucket shovels. However, hybrid shovel is packed with benefits of both dragline and bucket shovels. Subsequently, hybrid shovel is expected to demonstrate fastest growth in coming years.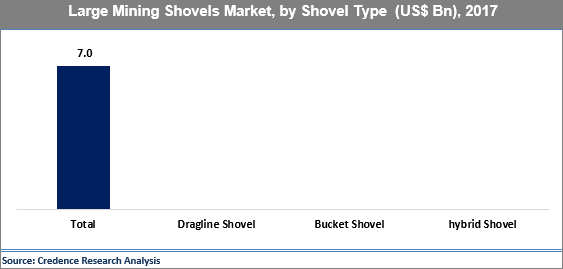 Get a sample copy for more information
"Environmental Issues are Diverting Attention from Hydraulic Shovels Towards Electric Shovels"
Majority of market share in overall large mining shovels market is claimed by hydraulic mining shovels. Hydraulic mining shovels derive power from conventional engines and hence are contributor to environmental issues such as global warming. Owing to this, several mining contractors and mining companies are slowly diverting their preference towards a more cleaner version of electric shovels. Large electric mining shovel is a new breed of mining equipment and is much appreciated over hydraulic version and hence large electric mining shovels are expected to grow with highest growth rate in coming years. However, hydraulic large mining will retain its dominance throughout the forecast period.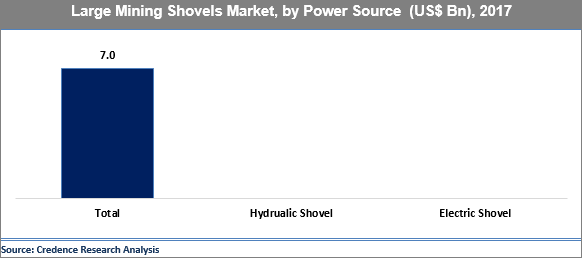 Get a sample copy for more information
"Growth in Surface Mining in Asia Pacific are Encouraging the Demand for Large Mining Shovel"
90% of the global mining sectors are dominated by surface mining and hence large mining shovels market is flourishing in region predominantly in Asia Pacific. Consistent growth in surface mining in China and India has certainly encouraged the demand for large mining shovels. However, mines in North America and Europe are replacing their existing old large mining shovels with new ones propelling the demand for large mining shovels. Furthermore, consistent developing and mechanizing the existing mining infrastructure in Latin America and Africa region is also one of the prime factors in growth of demand for large mining shovels. Asia Pacific is expected to retain its dominant position throughout the forecast period from 2018 to 2026. Asia Pacific is followed by North America, Europe and Rest of the World respectively.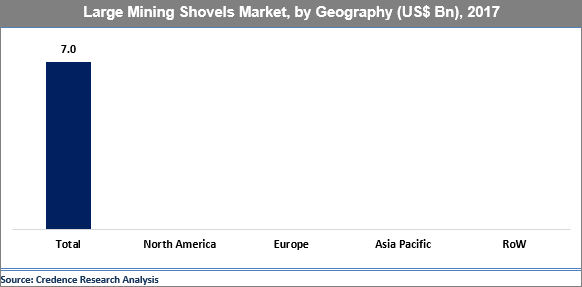 Market Segmentation
ATTRIBUTE
DETAILS
Research Period
2017-2027
Base Year
2018
Forecast Period
2019-2027
Historical Year
2017
Unit
USD Billion
Segmentation

by Shovel Type (2016–2026; US$ Bn)
• Dragline Shovel
• Bucket Shovel
• Hybrid Shovel

by Power Source (2016–2026; US$ Bn)
• Hydraulic Shovel
• Electric Shovel

Geography Segment (2016–2026; US$ Bn)
• North America (U.S., Canada)
• Europe (U.K., Germany, France, Rest of Europe)
• Asia Pacific (China, Japan, India, Rest of Asia Pacific)
• Rest of the World (Middle East & Africa, Latin America)
Competitive Landscape
The research study covers some of the leading large mining shovels markets including JCB Ltd., Caterpillar Inc., Hitachi Construction Machinery Co. Ltd., Volvo Construction Equipment, Komatsu Limited, Sandvik AB, China National Coal Mining Equipment Co. Ltd., Metso Corporation, Zhengzhou Coal Mining Machinery Group Co. Limited, and Boart Longyear Ltd. Every manufacturer participating in the large mining shovels market is an industry giant and is backed by a heavy market revenue and networking. Hence the market is highly concentrated by few of the top mining equipment manufacturing giants. Thus a very limited opportunities are left for new entrants to enter and claim their market share. These companies toil extremely hard in order to gain contracts from government and mining agencies in order to maintain their market position. Besides, continuous advancement in existing technologies and rising inclination towards electric version is one of the prime business strategies adopted by the companies.