Malic acid, it is adicarboxylic acid which is used an active ingredient in many food products. Malic acid exhibits the properties such as controlling the microorganisms' growth, adjusting pH, and also flavour enhancement which makes it highly preferable for usage in the food and beverage industry. It also imparts a very pleasant flavor when added in food and beverages. Therefore, it is significantly used in the food and beverage industry where it is used in various products such as bakery products, fruit juices, sports drinks, carbonated beverages, desserts and frozen specialities. Furthermore, rising demand of the fruit flavored drinks and protein drinks is substantially growing the malic acid market. However, the global market for malic acid is projected to expandat a moderate growth rate during the forecast period.
Malic acid usage as a preservative is witnessing growth owing to the increasing popularity of convenience food products such as processed foods and ready to drink beverages, consequently driving the marketdemand. During the forecast period regions such as Asia, Middle East, Latin America and Eastern Europe is projected to witness highest growth rate, owing to improving standard of living, shift in trend towards western styled food, low penetrations of diet and nutritional food. Furthermore, approval of malic acid from different regulatory agency for food processing is projected to augment the overall market growth over the coming years.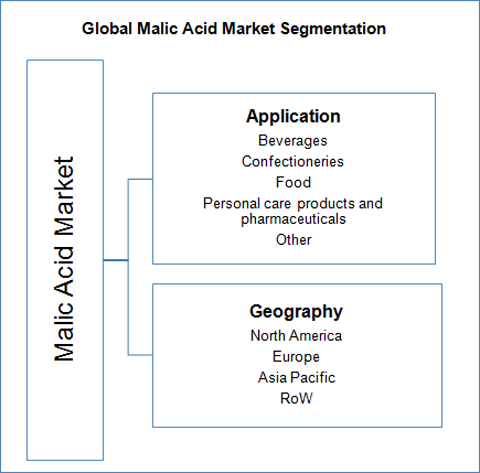 The report titled "Global Malic acids Market- Growth, Share, Opportunities and Competitive Analysis, 2015 – 2022" offers strategic insights into the global malic acid industry along with the market size and estimates for the duration 2014 to 2022. The said research study covers in-depth analysis of multiple market segments based on application types and cross-sectional study across different geographies. The study covers the comparative analysis of different segments for the years 2014 & 2022. The report also provides a prolific view on market dynamics such as market drivers, restraints and opportunities.
In order to help the strategic decision makers, the report also includes profiles of the leading malic acid manufacturers, their SCOT (Strength, Challenges, Opportunities and Weaknesses) analysis and key developments. The major players profiled in the report areBartek Ingredients, Changmao Biochemical, FUSO, Isegen South Africa, Miles Chemical, Qiaoyou Chemical, Prinova LLC, Wego Chemicals & Minerals corp, PolyntS.p.A and YongsanChemicals. Further, the report also covers market positioning of the key players operating in the malic acids market. Other in-depth analysis provided in the report includes:
Current and future market trends to justify the forthcoming attractive markets within the malic acids industry
Market fuelers, market impediments, and their impact on the market growth
In-depth competitive environment analysis
SRC (Segment-Region-Country) Analysis
Overall, the research study provides a holistic view of the global malic acid market, offering market size and estimates for the period from 2015 to 2022, keeping in mind the above mentioned factors.