"Ever-Rising Internet Traffic & Demand for Higher Bandwidth Worldwide to Stimulate the Demand for Metro Ethernet Network"
Global metro Ethernet market valued at US$ 28.46 Bn in 2017 and poised to reach US$ 88.51 Bn by 2026, expanding at CAGR of 13.51% across the forecast period from 2018 to 2026. Metro Ethernet networks have occurred as a viable solution for several organizations seeking enhanced network management and communication. Such technology is rapidly penetrating in several applications as an alternative to cable modem and Asymmetric Digital Subscriber Line (ADSL). With continual penetration of internet services worldwide, the demand for Internet bandwidth and uninterrupted services is estimated to remain high in the coming years, thereby driving the Metro Ethernet market growth worldwide. Metro Ethernet networks have unlocked the promising avenue to profits for telecommunication as well as internet service providers. In addition, with rising popularity of high-speed networks, the overall prices (per mile) have declined significantly over the past few years. This is another prominent factor in fueling market growth.
Market Synopsis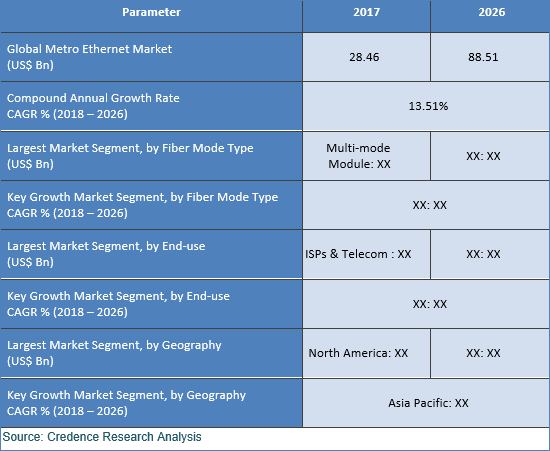 Get a sample copy for more information
"Multi-mode Module Segment Accounted to Continue Leading the Market"
These are metro Ethernet networks having high density of multi-mode modules. Credited to increasing prevalence of communication networks across the world, more Ethernet networks estimated to deploy in the years to come. This would ensure strong growth for multi-mode metro Ethernet networks segment through the forecast period. The segment accounted for close to 70% of the global market value in the same year. The trend shall extend and the segment will hold on to its leading position throughout the forecast period. The multi-mode module Ethernet technology is preferred by communication service providers and network infrastructure vendors to offer high-speed data transfer services for both small and long-range communications. In addition, single-mode module networks enable telecom network links to be established over longer distances with minimal power loss, thereby augmenting its adoption among communication service providers.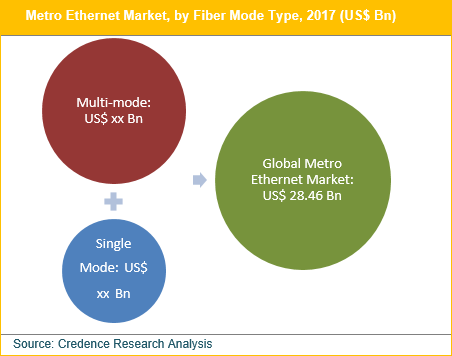 Get a sample copy for more information
"North America Leads the Market; Asia Pacific to Emerge as the Fastest Growing Regional Market"
Currently, North America leads the market contributing to more than 1/3rd of the overall market value worldwide. The region is presumed to hold on to its leading position throughout the forecast period also partly on the back of investments made by tech-giants in a bid to build their own network infrastructure. Further, Asia Pacific is expected to register maximum growth in market value, expanding at a CAGR of over 14% during the forecast period. The metro Ethernet landscape in Asia Pacific differs from North America and Europe. Japan, Korea and China will prove to be the major players in the deployment of Ethernet metro network. Primary factor for attractiveness of this region is that these countries have not invested as much in Synchronous Optical Networking (SONET) or Synchronous Digital Hierarchy (SDH) and have a cleaner slate than North America and Europe to deploy new data services in the metro area. Number of metro Ethernet deployments already been announced and deployed by big telecom providers. China will also emerge as largest market after the restructuring of China Telecom into different entities such as China Netcom, Unicom, and Railcom. In Japan, tough competition between telecom providers has driven the cost of private-line services lower than in most other countries. Japan is also expected to highlight promising growth rate in metro Ethernet deployments for multimedia services.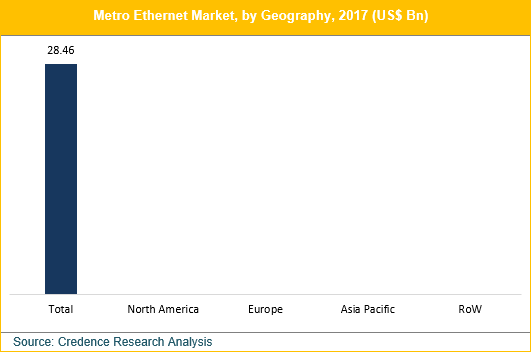 Get a sample copy for more information
Key players of the global metro Ethernet market include Verizon Communications, Inc., AT&T, Inc., Zayo Group, Consolidated Communications Holdings, Inc., CenturyLink, Inc., Interoute Communications Ltd., Comcast Corporation, Colt Group SA, Windstream Services and NTT Communications LLC among several others.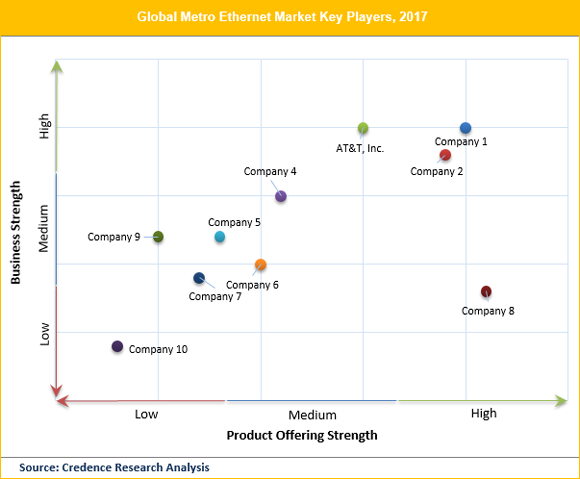 Historical & Forecast Period
This research report presents the analysis of each segment from 2016 to 2026 considering 2017 as the base year for the research. Compounded Annual Growth Rate (CAGR) for each respective segments calculated for the forecast period from 2018 to 2026.
Report Scope by Segments
Metro Ethernet market report provides market size and estimates based on market dynamics and key trends observed in the industry. The report provides a holistic view of global metro Ethernet market based on fiber mode type, end-use and geography. Key segments covered in the report are as follows:
ATTRIBUTE
DETAILS
Research Period
2016-2026
Base Year
2017
Forecast Period
2018-2026
Historical Year
2016
Unit
USD Billion
Segmentation

Fiber Mode Type Segment (2016–2026; US$ Bn)
• Single-mode Module
• Multi-mode Module

End-use Segment (2016–2026; US$ Bn)
• ISPs & Telecom.
• Banking, Finance Services & Insurance (BFSI)
• Information technology
• Education
• Manufacturing & logistics
• Hospitality & Retail
• Healthcare

Geography Segment (2016–2026; US$ Bn)
• North America (U.S., Rest of North America)
• Europe (U.K., France, Germany, Rest of Europe)
• Asia Pacific (Japan, China, India, Rest of APAC)
• Rest of the World (Latin America, Middle East and Africa)
Key questions answered in this report
What was the market size of metro Ethernet in 2017 and forecast up to 2026?
Which is the largest regional market for metro Ethernet network?
What are the key market trends observed in the metro Ethernet market?
Which is the most promising fiber mode type and end-use in metro Ethernet market?
Who are the key players leading the market?
What are the key strategies adopted by the leading players in market?
What are the key Internet usage trends across different geographies and sub-geographies?