Osseointegration implants market to exhibit dynamic growth during the forecast period
The global osseointegration implants market is growing proficiently, expected to grow at a CAGR of 7.0%. Osseointegration implants are essentially used for bone anchorage purposes as they remain constant and stable under orthodontic loading. Globally, increasing prevalence for bone related diseases, dental disorders, spinal related issues among the geriatric population, and increasing limb amputation or hip & knee surgical procedures will drive the overall market growth. Increasing awareness about new implant technology along with the launch of advanced biomaterials and metal alloys with integrated biological solutions are key factors driving the growth of osseointegration implants market on a global scale. For instance, in July 2019, Zimmer Biomet provided clinical evidence for its BioBoost Effect™ (mainly for Trabecular Metal™ dental implants for rapid healing and recovery ), that deliver faster healing and earlier bone formation than traditional implants.
Market Synopsis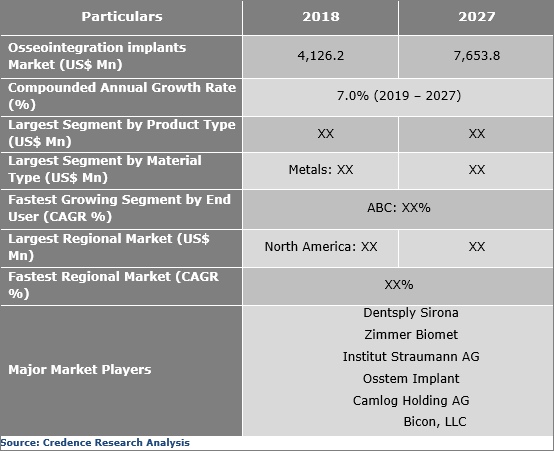 Dental abutments expected to register higher growth by the end of 2027
Advancement in dental abutments along with the development in the field of polymer and biomaterial alloys will enhance the overall market growth. Increased focus on biodynamic activities and biologic responses of the implant materials will improve the overall dynamics of the implantation procedure, such as bio tolerant activity, bio inert and bioactive for metal alloys, ceramics and polymers. Additionally, increasing surface treatments for spine implants along with bone-implant interface via osseointegration will drive the market growth. Osseointegration for lower limb and upper limb amputations will further spur revenue growth during the forecast period. Osseointegration for prosthetic attachment is gaining popularity on a global level as patients with limb amputations pursue replacements to sockets.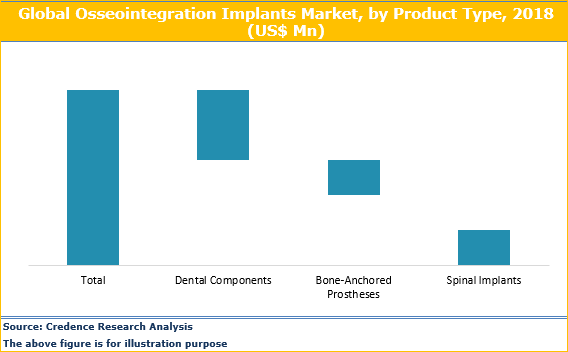 Polymer based implants to witness a significant CAGR
Polymer alloys to show promising growth in the near future. Additionally, the utilization of polymeric implant materials along with restorative materials for the reconstruction of tissue is on a rise. For enhanced bone augmentation and for the repair of peri-implant bone defects, biodegradable polymers are showing a steady growth rate on a global scale. Advancement in bioengineered technology, FDA approval of new metal implants along with biomaterials, increasing population with spinal defects, bone-related disorders, and rising implantation procedures for hip & knee will drive the overall market growth for osseointegration implants market. Metallic based implants generated maximum revue share in all the surgical aspects. Increasing awareness and utilization of ceramic implants along with polymer and other biomaterials will show significant growth in the near future.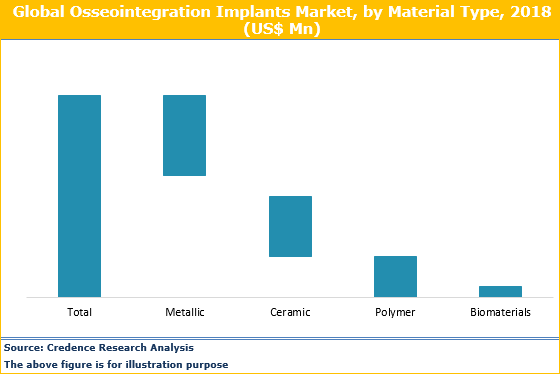 Increasing population, launch of new products and the presence of top manufacturers holds the U.S. market in dominant position
In 2018, the U.S. produced maximum revenue share in the osseointegration implants market due to an increase in prevalence for dental disorders, increasing hospital admissions for spinal surgeries, bone, and joint-related procedures. Launch of new implants mainly in the dental industry will boost market growth. Presently, cosmetic dentistry is on a rise in the developed nations, a high prevalence of dental decays will further spur revenue growth for dental implants market on a global scale. However, the higher medical expense of osseointegration procedures, less popularity among the healthcare professionals in the developing regions, complexity in R&D, and unstructured reimbursement will hamper the overall market growth globally.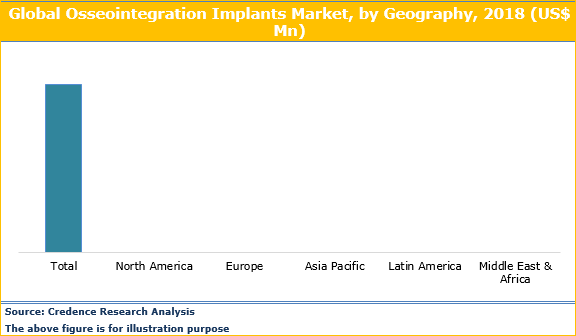 Increased research and development with strong product pipelines in the developed regions
Major players in the osseointegration implants market are Dentsply Sirona, Zimmer Biomet, Institut Straumann AG, Osstem Implant, Camlog Holding AG, Bicon, LLC, Integrum AB, BioHorizons, Nobel Biocare Services AG, MIS Implants Technologies Ltd., HIOSSEN, ACE Surgical, MEGA'GEN IMPLANT CO., LTD and others. Major players are developing with advanced expertise with integrated biological solutions. Merger & acquisitions, partnerships and improved R&D on medical technology will invent the development of osseointegration implants market in the emerging nations in the near future.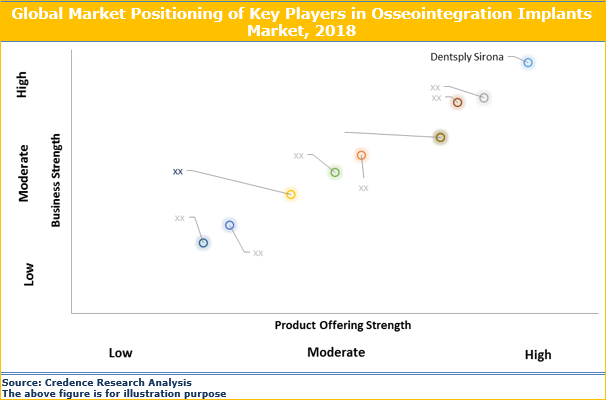 Historical & Forecast Period
This study report represents analysis for each segment from 2017 to 2027 considering 2018 to be the base year. Compounded Annual Growth Rate (CAGR) for each of the respective segments estimated for the forecast period from 2019 to 2027.
Report Scope by Segments
Market Segmentation
ATTRIBUTE
DETAILS
Research Period
2017-2027
Base Year
2018
Forecast Period
2019-2027
Historical Year
2017
Unit
USD Million
Segmentation

Product Type (2017–2027; US$ Mn)
• Dental Components
o Crowns
o Abutments (Temporary & Definitive)
• Bone-Anchored Prostheses
o Upper Limb
o Lower Limb
• Spinal Implants

Material Type (2017–2027; US$ Mn)
• Metallic
• Ceramic
• Polymer
• Biomaterials

End User Segment (2017–2027; US$ Mn)
• Hospitals
• Dental Clinics
• Ambulatory Surgical Centers

Geography Segment (2017–2027; US$ Mn)
• North America (U.S., Rest of North America)
• Europe (U.K., Germany, France, Rest of Europe)
• Asia Pacific (Japan, China, India, Rest of Asia Pacific)
• Rest of the World (Middle East & Africa, Latin America)
The current report also comprehends qualitative and qualitative market valuation factors such as key market drivers, market trends, restraints and opportunities that gives a better market understanding of the overall osseointegration implants market. Additionally, the global report also comprises graphical representation of competitive landscape based on their market initiatives and strategies, product portfolio and business strengths.
Key questions answered in this report
What are the current market trends and dynamics in the osseointegration implants market and valuable opportunities for emerging players?
Which segment accounts for the fastest CAGR during the forecast period?
Which product type segment holds a larger market share and why?
Are low and middle-income economies investing in the osseointegration implants market?
What is the market trend and dynamics in emerging markets such as Asia Pacific, Latin America and Middle East & Africa?