Oxygen enriched membranes possess properties such as better porosity, durability, permeability, selectivity and stability, which makes them a vital element in various industrial applications. The market is witnessing growth due to rise in demand for oxygen enriched membrane from various application areas. On the basis of application, the global oxygen enriched membrane market is segmented into medical application, enhanced combustion, water treatment, and others (Nitrox (scuba dive gas), oxygen-enriched breathing air at high altitudes, etc.) Market size and forecast of each application is presented for the period 2015 to 2025 along with respective CAGR % for the forecast period 2017-2025.
Geographically, the global Oxygen Enriched Membranes Market is studied for the following regional markets:
North America
Europe
Asia Pacific

China
India
Rest of Asia Pacific

Latin America

Brazil
Mexico
Rest of Latin America

Middle East and Africa

GCC
Rest of Middle East and Africa
The market size and forecast for the period 2015-2025 along with the CAGRs for the period 2017-2025 for the mentioned segments are also presented in this study.
Qualitative information sets such as market dynamics (drivers, challenges and opportunities) and market inclination insights are provided in this market assessment report. Tools such as competition assessment and attractive investment proposition are also included in this study for assessment of market competition. The report concludes with company profiles section that highlights key information about the major market players operating in the global oxygen enriched membrane market.
Air Products and Chemicals Incorporated, Dalian Puricle Co., Ltd., GE Water & Process Technologies, Genrich Membranes Pvt. Ltd., Membrane Technology and Research, Inc., Pall Corporation, Parker Hannifin Corp., Teijin Pharma Limited, The Dow Chemical Company, Pacific Consolidated Industries, Sigma-Aldrich Co. LLC. (Merck Group), Atlas Copco AB, NOXERIOR S.r.l., Membrana GmbH (3M Company) and GENERON are few key manufacturers in oxygen enriched membrane market.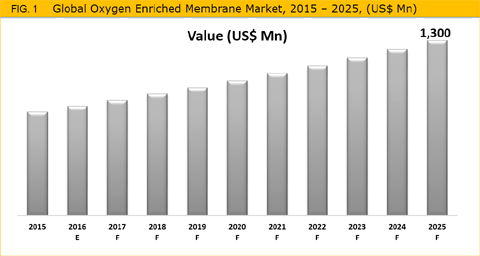 Purpose of the Report
The purpose of this strategic research study titled "Oxygen Enriched Membrane Market - Growth, Opportunities, Share & Competitive Analysis, 2017 – 2025" is to offer industry investors, company executives, and industry participants with in-depth insights to enable them make informed strategic decisions related to the opportunities in the oxygen enriched membrane market.
Target Audience
Industry Investors
Procurement Managers from End-user Companies
Oxygen Enriched Membrane Manufacturers
Distributors
USP and Key Offerings
The report titled "Oxygen Enriched Membrane Market - Growth, Opportunities, Share & Competitive Analysis, 2017 – 2025" offers strategic insights into the overall oxygen enriched membrane market along with the market size, and estimates for the duration 2017 to 2025. The said research study covers in-depth analysis of multiple market segments based on applications and cross-sectional study across different regions.
In order to help strategic decision makers, the report also includes competitive profiling of the leading players in oxygen enriched membrane market in terms of their product portfolio, financial health and business strategies. Other in-depth analysis provided in the report includes:
Current and future market trends to justify the forthcoming attractive markets within the oxygen enriched membrane industry
Market drivers, market impediments, and their impact on the market growth
In-depth competitive environment analysis
Historical market size and data (2015 & 2016)
Overall, the research study provides a holistic view of the oxygen enriched membrane market, offering market size and estimates for the period from 2015 to 2025, keeping in mind the above mentioned factors.