Therapeutic apheresis has been present in healthcare system for several years dating back to the 1950s. currently, apheresis and its modalities are acknowledged as effective first-line treatment or adjunctive treatment for a wide range of disorders. Some common therapeutic apheresis modalities include plasmapheresis, leukapheresis, blood cell apheresis, lipidpheresis, plateletpheresis and photopheresis. Photopheresis, also known as extracorporeal phototherapy, is gaining new popularity in the market, particularly due to its growing demand in off-label applications, greater efficacy in treating graft versus host disease and prevention of organ transplant rejection.
Market Synopsis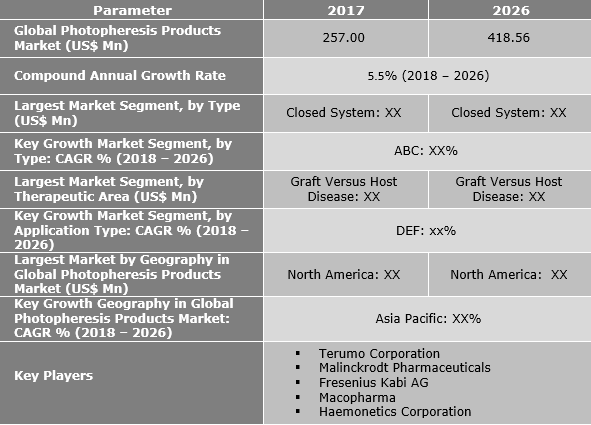 Graft Versus Host Disease to Lead the Market in Terms of Revenue
Over half of the cost incurred in transplantation is consumed by post-transplant care costs, mainly including immunosuppressive therapies. As a majority of transplant patients develop episodes of chronic rejection, insurance companies are keen to consider management therapies such as photopheresis for patients that do not respond to conventional immunosuppressive therapies. Additionally, more than half patients receiving allogeneic bone marrow transplant that develop graft versus host disease. Photopheresis is reported to respond positively in majority of the graft versus host conditions and cases of organ transplant rejection. Therefore, growing evidence in support of efficacy of photopheresis, more recommendations from physicians and surgeons will occur, therefore augment the market growth for photopheresis products.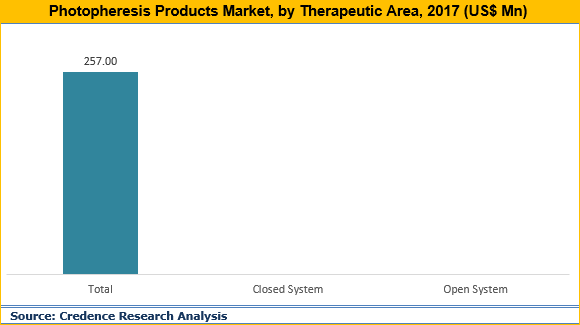 Sustained Demand for Closed Systems to Support the Photopheresis Products Market Growth
The first system for photopheresis approved by the FDA was the UVAR by Therakos, a closed system (1988). Since then, several open and closed systems have been approved worldwide for clinical use. Open photopheresis systems use separate compartments for cell separation and photoactivation. As different steps are involved in therapy administration, there is therefore a high risk of contamination or patient re-infusion error. Thus, open are only used in certified centers for separate handling of blood components. However, closed systems do not face this limitation and therefore are widely used ensuring their sustained demand and dominance in the global market.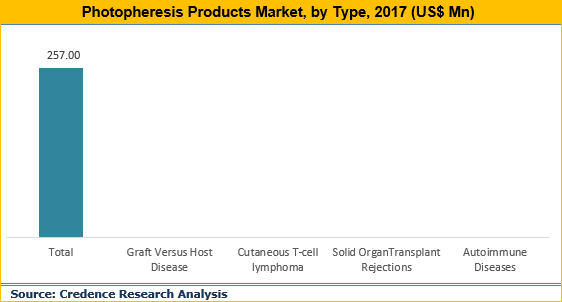 Widespread Presence of Apheresis Centers Ensuring the Supremacy of North America
Currently, North America dominates the global photopheresis market. Early introduction of apheresis and its further modalities, and widespread presence of advanced apheresis and blood processing centers are the prime factors driving the prominent position of North America on the global front. Greater affordability in the patient population, facilitated by the favorable reimbursement scenario further contributes to the dominance of North America. However, striation in the region has resulted in diversion in focus of manufacturers to the emerging markets of Asia Pacific and Latin America. Asia Pacific market is mainly characterized by widening outreach of healthcare infrastructure, increasing disposable incomes in patient population, growing awareness and rapid approvals to advanced treatments. The global photopheresis products market is fragmented in nature yet highly competitive. The players are mainly identified by their product differentiation. Some prime companies engaged in this space are Terumo Corporation, Malinckrodt Pharmaceuticals, Fresenius Kabi AG, Macopharma, Haemonetics Corporation, and others.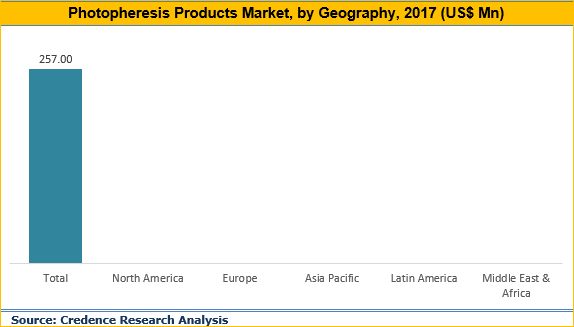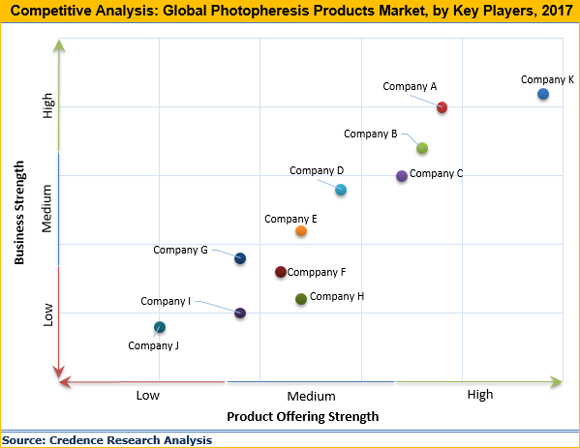 Historical & Forecast Period
2016 – Historical Year
2017 – Base Year
2018-2026 – Forecast Period
This study offers an analysis of every mentioned segment for the period from 2016 to 2026 while considering 2017 as the base year for further forecasting. Moreover, compounded annual growth rates (CAGRs) for every segment are covered and calculated for the period from 2018 to 2026.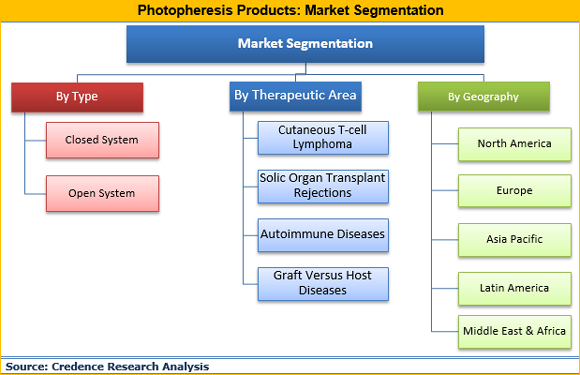 Report Scope by Segments
This report on photopheresis products offers quantitative assessment in terms of current and future market size, along with qualitative analysis considering the market dynamics and competitive environment. For this purpose, the market is segmented by product types, therapeutic area, and geographical distribution.
By Type (2016–2026; US$ Mn)
Closed System
Open System
By Therapeutic Area (2016–2026; US$ Mn)
Cutaneous T-cell Lymphoma
Solid Organ Transplant Rejections
Autoimmune Diseases
Graft Versus Host Diseases
Geography Segment (2016–2026; US$ Mn)
North America

Europe


U.K.
Germany
Rest of Europe

Asia Pacific (APAC)

Latin America (LATAM)


Brazil
Mexico
Rest of Latin America

Middle East and Africa (MEA)


GCC
Rest of Middle East and Africa
The market trends prevalent in the global Photopheresis Products Market are scrutinized while considering the current and future roadmap of the market. Assessment of market dynamics such as drivers, restraints, and opportunities offer comprehensions about the pros and cons of the market. This report also assesses the positions of the major market players and offers their brief profiles based on the business overview, product portfolio respective to the market, financial information and key developments. The players profiled in this report include Asahi Spectra USA, Inc., Avantes BV, Cogentix Medical, Inc. (LABORIE Medical Technologies), Hamamatsu Photonics K.K., KARL STORZ SE & Co. KG, Ocean Optics, Inc., Olympus Medical Systems (Olympus Corporation), SOPRO-COMEG GmbH, Smith & Nephew Plc, Stryker Corporation, and Excelitas Technologies Corp.
Key questions answered in this report
How is the current status of the Photopheresis Products Market in 2017?
How will the market progress through the forecast period?
What are the major drivers and challenges prevalent in the global photopheresis products market?
Which product type currently governs the market and what will be its status over the forecast period?
Which therapeutic area is expected to witness the fastest growth during the forecast period?
What is the current status of Asia Pacific market in the global photopheresis products market?
Will the market position of North America be challenged by Asia Pacific within the forecast period?
What is the current competitive scenario in the global market?
Which are the major strategies employed by the market players for strengthening their market position?