Industry Outlook
Plant protein market is slated to reach a market value of US$ 18,667.6 Mn by 2026 with 6.6% CAGR during the forecast period from 2018 to 2026. In 2017, North America dominated the plant protein market. Asia Pacific is estimated to be the fastest growing region between 2018 and 2026.
Plant protein is an ingredient responsible for curbing the appetite and increasing the muscle mass. Consumption of plant protein enriched products is increasing on account of rising consumer inclination towards natural ingredients over its animal-based counterparts since animal proteins are high in cholesterol content that might have adverse effects on human health. Plant based proteins are finding wide application in the food & beverages industry as supplements. Such proteins are derived from sources that include wheat protein, soy protein, pea protein, corn protein, and green protein among others.
Consumers in the developed regions such as North America and Europe are shifting their preference towards the consumption of plant-based food products, which is one of the key factors driving the demand for plant proteins. Owing to the rising demand, food & beverage manufacturers are actively involving themselves incorporating plant ingredients in their food products. More than 50% of the U.S. population considers plants as the best source of protein and they are increasingly demanding more non-meat food products such as bagels and non-dairy beverages. Consumption of plant proteins reduces the intake of saturated fats, and reduces the incidences of cholesterol and allergic reactions from eggs and dairy products. In addition to this, rising demand for organic food products in the developed nations is a key factor complementing the growth of the plant protein market in those regions. Shifting consumer base towards the consumption of plant-based food products is one of the key factor responsible for high growth of the plant protein market at present. Developed economies such as the U.S. are the frontrunners for the growth of this industry at present. High consumption of red meat is linked with high incidences of heart diseases because red meats such as ground beef are high in saturated fats, which is responsible for elevating the level of blood cholesterol, which increases the risk of cardiovascular diseases. Demand for nutritional supplements is on the rise at the global level, which is majorly spurred by the aging population, which has led the consumers to look for remedies for their ailments and options that would help them stay healthy and active. Staying health has become a lifestyle choice and has boosted the demand for several health products, contributing to the thriving consumer market. All these factors are expected to drive the global plant protein market during the forecast period from 2018 to 2026.
Market Synopsis, Value (US$ Mn)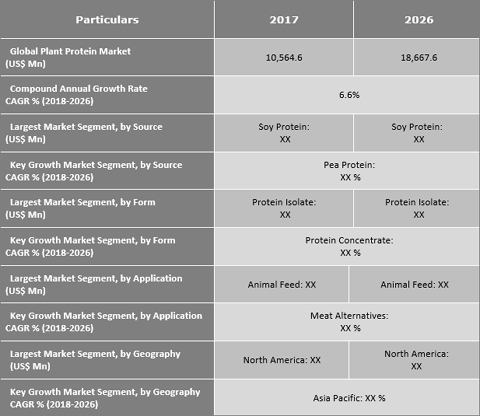 Get a sample copy for more information
"Pea Protein Segment propelling the growth of Plant Protein Market"
By source, pea protein segment is expected to be the fastest growing segment during the forecast period from 2018 to 2026. Preference towards healthy diet among majority of the population owing to the increasing concerns towards chronic diseases such as heart problems is generating a favorable impact on the demand for the plant proteins. These products are rich source of protein as it contains 50% protein and less than 11% of starch. Rising importance of the organic farming due to the strong regulatory framework in the countries such as U.S, Australia and Brazil among others are generating incentive to the farmers to produce pea crops and enhance the availability of raw material. For example, in the U.S, United States Department of Agriculture encourages organic farming and there were 21,781 certified organic operations in 2016. Companies such as Cargill invests on plant based protein in order to meet the rising consumer demands. For instance, in 2018, Cargill invested on PURIS, which is the largest North American producer of pea protein in order to manufacture natural and sustainable plant based products.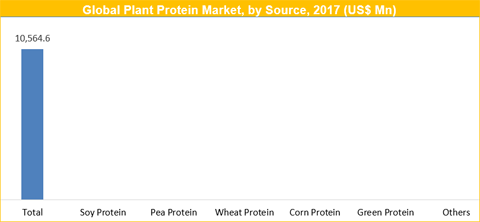 Get a sample copy for more information
"Protein Isolate Identified as the Dominant Form Segment in 2017"
Rising preferences towards low fat diets, results to the increase in the demand for the protein isolate among the consumers across the globe. Protein isolate refers to the protein powder that includes processing methods such as cooking, decanting and filtering in order to collect the purest protein. It is lactose, fat and gluten free, helps in better digestion, and has fewer calories. Soy and pea isolates are showing rapid growth rate in recent years. Soy protein isolates has 90% of protein content and are widely used in beverages, soups, sauce, bakery items among others. Pea proteins isolates expected to witness the fastest growth during the forecast period as they have the biggest potential as food ingredient. These concentrates are made from pea flour and follow the process of isoelectric precipitation and aqueous extraction. The protein content in pea isolation is approximately 80%.

Get a sample copy for more information
"Meat Alternatives expected to be the fastest growing application segment in 2017"
Meat alternative products include beans and lentils, soy foods (tofu, tempeh etc.), mushrooms, seitan (wheat gluten) among others. Soy food products as meat alternative dominated the market as it consists of high quality protein, iron and vitamins. These products are of low calorie and has good source of dietary fiber. Soy food manufacturers' uses soy concentrates, textured soy flour with the combination of vegetable proteins and ingredients. New technology has resulted in new soy product development that resembles the texture and taste of red meat.
Presence of bioactive components such as isoflavones in soya products helps to maintain healthy bones, prevents colorectal and breast cancers, and provides relief during menopausal symptoms. Products such as Tofu made from soybean curds, are of low calories, and free from gluten. These products are important source of protein for the people who follow flexitarian and vegan diet. Mushrooms also occupied a significant market share in recent years due to the rising demand for meat alternatives. According to American Institute for Cancer Research, mushrooms considered as the meat substitute but they do not provide equivalent amount of proteins like meat. However, they are rich in zinc, iron and vitamins and maintains a rich texture and flavor of the food. Another meat alternative, Seitan made from wheat provides the texture of meat when cooked and has become popular in recent years. These products are of high protein and preferred by the vegan population.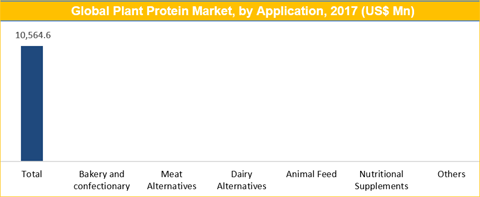 "North America is the Largest Region in the Global Plant Protein Market"
Globally, North America accounted for the largest value share of plant protein market. Various nutritional benefits of plant protein followed by growing consumer awareness regarding health and wellness is mainly driving this market. Trend shows that there has been increasing consumption of red meat in North America region. This in turn directly linked with high incidence of heart diseases owing to the fact that red meats such as ground beef are high in saturated fats. This basically is responsible for elevating the blood cholesterol level thereby increasing the risk of cardiovascular diseases. In addition, high consumption of red meat also results in obesity thereby increasing the risk of type 2 diabetes. As per the Center for Disease Control and Prevention (CDC), obesity prevalence in U.S. was approximately 39.8%, which affected approximately 93.3 million adults in the country. Hence, consumers in this region are shifting from red meat consumption to natural alternatives that are derived from plant sources, which in turn is driving the plant protein market in this region.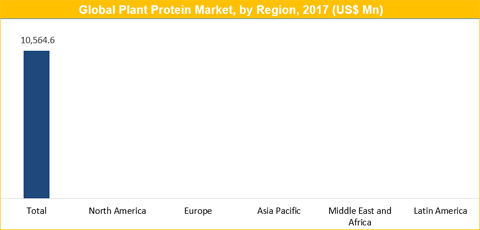 "Product Expansion Followed by Mergers and Acquisitions are the Key Strategies Adopted by the manufacturers"
Key players operating in the global plant protein market includes Cargill Incorporated, Archer Daniels Midland Company, Azaki Gulico Co., Ajinomoto Co., Inc., Ltd, Axiom's Foods, E.I. Du Pont de Nemours and Company, Glanbia PLC, Growing Naturals, LLC, Kerry Group PLC and Pinnacle Foods, Inc. among others. In 2017, ADM also expanded their production plant in Straubing, Germany. The production facility deals with various non-GMO based high protein soybean meal production. This expansion will facilitate the Company to cater to the growing demand for soybean meal.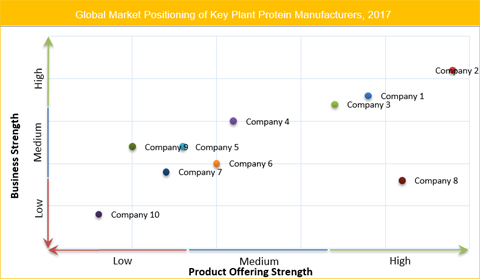 Historical & Forecast Period
This research considers 2017 as the base year and presents analysis of segments from 2016 to 2026. In addition, forecast period from 2018 to 2026 is considered for Compounded Annual Growth Rate (CAGR) calculation for each respective segment.
Report Scope by Segments
Global Plant Protein Market mainly focuses on quantitative and qualitative analysis of the overall market. The report also represents understanding about the current strategies and market dynamics prevailing in the market. The report covers the global plant protein market by segmenting the market in terms of form, source, application and geography.
ATTRIBUTE
DETAILS
Research Period
2016-2026
Base Year
2017
Forecast Period
2018-2026
Historical Year
2016
Unit
USD Million
Segmentation

Source Segment (2016–2026; US$ Mn)
• Soy Protein
• Pea Protein
• Wheat Protein
• Corn Protein
• Green Protein
• Others (potato, bean, canola, etc.)

Form Segment (2016–2026; US$ Mn)
• Protein Isolate
• Protein Concentrate
• Textured Protein

Application Segment (2016-2026; US$ Mn)
• Bakery & Confectionary
• Meat Alternatives
• Dairy Alternatives
• Animal Feed
• Nutritional Supplements
• Others (personal care, cosmetics, pharmaceuticals etc.)

Geography Segment (2016–2026; US$ Mn)
• North America (United States and Canada)
• Europe (U.K., Germany, France, Rest of Europe)
• Asia Pacific (China, South East Asia, Rest of Asia Pacific)
• Latin America (Brazil, Mexico, Rest of Latin America)
• Middle East and Africa (GCC, Rest of MEA)
Key questions answered in this report
Who are the distributors, traders and dealers of plant protein market?
What are expected largest source, form and application segments in the market during the forecast period from 2018 to 2026?
What are the fastest growing segments in the market for the forecast period?
What are the current market trends in the plant protein market and valuable opportunities for the players?
How the regulatory framework affects the global as well as the regional markets?
Which are the key players operating in the global market and what are the strategies adopted by them?
What are sales, revenue, business strategy and product portfolio of top manufacturers of plant protein market?
What is the market size and trend in emerging and developed markets?