Industry Outlook
Polyurethane Foams market was valued at USD 55.85 Bn in 2017 and expected to grow at a CAGR of 5.2% from 2018 to 2026. Polyurethane foam are the ideal raw material used in production of a wide range of consumer products. These foams provide durability and comfort and are lightweight and cheaper than available alternatives such as polyolefin foams, making them a preferred option for many end-use industries. Polyurethane foams are commercially available in flexible, rigid, and spray type, properties of these forms vary depending on the end use. Flexible PU foams are used for cushioning purpose (furniture, bedding, and automobile seating), whereas rigid PU foams are mostly preferred for insulation purpose (construction and refrigeration industry). Factors such as rising regulation for energy saving and efficiency, increasing middle class population in the emerging markets and increased use for refrigeration. Flexible PU foams finds promising uses in consumer product application such as cushioning, packaging, automotive safety, footwear, etc. grow in accordance with global GDP growth, while rigid PU/PIR foams grow slightly faster than the global GDP as it is mainly used for insulation purpose in building, transport, and refrigeration industry.
Flexible polyurethane foam held the largest share in 2017 and will remain the dominant product type of this resin, outpacing demand for its rigid counterpart owing to rapid growth in the bedding and carpet underlay markets. Strong demand for rigid polyurethane foam will be propelled by rising construction activities and changes in building codes and construction practices that call for use of energy saving construction materials. Rigid polyurethane foams is one of the ideal materials for air barrier sealants, insulated windows & doors, and roof and wall insulation. However, polyurethane foam will continue to face challenge from competitive products such as fiberglass and polystyrene foam and "green" bio-based polyol foams.
Polyurethane foams find its application in wide range of end-use industries such as bedding & furniture, building & construction, electronics, automotive & transportation, footwear, packaging, and others. Polyurethane foam market growth can be attributed to the growing demand for polyurethane foam from the bedding & furniture and building & construction end-use industries. Rising investments in new and aging infrastructure, renovation of non-residential buildings and new housing projects in the U.S., China, India, and Brazil also propelling the overall growth market growth. Major players operating in polyurethane foams market includes Covestro (Germany), BASF SE (Germany), The Dow Chemical Company (US), and Huntsman Corporation (US) among others.
Market Synopsis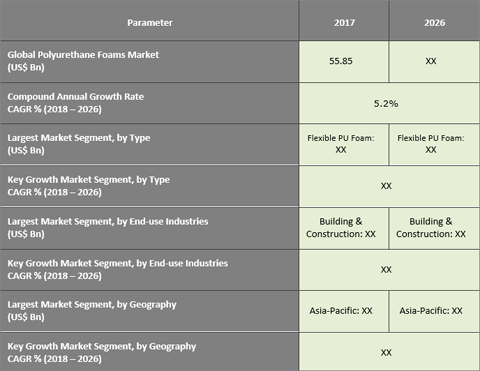 Get a sample copy for more information
Rising Demand for Energy Saving Materials from Building & Construction Industry, Making Rigid PU Foam the Fastest Growing Segment
Rigid PU Foam is identified as the fastest growing segment over the forecast period. Rigid PU Foam is most commonly used in insulated panels, wall and roof insulation, and gap fillers in building & construction end-use industry. Rigid PU Foam also well suited for insulating refrigeration equipment such as freezers, hot water heaters, and vending machines owing to low cost, toughness, and chemical resistance.
Flexible PU Foam accounted for the lion share of over 52% in 2017 and expected to maintain its dominant position over the forecast period. Light weight, resiliency and energy/sound absorption properties makes it a key material for manufacturing automobile and other transportation equipment. In 2017, largest end-use market for flexible PU foam was bedding and furniture. Cushioning made of flexible polyurethane foam is resilient, durable, strong, and it absorbs energy.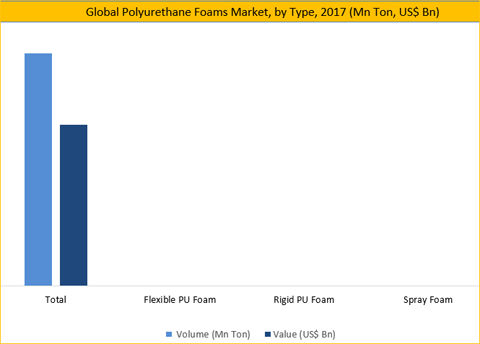 Get a sample copy for more information
Substantial Investment in New & Aging Infrastructure and Residential & Non-Residential Sector Globally, Making Building & Construction the Leading End-Use Industry for Polyurethane Foams
Building & Construction represents over 35% of polyurethane foam consumption in 2017-2018. Polyurethane foams are used as wall & roof insulation, gap fillers and for making insulated panels in building & construction end-use industries. Energy efficiency, high performance, versatility, thermal/mechanical performance and environmental savings properties of polyurethane foam making it an ideal construction material. The resurgence of global construction and building sector coupled with speedy economic recovery of Western European countries expected to boost the demand for polyurethane foams.
Automotive & Transportation closely follows the building & construction end-use industry in terms of value and volume consumption. Growth in production of automotive coupled with efforts to improve fuel efficiency through weight reduction consequently reducing energy consumption and CO2 emission fueling the demand for polyurethane foams in automotive and transportation end-use industry. Flexible PU Foams are used in headrests, seating, HVAC, arm rests, and other interior systems for trains, airliners, automobiles, and buses.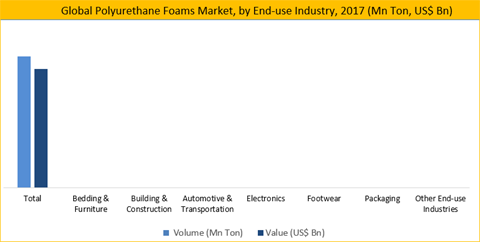 Get a sample copy for more information
Growing End-Use Industries in Developing Economies Projected to Catapult the Market Growth
Asia-Pacific market accounted for the largest market value share of over 40% in 2017. Asia-Pacific market is followed by North America and Europe in terms value and volume consumption. Flourishing end-use industry such as automotive, consumer electronics, and construction industry in Asia-Pacific offers several growth opportunities for polyurethane foams. Emerging economies of Asia-Pacific such as India and China are characterized by rising disposable income, high economic growth, improving living standards, high government spending, etc. leading to robust growth of polyurethane foams in the region. In 2017, China is the largest consumer of polyurethane foam in the world. Middle East & Africa is projected to witness the fastest CAGR during the forecast period. Increased government budgets for infrastructure development projects especially in GCC countries, boost the regional demand for polyurethane foams.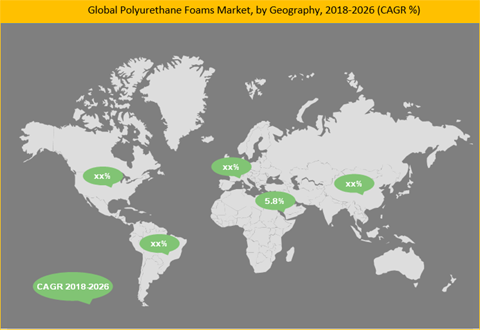 Expansion and New Product Development is the Preferred Strategy Adopted by Key Players in Polyurethane Foam Market
Increasing costs of petrochemical feedstock and public desire for environmentally friendly green products motivate manufacturers to develop innovative and green polyurethane foams to cater varying consumer needs. Polyurethane foams market is highly fragmented with the presence of many public and private players. Expansion and new product development are among preferred strategy adopted by key players to get an edge over other players. For instance, In January 2018, Recticel launched the new Geltex® foam with CO2 polyol supporting the introduction of new sustainable technologies for bedding products. Key manufacturers of polyurethane foams market includes BASF SE, Covestro AG, Dowdupont, Huntsman Corporation, Armacell, and Chemtura Corporation among others.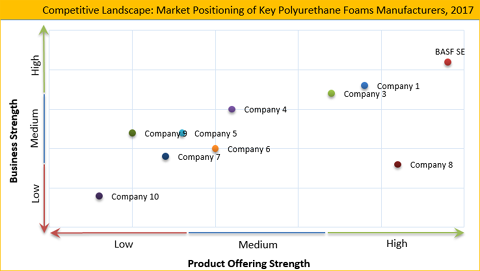 Historical & Forecast Period
Each market segment is analyzed in our study for the period of 2016 to 2026 with 2017 as the base year while period from 2018 to 2026 is considered for the CAGR calculation.
Report Scope
The report enlightens the thorough outline of global Polyurethane Foams market by categorizing the market in different segment given below:
ATTRIBUTE
DETAILS
Research Period
2016-2026
Base Year
2017
Forecast Period
2018-2026
Historical Year
2016
Unit
USD Billion
Segmentation

By Type Segment (2016–2026; Mn Ton, US$ Bn)
• Flexible PU Foam
• Rigid PU Foam
• Spray PU Foam

By End-use Industry (2016–2026; Mn Ton, US$ Bn)
• Bedding & Furniture
• Building & Construction
• Electronics
• Automotive & Transportation
• Footwear
• Packaging
• Others (textiles, refrigeration, etc.)

Geography Segment (2016–2026; US$ Bn)
• North America (United States and Canada)
• Europe (U.K., Germany, France, Rest of Europe)
• Asia Pacific (China, Japan, India, Rest of Asia Pacific)
• Latin America (Brazil, Mexico, Rest of Latin America)
• Middle East and Africa (GCC, Rest of MEA)
This research report describes leading continents and their major countries, along with profiles of key players operating in overall market and their planned developments. Our report further defines the overall market dynamics such as drivers, challenges, and opportunities prevalent in the market to understand global Polyurethane Foams market more explicitly. Our in-depth quantitative and qualitative analysis of each segment up to country level highlights investment opportunities and revenue pockets in the market.
Key questions answered in this report
What are the current market trends in the Polyurethane Foams market and valuable opportunities for the players?
How the environmental regulations affect global as well as the regional markets?
Which is the most lucrative region for investment?
What is the market size and trends in emerging markets?
Which are the prime end-use industries of polyurethane foams across different geographies?
Which are the major types of polyurethane foams and their market sizes?
Which are the leading players and their market position?