Patient misidentification is one of the most serious issues faced by the healthcare organizations worldwide. It occurs in several ways with the root cause being manual handling of identification process. Some of the major instances of patient misidentification include providing false information intentionally, change in name of the patient, improper oral registration process and others. According to the American Health Information Management Association (AHIMA), over 40% of duplicate medical records are due to inconsistent records of the patients' first and last names. In the U.S., preventable medical errors cause more than 400,000 patient deaths every year. Typically, average cost per misidentified record accounts for more than US$ 1,000, leading to high financial loss throughout the year. This makes effective and reliable patient identification highly essential in healthcare organizations.
Positive patient identification refers to a system of hardware and software components used for identifying a patient's identity. The hardware comprises scanning devices used for reading barcodes, RFID tags and also biometrics. The scanned information is processed using an integrated software and checked with the central information system of the organization. With the rise in trend of reducing the working hours of healthcare team members, the number of personnel caring for each patient increases. This further becomes more susceptible miscommunication ultimately leading to patient misidentification. Subsequently, there can be sensed a strong need for automated patient identification solution that can reduced the number of identity thefts and misidentification effectively.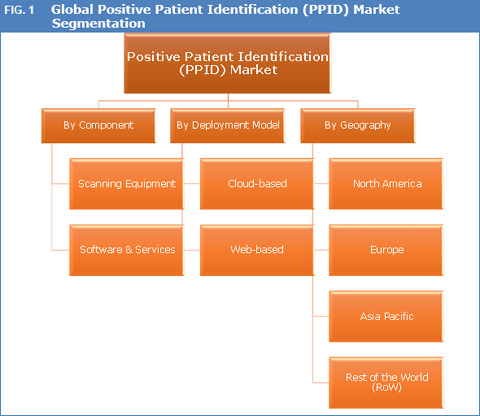 1.1 Report Description
1.1.1 Purpose of the Report
The purpose of this strategic research study titled "Global Positive Patient Identification (PPID) Market- Growth, Future Prospects and Competitive Analysis, 2016 – 2023" is to offer industry investors, company executives and industry participants with in-depth insights to enable them make informed strategic decisions related to the opportunities in the global positive patient identification industry.
1.1.2 Target Audience
Industry Investors
PPID Scanning Equipment Manufacturers
PPID Software Developers
Cloud Service Providers
Government and Federal Agencies
Other End-users
1.1.3 USP and Key Offerings
The report titled "Global Positive Patient Identification (PPID) Market- Growth, Future Prospects and Competitive Analysis, 2016 – 2023" offers strategic insights into the global positive patient identification market along with the market size and estimates for the duration 2013 to 2023. The said research study covers in-depth analysis of multiple market segments based on market components (viz. scanning equipment and software), deployment model and cross-sectional study across different geographies. In order to help strategic decision makers, the report also includes competitive profiling of the leading positive patient identification solution vendors, their business strategy analysis, market positioning and key developments. Other in-depth analysis provided in the report includes:
Current and future market trends to justify the forthcoming attractive markets within the positive patient identification market
Market fuelers, market impediments and their impact on the market growth
In-depth competitive environment analysis
Ecosystem Analysis
Two Year Trailing Data (2013 – 2014)
SRC (Segment-Region-Country) Analysis
Overall, the research study provides a holistic view of the global positive patient identification market, offering market size and estimates for the period from 2016 to 2023, keeping in mind the above mentioned factors.