Report Description
1. Market Excerpt
2. Shifting trend towards fashionable apparels and rising discretionary income
The global printing transfer paper market worldwide was valued at US$ 9,815.0 Mn in 2017 and is set to cross US$ 13,500.0 Mn by 2026, growing with a CAGR of 4.0% during the forecast from 2018 to 2026. Printing transfer paper market is heavily dependent upon customized apparels and accessories industry. The custom apparel printing industry has observed a significant growth in the last 4 years after economic slowdown in 2012/13. With continuous improving economic conditions in all major markets and rising income level, consumers are increasingly spending on fashion items and appeals increased significantly. The trend is expected to continue with improving economic conditions and expected to influence the demand for custom printed apparels and other products. This represents a positive outlook for printing equipment and other materials. Transfer printing (based on transfer paper) forms a substantial part of customized apparels and accessories. Thus, evolving fashion trends among youth is expected to continue driving the custom apparels and accessories industry, thereby supporting transfer paper market growth.
Market Synopsis
TABLE 1 Market Snapshot: Global Printing Transfer Paper Market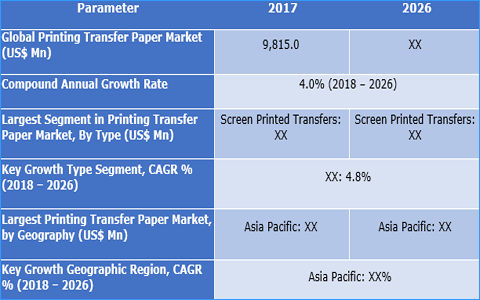 Get a sample copy for more information
Printing transfer paper is primarily used to manufacture customized apparels, prominently custom t-shirts. Due to higher popularity and appeal created by custom t-shirts among youth, organizations and companies targeting young audience use them as promotional tool. Custom-print t-shirts are widely distributed at company/college events, thereby generating immense demand for related printing techniques. In addition, due to ease and flexibility of printing options, many non-governmental organizations participating in social movements have begun printing their core messages onto t-shirts to reach target audience faster and more effectively. By distributing t-shirts with custom printed logos and company name, the organizations aim to promote their brand and product offerings.
"Asia Pacific is expected to maintain its dominance in the global printing transfer paper market with rising demand for customized apparels in China, India and Southeast Asia"
Asia Pacific accounts for the largest market share in the overall printing transfer paper industry. The printing transfer paper in Asia Pacific is primarily driven by major market China, India and Southeast Asia. Asia Pacific consists of largest consumer market for apparels and related accessories. The demand for trendy and stylish apparels and accessories in Asia Pacific is growing at significant rate with rising income level and shifting trends towards fashionable apparels from traditional wears. In addition, custom printed apparels and accessories are also observing considerable demand in all major markets in Asia Pacific which is driving the demand for printing transfer papers in the region. Several start-ups manufacturing printed T-shirts and trendy accessories have emerged in countries such as China, India, Japan and Southeast Asia. Thus, these countries have become trend-setters for the overall apparel printing and therefore boosting the growth of printing transfer paper market in Asia Pacific. Rising competition in these countries significantly compliments the market growth here and is estimated to continue the trend during the forecast period. Immense competition, huge customer base, and demand for innovative and attractive designs on apparels are estimated to pose Asia Pacific as the largest markets for printing transfer paper.
India is considered as one of the biggest custom printed apparels and accessories consumers in Asia Pacific as well as in the global market. Favorable median age, increasing urbanization and availability of online as well as retail channels are few of the many factors, which are aiding the printing technology and thus, printing transfer paper market in India. In addition, merits such as easy-care, low price, and expression of freedom provided by the printed apparels have resulted in a widespread acceptability across consumers at varying income levels and in different age groups.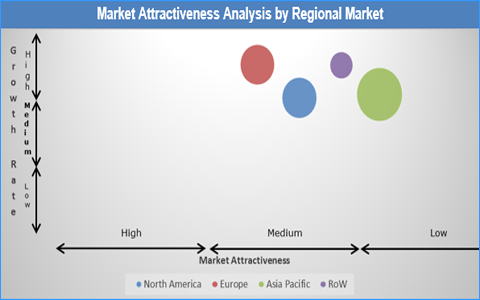 Get a sample copy for more information
"Heat transfer is expected to witness fastest growth with its rising popularity for custom apparel printing"
We have considered screen printed transfers, heat transfers, sublimation transfers and inkjet & laser transfers used in printing applications. Transfer papers used in screen printing applications account for the largest revenue share compared to other applications. Screen printing is cheap compared to other printing techniques due to which it is commonly used for most of the printing applications. However, printing transfer papers used in heat transfer process as expected to witness fastest growth due to rising popularity heat transfer process in custom apparel printing as it offers heat resistance, water resistance, adhesiveness and durability compared to other techniques.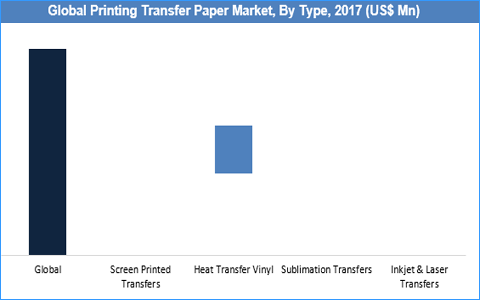 Get a sample copy for more information
"The global printing transfer paper is dominated by Chinese manufacturers"
The global printing transfer paper market is fragmented and characterized by the presence of both global and domestic players. Many of the manufacturers of printing transfer papers have worldwide presence wherein supply is mainly addressed through exports. China in particular has a large number of printing transfer paper manufacturers having factories in China but catering to worldwide demand. For instance, Nanking Clover Transfer Paper Co., Ltd. Headquartered in Nanjing, Jiangsu, China has operations across the world. Similarly, Suzhou Aolide Co., Ltd., Fuzhou Alizarin Coating Co., Ltd. and Suntek Print Company Limited are some of the other China based printing transfer paper manufacturers having worldwide operation.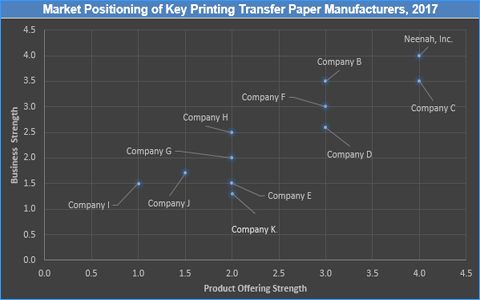 Why it is recommended to invest in our printing transfer paper market research study?
Our research study on printing transfer papers market includes in-depth analysis of market trends and dynamics of the global industry. The report provides comprehensive quantitative as well as qualitative analysis of printing transfer papers used for different printing methods. The report highlights key market driving and limiting factors and identify key opportunity areas in the global printing transfer paper industry. This research study also include analysis of major regions and countries in the global printing transfer paper industry.
ATTRIBUTE
DETAILS
Research Period
2016-2026
Base Year
2017
Forecast Period
2018-2026
Historical Year
2016
Unit
USD Billion
Segmentation

Printing Transfer Paper Market by Type (2016–2026; US$ Bn)
• Screen Printed Transfers
• Heat Transfers
• Sublimation Transfers
• Inkjet & Laser Transfers

Printing Transfer Paper Market by Geography Segment (2016 – 2026; US$ Bn)
• North America (U.S., Rest of North America)
• Europe (Germany, U.K., France, Rest of Europe)
• Asia Pacific (Japan, China, India, Southeast Asia, Rest of APAC)
• Rest of the World (Latin America, Middle East and Africa)
Our research study include market estimates for each and every segment mentioned above. This study also includes profiles of major printing transfer paper manufacturers in the global industry. Each company profile includes highlights of company overview, products offerings, financial performance, major competitors and recent developments of the company related to printing transfer paper market.
Our research study would help industry players across the value chain in formulating their market winning strategies and take tactical decisions.
Historical & Forecast Period
This research report presents the analysis of each segment from 2016 to 2026 considering 2017 as the base year for the research. Compounded Annual Growth Rate (CAGR) for each respective segments are calculated for the forecast period from 2018 to 2026.
Key questions answered in this report
What is the global market size of printing transfer papers market?
What are the key trends and market dynamics influencing the global printing transfer paper industry?
What are the key investment areas in the printing transfer paper market?
Who are major consumers of printing transfer papers?
Which paper type have highest demand and growth potential?
What are technical benefits of different types of printing transfer papers and their impact on demand?
Which are key investment countries for printing transfer paper manufacturers?
Who are the leading players in global market and their market winning strategies?