The quantum dots technology is poised to witness growing adoption, especially in the consumer segment (display and lighting). The anticipated growth can be majorly attributed to escalating demand for energy efficient lighting solutions and display panels. In addition, miniaturization property of quantum dots has enabled them to find applications in different domains including healthcare, consumer, industrial, defense and surveillance, and energy among others. These factors are expected to contribute towards a compounded annual growth rate (CAGR) of 51.3% during the forecast period 2015 – 2022. However, OEMs across the globe have made investments in the competing technologies such as LEDs and OLEDs, and are somewhat reluctant to further invest in another technology before earning profits. The quantum dots market is expected to cross US$ 8.0 Bn by 2022, expanding at a CAGR of 51.3% during the forecast period 2015 to 2022.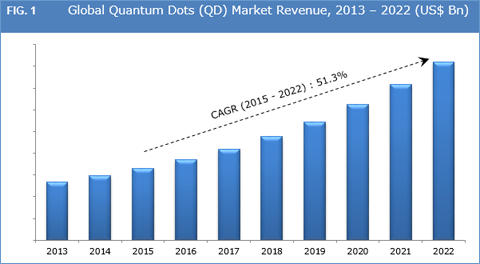 Purpose of the Report
The purpose of this strategic research study titled "Global Quantum Dots (QD) Market- Growth, Share, Opportunities, and Competitive Analysis, 2015 – 2022" is to offer industry investors, company executives, and industry participants with in-depth insights to enable them make informed strategic decisions related to the opportunities in the global semiconductor industry.
Target Audience
Industry Investors
Raw Material Suppliers
Quantum Dots Manufacturers
QD-based Product Manufacturers
End-users
USP and Key Offerings
The report titled "Global Quantum Dots (QD) Market- Growth, Share, Opportunities, and Competitive Analysis, 2015 – 2022" offers strategic insights into the global quantum dots market along with the market size and estimates for the duration 2013 to 2022. The said research study covers in-depth analysis of multiple market segments based on product type, applications, and cross-sectional study across different geographies. The research study helps in better analyzing the quantum dots market by highlighting competitive insights across different participants involved in the value chain. In order to help strategic decision makers, the report also includes competitive profiling of the leading quantum dots manufacturers, their SCOT (Strength, Challenges, Opportunities, and Weaknesses) analysis, market positioning, and key developments.
Other in-depth analysis provided in the report includes:
Current and future market trends to justify the forthcoming attractive markets within the quantum dots (QD) market
Market fuelers, market impediments, and their impact on the market growth
In-depth competitive environment analysis
Value Chain Analysis
Two Year Trailing Data (2013 – 2014)
SRC (Segment-Region-Country) Analysis
Overall, the research study provides a holistic view of the global quantum dots market, offering market size and estimates for the period from 2015 to 2022, keeping in mind the above mentioned factors.