Sepsis patients present with several symptoms ranging from tremors, fever, to severe confusion. However, the most critical indication of sepsis is sudden and significant drop in blood pressure, leading to incidence of septic shock and consequent organ failure. Sepsis is one of the prime causes of in-hospital mortality and also ranks among the most cost-intensive conditions being treated in hospitals worldwide.
Despite its humongous prevalence, sepsis treatment remains an object of speculation in several ways. Sepsis is termed as a syndrome and not a single disease, thus exhibiting as a collection of several causes and effects on patients. As the clinical understanding sepsis is advancing, the definition and diagnosis methods of sepsis are also correspondingly changing. Furthermore, being an expensive condition to treat, healthcare providers worldwide are emphasizing on earliest detection of sepsis and establishment of a standard guideline for intervention.
The scope of this report on sepsis diagnostics market offers detailed analysis of the market based on diagnosis products, technologies and geographical segmentation. Based on product types, the global sepsis diagnostics market is studied for blood culture media, assay kits and reagents and instruments. Molecular diagnostics, microbiology, immunoassays, and flow cytometry are the technologies that are employed for efficient diagnosis of sepsis. Each of such mentioned segment is studied in terms of the latest prevalent market trends along with their market size and forecast for the period 2015 to 2025. In addition, the CAGRs of these segments for the forecast period 2017-2025 are also included in this study.
Based on geographical demarcation of the globe, the sepsis diagnostics market is studied for North America (comprising United States and Canada), Europe (studied for United Kingdom, Germany and Rest of Europe), Asia Pacific (cumulative to China, Japan and Rest of Asia Pacific), Latin America (including Brazil, Mexico and Rest of Latin America), and Middle East and Africa (GCC and Rest of Europe). Market size and forecast is also presented for each regional and country-level market for the considered analysis period.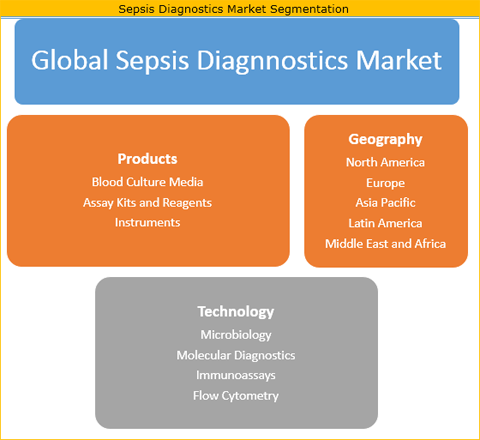 This report also analyzes the global market with the perspective of currently prevalent drivers and restraining factors. Future opportunities to be harnessed are also discussed in this study. The report also studied the competitive landscape of the major market players for the year 2016. Attractive investment proposition is also presented in this study to suggest the most prominent regional market eligible for proliferation, focus and corresponding investment. This report concludes with profiles of major players enjoying prominent position in the global sepsis diagnostics market.