The smart inhalers market is set to reach from US$ 1,006.6 Mn in 2017 to US$ 3,674.6 Mn by 2026 at a compound annual growth rate (CAGR) of 15.7% during the forecast period from 2018 to 2026. Smart inhalers are mounted on respiratory inhalers and nebulizers and provides its services via wireless smart apps and cloud computing systems. They are useful in adjusting the inhaled dose and also reminds the patients regularly by sending alert messages to take medication on time, thereby optimally enhancing patient adherence and compliance with inhaled medications prescribed for chronic respiratory diseases such as COPD and asthma.
Market Synopsis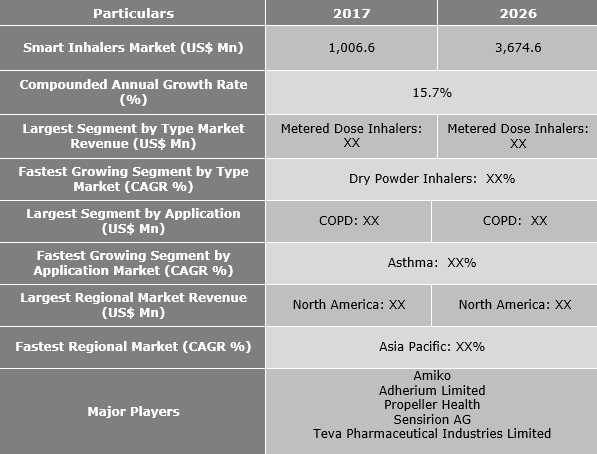 Get a sample copy for more information
"Excellent drug pharmacokinetic/pharmacodynamic modeling and patient compliance drive the metered dose inhalers market growth"
Metered dose inhalers (MDIs) are supremely reigning the type segment for smart inhalers market. The inherent features associated with its formulation are excellent drug PK/PD profile and enhanced patient compliance. Availability of sensors to monitor and adjust the dose of API and increasing popularity in geriatric patients further fortify MDIs market growth. Dry powder inhalers will register excellent growth in the near future on account of rising public awareness related to the drug irritation and adverse effects caused by propellants employed in MDIs. Nebulizers are widely employed in infants due to high degree of safety and efficacy associated with the drug delivery system.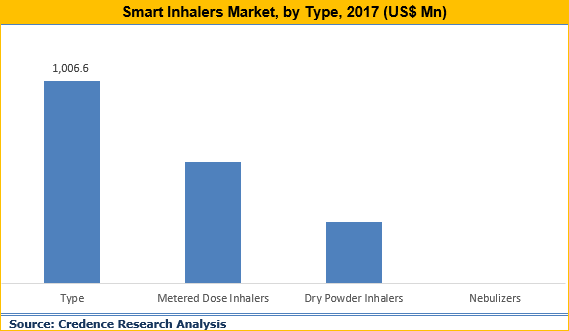 Get a sample copy for more information
"Rampant growth in tobacco smoking population and increasing air pollution drive the COPD market growth"
In the present scenario chronic obstructive pulmonary disorders are leading the application segment for smart inhalers market. Rampant growth in tobacco smoking population and increasing air pollution together fortify the market growth of COPD. As per the statistics provided by World Health Organization (WHO) in 2016, approximately 251 million cases were reported worldwide suffering with COPD. The prevalence rate is higher in middle and low income countries owing to high exposure to occupational dust and fumes. There is no permanent cure for COPD, but effective medication with smart inhalers can improve the quality of life and lower the risk of death. Asthma holds the second position in the application segment for smart inhalers market. There are several triggering factors for asthma such as exposure to allergens, dust, smoking, allergic rhinitis and hereditary in most cases. Instant medication it the form of inhalers and nebulizers provide quick symptomatic relief in patients having asthma episodes.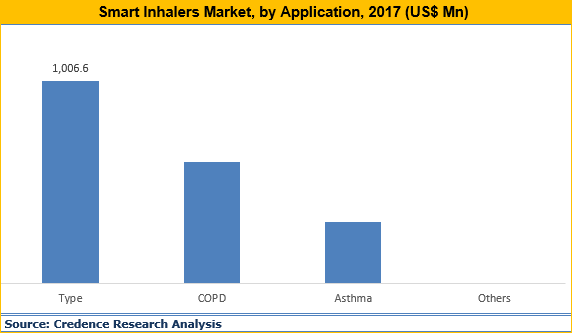 Get a sample copy for more information
"Rising prevalence of pulmonary disorders and increasing public health awareness drive the market growth in North America"
In the current scenario North America dominates the regional segment for smart inhalers market. It has a market share of 38% on account of major factors such as rising prevalence of chronic disease and rising public health awareness. According to the statistics provided by Center for Disease Control and Prevention (CDC), the age adjusted prevalence rate of COPD in the United States is 6.0%, with high prevalence reported in the female population. Domicile of key players such as 3M Healthcare, Propeller Health, Cohero Health etc., drive the market growth in North America region. Europe represents a market share of 29% and is currently the second largest regional segment for smart inhalers market. Strategic collaboration between government healthcare agencies and pharmaceutical giants and increasing number of children suffering with asthma propel the market growth in Europe. Asia Pacific represents 20% share in smart inhalers market. It will grow at a significant pace during the forecast period from 2018 to 2026 owing to the increasing geriatric population suffering with respiratory illness and emergence of local IT healthcare companies competing with major players to develop smart sensors and applications for respiratory inhalers.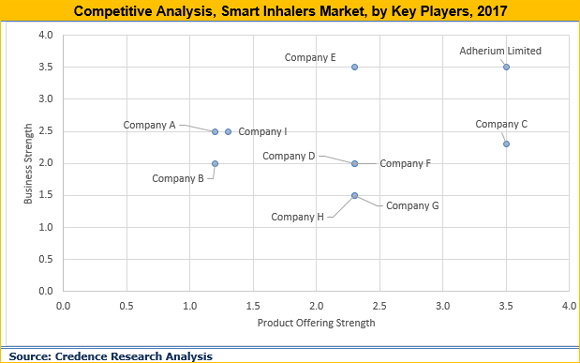 Historical & Forecast Period
This research report presents the analysis of each segment from 2016 to 2026 considering 2017 as the base year for the research. Compounded annual growth rate (CAGR) for each respective segments are calculated for the forecast period from 2018 to 2026.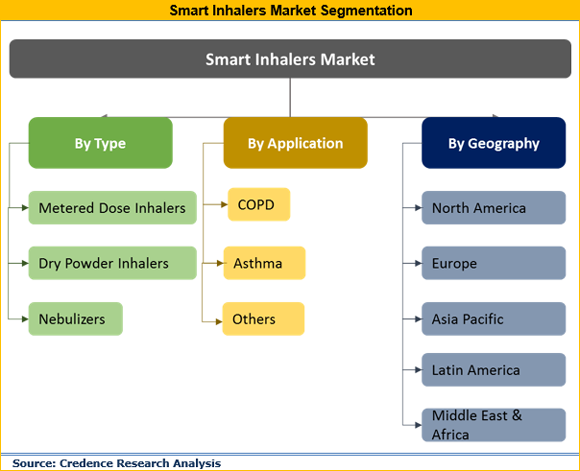 Report Scope by Segments
The market segmentation comprises of by type, application and geography.
ATTRIBUTE
DETAILS
Research Period
2016-2026
Base Year
2017
Forecast Period
2018-2026
Historical Year
2016
Unit
USD Million
Segmentation

By Type (2016–2026; US$ Mn)
• Metered Dose Inhalers
• Dry Powder Inhalers
• Nebulizers

By Application (2016–2026; US$ Mn)
• COPD
• Asthma
• Others

Geography Segment (2016–2026; US$ Mn)
• North America (U.S. and Canada)
• Europe (U.K., Germany, and Rest of Europe)
• Asia Pacific (Japan, China, and Rest of Asia Pacific)
• Latin America (Brazil, Mexico, Rest of Latin America)
• Middle East and Africa (GCC, Rest of MEA)
Companies in collaboration with pharmaceutical key players engaged in the development of smart inhalers are Amiko, Adherium Limited, Cohero Health, 3M Healthcare, Opko Health, Inc., Propeller Health, Philips Respironics, Sensirion AG, Teva Pharmaceutical Industries Limited and Vectura Group, Plc.
Key questions answered in this report
What are the latest strategic collaboration and merger taking place between IT healthcare providers and pharmaceutical giants providing respiratory inhalers?
What is the DRO's associated with smart inhalers market?
What is the global prevalence rate of COPD and how will smart inhalers impact its treatment?
What will be the factors responsible for the significant growth of dry powder inhalers in the near future?
What are the primary features responsible for the supremacy of North America in smart inhalers market?