Overview:
Increasing electricity expense resulting in need for optimum energy conservation is expected to transform the complete lighting industry, driving digitization and hence smart lighting demand. The advent of Internet of Things (IoT) technology and initiatives taken by the governments across the globe to develop smart cities are instrumental in driving demand for smart lighting solutions worldwide. Smart lighting solutions have become one of the key components for developing smart cities on account of their ability to save energy and curb operational costs. Smart lighting solutions have strong growth potential in residential and commercial spaces. On the contrary, the high upfront cost coupled with lack of awareness regarding the payback period have somewhat inhibited swift adoption of smart lighting solutions.
Europe currently represents the largest smart lighting market in terms of both revenue and volume. Growing inclination towards energy efficient products resulting in the replacement of existing lighting solutions with the energy efficient equivalents is driving the market demand in Europe. The trend shall prolong and the region is presumed to hold onto its leading position through 2023. Germany represents the largest smart lighting market in Europe and is front runner in smart lighting related research. On the other hand, Asia Pacific is presumed to register maximum growth during the forecast period. The government in countries including China and India are pushing adoption of energy efficient solutions to achieve energy self-sufficiency. For instance, China has already drafted plans for developing smart grids that would enable it to conserve and manage energy consumption in an efficient manner. This is bound to have positive impact on the overall demand for smart lighting solutions in the coming years.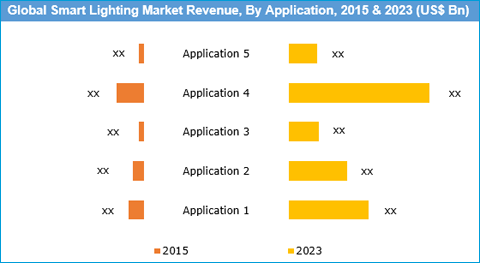 The Global Smart Lighting Market is segmented on the following bases:
By Communication Technology
By Lighting Technology
Light Emitting Diode (LED) Lighting
Fluorescent Lighting

Linear Fluorescent
Compact Fluorescent

High Intensity Discharge (HID) Lighting
Others (Neon Lighting, etc.)
By Application
Residential
Government
Commercial
Industrial
Automotive
Key Players Identified in the Smart Lighting Market include but are not limited to:
Philips Lighting Holding B.V., Acuity Brands Lighting, Inc., OSRAM Licht AG, Legrand S.A., Honeywell International Inc., General Electric Company, Schneider Electric SE, Cooper Industries, Inc., CREE, Inc. Lutron Electronics Co., Inc., Digital Lumens, Inc., Eaton Corporation , Emerson Electric, and MLS Electronics.
This report offers:
An overview of the global smart lighting market
Market trends assessment for the period 2016-2023, with historical information for 2014 & 2015, and projections through 2023, with respective CAGRs during 2016-2023
Qualitative assessment tools such as market drivers, challenges and future prospects, value chain, and attractive investment proposition.
Focus on each level of market segmentation based on product approvals, launch, and current and anticipated market dynamics.
A general overview of the industry structure
Company profiles highlighting key information about the major players operating in the global smart lighting market
Market competition scrutiny tools such as market share analysis, fractal map, etc.