Industry Outlook
The growth in demand for sterilization indicators is expected to be driven by growing emphasis on refurbishing and reprocessing of medical devices for tackling the growing healthcare expenses and increasing demand for safe food and drugs. Technological advancements for reprocessing of endoscopes, laboratory analyzers will contribute to increased requirement of sterilization supplies compatible to these processes. Sterilization indicators market is also considerably gaining from the growing implementation of strong norms related to maintenance of high quality and safe to consume food products. Increased stringency in the medical safety and infection control regulations has led to growth in public awareness, therefore supporting the growth of this market. In the coming years, further implementation of government initiatives to incorporate advanced sterilization standards in hospitals and clinical laboratories is anticipated to boost market growth opportunities. Rising demand for reusable surgical instruments and growing number of surgical procedures will also augment the market growth. North America is the largest market for sterilization indicators due to growing number of surgical procedures in the region and increasing need for controlling healthcare expenditure. The North America market is also characterized by presence of significantly large consumer base, and advanced healthcare infrastructure. Additionally, Asia Pacific market will witness high growth during the forecast period. Increasing prevalence of healthcare associated infections, growing biotechnology research activities, are likely to augment the growth of Asia Pacific market. Furthermore, increase in the number of pharmaceutical companies, CROs and perpetual growth in the food and beverage industry will also drive the market growth in this region. The global sterilization indicators market is characterized by widespread presence of manufacturers across all operating scales. The market players are observed to aggressively focus on rapid commercialization of novel products for holding their mark in the market.
Market Synopsis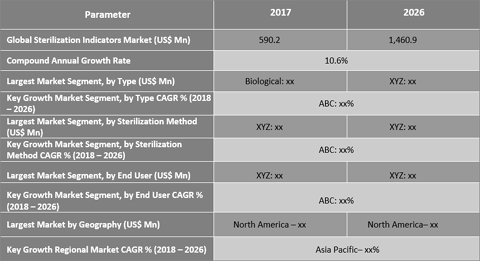 Get a sample copy for more information
"Biological Indicators are the Major Contributors in the Global Market"
In the base year 2017, biological indicators comprising (self-contained vials, spore strips, spore ampoules, and spore suspensions) occupies the largest revenue share. These products deliver reliable results as against chemical indicator products and are considered as the gold standard for sterilization verification. Among the considered biological indicators, spore ampoules are the most widely used indicators, particularly in research settings and steam sterilization. These products are ideal for sterility monitoring of liquid sterilization but can also be sued for monitoring dry loads. Comparable costs, imperative status and greater demand are the key factors supporting the market position of spore ampoules segment. On the other hand, chemical indicators have prominent adoption in ethylene oxide sterilization. Among the several types of chemical indicators, class 1 indicators occupy the largest revenue share.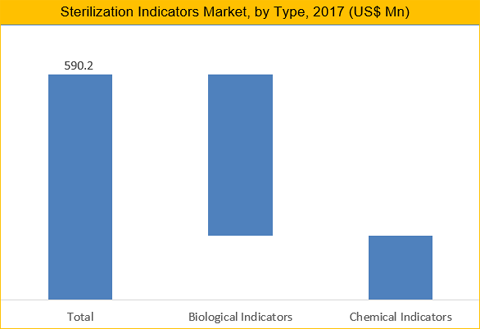 Get a sample copy for more information
"Indicators for Physical Sterilization to Spearhead the Global Sterilization Indicators Market"
Physical sterilization is the most widely used and the most reliable method for sterilization across all major applications. Durables such as instruments and systems are sterilized with physical process. Among the various types of physical sterilization methods such as heat, vibration, radiation and filtration, the demand for heat sterilization shall always remain the highest. Heat sterilization method is the most effective in eliminating cell constituents and enzymes, and is highly effective in hydrated state. Dry heat sterilization is also widely applied and finds ample usage in sterilization of thermostable products. Chemical sterilization, though widely used, finds certain challenges such as possibility of reaction of sterilant with polymer material being sterilized, toxicity of residual chemicals, and issue with respect to operator safety.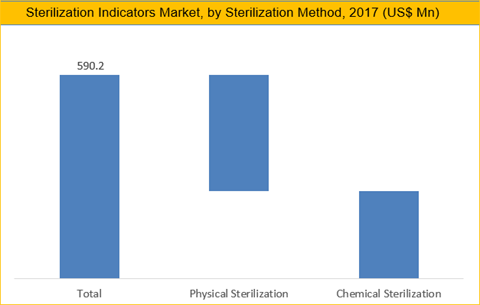 Get a sample copy for more information
"Highest Demand for Sterilization Indicators to Come from Hospitals"
At present, hospitals are the largest revenue contributing segment in the global sterilization indicators market. It is further expected that this segment will retain its lead through the forecast period. The need for repeated sterilization procedures for maintaining aseptic conditions with a requirement to prevent the incidence of hospital acquired infections and cost containment is the prime contributor to the prominent position of hospitals segment. This has also led to high consumption of a wide range of sterilization indicators and equipment in the segment. Furthermore, the share of steam sterilization is the largest in hospitals segment. On the other hand, the demand for sterilization indicators is set to further augment in the food and beverages industry. As the global population is increasing, the demand for food products is expected to correspondingly rise. The changes in dietary habits has also resulted in increased demand for processed foods that are safe to consume. This has therefore led to augmented need for performing advanced and accurate sterilization processes in food and beverages manufacturing.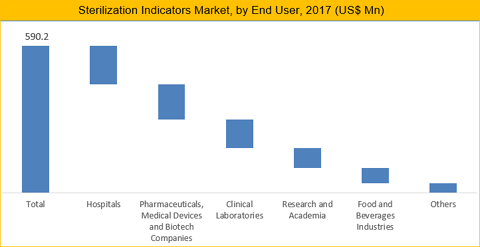 "Widespread Presence of Local Players to Define the Market Trends"
The global sterilization indicators market is characterized by presence of multitude of manufacturers and suppliers. Furthermore, the presence of local players is also a characteristic feature of this market. The developed regions such as North America and Western Europe have a prominent presence of international market giants that are also headquartered in these regions. North America is also characterized by widespread presence of hospitals, healthcare facilities, food products manufacturers, research institutions and pharmaceutical and medical device manufacturers. This has also resulted in high demand and therefore dominant status of the region in sterilization indicators market. Additionally, Asia Pacific is estimated to witness rapid market growth. India and China are the largest manufacturers of sterilization indicators and have a significant position in the local markets. Consumers in the region also have prominent inclination towards buying from local suppliers on the cause of cost containment. This has led to intensified competition among local and international players. The booming medical tourism and contract development and manufacturing industries in Asia Pacific has also led to augmenting demand for sterilization indicators in the region.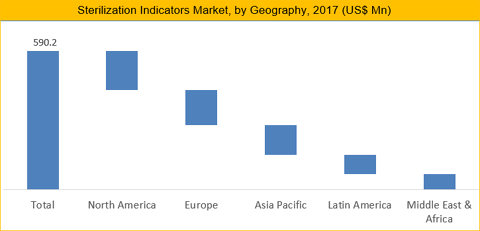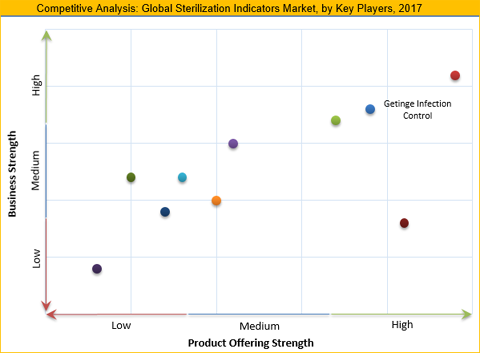 Historical & Forecast Period
This research report presents the analysis of each considered segment for the period from 2016 to 2026, having 2017 as the base year for estimations. Compounded annual growth rates (CAGRs) for each segment are calculated for the forecast period from 2018 to 2026.
Report Scope by Segments
The sterilization indicators market report provides quantitative assessment of the industry terms of current and forecasted market size, while also presenting the market dynamics. This market is segmented based on type, sterilization method, end users, and geography.
ATTRIBUTE
DETAILS
Research Period
2016-2026
Base Year
2017
Forecast Period
2018-2026
Historical Year
2016
Unit
USD Million
Segmentation

By Type (2016–2026; US$ Mn)
• Chemical Indicators
o External Chemical Indicators
 Process Indicators (Class I)
 Bowie-Dick Indicators (Class II)
• Internal Chemical Indicators
o Single-Parameter Indicators (Class III)
o Multi-Parameter Indicators (Class IV)
o Emulating Indicators (Class VI)
o Integrating Indicators (Class V)
• Biological Indicators
o Self-Contained Vials
o Spore Strips
o Spore Ampoules
o Spore Suspensions

By Sterilization Methods (2016–2026; US$ Mn)
• Chemical Sterilization
• Physical Sterilization

By End User (2016–2026; US$ Mn)
• Hospitals
• Pharmaceuticals, Medical Devices and Biotech Companies
• Clinical Laboratories
• Research and Academia
• Food and Beverages Industries
• Others

Geography Segment (2016–2026; US$ Mn)
• North America (United States and Canada)
• Europe (U.K., Germany, Rest of Europe)
• Asia Pacific (China, Japan, Rest of Asia Pacific)
• Latin America (Brazil, Mexico, Rest of Latin America)
• Middle East and Africa (GCC, Rest of MEA)
Along with quantitative market analysis in terms of market size, this report also includes qualitative insights pertaining to the global sterilization indicators market. The major market dynamics such as drivers, challenges and opportunities are studied in this report giving insights on the current and anticipated market trends. This study also analyzes market positions and profiles of key companies operating in this industry. The major market players profiled in this research report include: 3M Company, Getinge Infection Control, VWR International, Sigma-Aldrich Co. LLC, STERIS PLC, Fisher Scientific UK Ltd., Cantel Medical Corp., Propper Manufacturing Co. Inc., Mesa Laboratories, Inc., Cardinal Health, Inc., Medisafe UK Limited, and Crosstex International, Inc.
Key questions answered in this report
What is the current and estimated market size of the global sterilization indicators market through the period 2016 to 2026?
What is the anticipated market growth rate of the sterilization indicators industry during the forecast period from 2018 to 2026?
Which are the major market drivers supporting the growth of this market along with the prime pain points?
What is the current market position of external and internal chemical indicators segment?
Will the prominent of steam sterilization method be challenged by the growth of ethylene oxide sterilization method?
How will the food and beverages segment enjoy growing prominence during the forecast period?
How is Asia Pacific market challenging the dominant position of North America?
How the global competition progressing among the key market players?
How prominent is the position of local manufacturers in the global sterilization indicators market?