Industry Outlook
Over the past three decades, several transcatheter technologies and devices for surgical interventions in structural heart diseases have been introduced in the market. There are several technologies currently under development that use transcatheter intervention techniques. The growth in variety of approach through percutaneous treatment has resulted in evolution of clinical care. The previous few years have also witnessed greater application of new catheter based treatments for structural heart disease. Several of these interventional procedures have excellent clinical outcomes therefore consequently gaining greater acceptance among patients and surgeons alike. Rapid penetration of minimally invasive interventions for treatment of structural heart diseases has been further supplemented by advanced imaging technologies. Introduction of novel imaging technologies has assisted in precise identification and diagnosis of structural heart diseases for appropriate patient selection for different intervention procedures.
Market Synopsis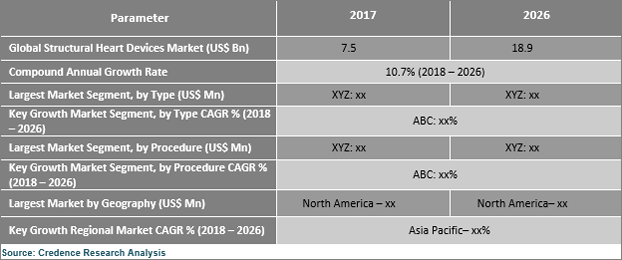 Get a sample copy for more information
"Greater demand for heart valve devices to be prominently witnessed during the forecast period"
Based on the type of devices, the global structural heart devices market is segmented into heart valve devices, repair devices and accessories. Among these, the demand for heart valve devices is set to remain the highest during the forecast period. The heart valve devices market is significantly large and rapidly growing. It is mainly driven by continuous adoption and commercialization of new devices and rapidly growing pool of geriatric cardiovascular disease affected population. Increasing amounts of positive clinical evidence is also supporting the demand for heart valve devices. Moreover, the competitive front of this segment is also continuously shifting with small innovator companies being consistently acquired by cash rich and established market players. The pipeline of heart valve devices is also observed to be strong with new long-lasting devices anticipated to be introduced in the coming years.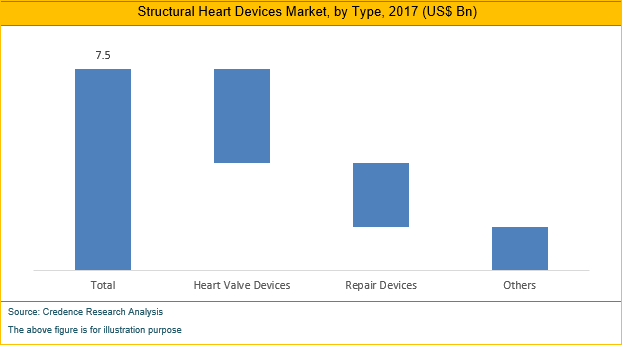 Get a sample copy for more information
"Replacement procedures segment to register the highest CAGR during the forecast period"
On the basis of procedure types, this market is categorized into repair and replacement procedures. The repair procedures segment is further segmented into valvuloplasty, transcatheter mitral valve repair (TMVR), annuloplasty and others; whereas the replacement procedures segment is studied for tissue heart valves, mechanical heart valves, and transcatheter aortic valve replacemnet (TAVR). The demand for replacement procedures is anticipated to be the highest during the forecast period. Consistent growth in the geriatric population with high vulnerability to debilitating cardiovascular diseases is the key factor attributed to the growth of this segment. Improved long term durability, growing uptake of minimally invasive and transcatheter procedures and competitive prices of replacement devices further drive the growth of this segment.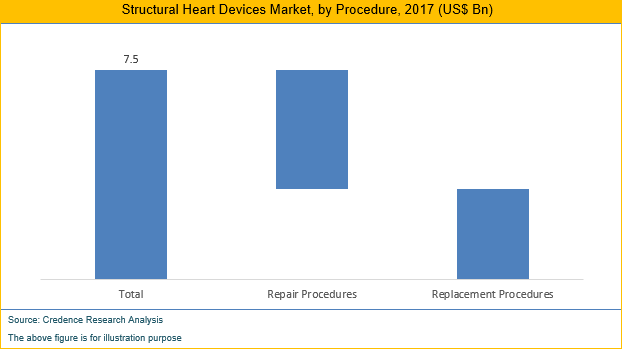 Get a sample copy for more information
"North America to dominate the global structural heart devices market"
Significantly large disease incidence, rapid introduction of novel, breakthrough repair and replacement devices and procedures, along with favorable reimbursements to the already established procedures are the key factors driving the dominance of North America market on the global front. Additionally, this region is also characterized by domicile of the major market incumbents, therefore ensuring early introduction of novel devices in the market. Asia Pacific on the other hand, is expected to witness the fastest market growth during the forecast period. Increasing regulatory approvals, improving reimbursements, growing involvement of government funding in public healthcare are collectively driving the Asia Pacific market. Realizing such opportunities, the market players already having stronghold in developed regions are enhancing their footprints in Asia Pacific market. Distribution agreements, establishment of manufacturing facilities and research collaborations are the key strategic events observed in the region.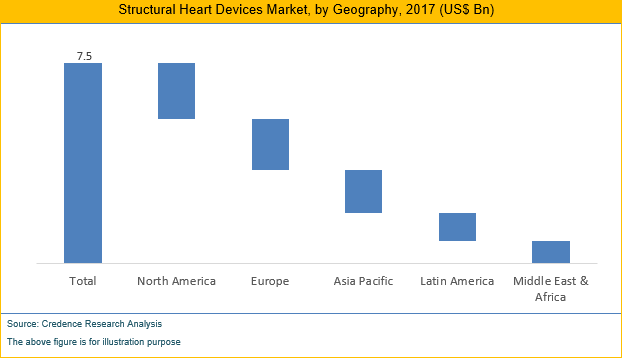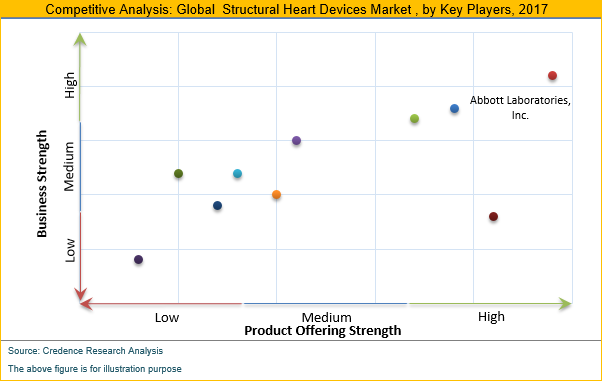 Historical & Forecast Period
This research report presents the analysis of each considered segment for the period from 2016 to 2026, having 2017 as the base year for estimations. Compounded annual growth rates (CAGRs) for each segment are calculated for the forecast period from 2018 to 2026.
Report Scope by Segments
The structural heart devices market report provides quantitative assessment of the industry terms of current and forecasted market size, while also presenting the market dynamics. This market is segmented based on device type, procedure, and geography.
ATTRIBUTE
DETAILS
Research Period
2016-2026
Base Year
2017
Forecast Period
2018-2026
Historical Year
2016
Unit
USD Million
Segmentation

By Type (2016–2026; US$ Mn)
• Heart Valve Devices
• Surgical Heart Valves
• Transcatheter Heart Valves
• Repair Devices
• Occluders and Delivery Systems
• Annuloplasty Rings
• Others
• Accessories

By Procedure (2016–2026; US$ Mn)
• Repair Procedures
• Valvuloplasty
• Transcatheter Mitral Valve Repair (TMVR)
• Annuloplasty
• Others
• Replacement Procedures
• Tissue Heart Valves
• Mechanical Heart Valves
• Transcatheter Aortic Valve Replacement (TAVR)

Geography Segment (2016–2026; US$ Mn)
• North America (United States and Canada)
• Europe (U.K., Germany, Rest of Europe)
• Asia Pacific (China, Japan, Rest of Asia Pacific)
• Latin America (Brazil, Mexico, Rest of Latin America)
• Middle East and Africa (GCC, Rest of MEA)
As mentioned, this report offers market size and forecast of each considered segment in the study scope for the period 2016 to 2026. Furthermore, quantitative information sets for each such segment are provided in the study for better market analysis. Analysis factors such as drivers, challenges and opportunities are also covered in this report. In addition this report provides profiles of key players operating in this market such as Abbott Laboratories, Boston Scientific Corporation, Edwards Lifesciences Corporation, Medtronic PLC, LivaNova PLC, C. R. Bard, Inc., CryoLife, Inc., Integer Holdings Corporation, Comed B.V. and JenaValve Technology, Inc.
Key questions answered in this report
What are the most promising growth opportunities and drivers prevailing in the global structural heart devices market?
Which product segment is estimated to generate largest revenue?
Which are the key factors affecting the global market growth within the forecast period?
Who are the major players operating in the global structural heart devices market and which companies are binging in the latest developments in the industry?
Which are the key competing products in the global structural heart devices market?
Which region will progress at the fastest growth rate during the forecast period?