Key Market Insights
"Evolution in t-shirt industry worldwide will enhance market growth"
The global t-shirts market is rising significantly, expected to expand at a CAGR of 6.0% throughout the forecast period from 2019 to 2027, starting from US$ 206.12 Bn in 2018.
The global t-shirts industry has evolved, driving fashion trends in the form of plain t-shirts, personalized t-shirts, graphic t-shirts, vintage t-shirt designs, and long sleeve custom T-shirts. With leading fashion brands across the globe embracing the t-shirt industry, the future outlook appears positive. The global market for the t-shirt is quite an established market. It is further poised to offer strong growth opportunities, evolving beyond its early adopter stage to reach the mass market during the forecast period 2019 - 2027.
The rapid penetration of e-tailing in the fashion space has positively impacted the fashion industry in general. The t-shirt category, especially custom-print and designed, has exhibited a higher acceptance for e-tailing. The prevailing trend of Friday dressing is another important trend shaping the market demand. Most domestic and multi-national companies (MNCs) allow casual clothing (mostly t-shirts with the company's name and logo) as an official dressing on Fridays. This is stimulating the demand for casual apparel, especially t-shirts. T-shirts are specifically targeted toward the young population segment. One of the main reasons behind the popularity among youth is that t-shirts strike a chord with the creativity hidden inside each teenager. Teenagers can choose every element of their t-shirt, including color, design, garment, logo, etc., allowing their creativity to take over as they design a t-shirt matching their personality, style, and attitude. Thus, every savvy retailer today knows that consumers buy products that are all about their sense of style, humor, and individuality.
Market Synopsis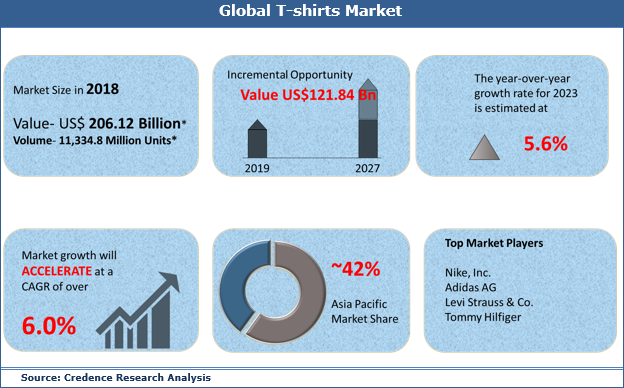 Material Type Analysis
"Durability of cotton to spur the segment growth"
Cotton is one of the most widely used materials for manufacturing T-shirts worldwide. Cotton goes through a long process from the fields to the T-shirts manufacturing facility in order to be sewed into a T-shirt. Over the years, cotton has proved to a very durable and comfortable fabric for clothing in various weather conditions. For instance, cotton can provide insulation from heat in the summers while offering warmth during the winters. In addition, due to its breathable nature and ability to absorb moisture off the body, cotton has been a favorable choice of material for different types of clothing. Furthermore, cotton can be easily dyed to achieve the desired color as per the manufacturer's preference. Thereby, cotton is commonly used in clothing industry across the world.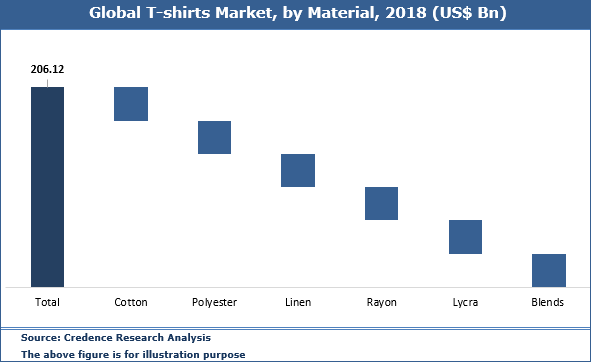 Ink Material Type Analysis
"High opacity & ability to boost the segment growth"
The others segment, which include water-based ink, plastisol, and discharge in the segment, accounted for the largest revenue share of 33.8% in 2018 in the overall T-shirts market by ink material. The others segment includes plastisol, discharge, and water-based inks. Because of its high opacity and ability to sit on the screen for long periods of time without drying, plastisol ink is widely used on garments. Other factors such as durability, flexibility, and versatility have also led to the popularity of plastisol ink. Water-based ink is popular because it saturates the fibers of the garment and in essence, dyes the garment rather than resting on top of the fibers.
On the contrary, sublimation inks are used on polyester, poly-Lycra, acetate rayon, and acrylics and require post-treatment heat. It produces brilliant color and good light fastness when applied to polyester and polyester-coated substrates. These inks find extensive application in sportswear and are also used in heat transferring images onto pre-coated ceramics, plastic, and metals. Applying heat to the printed image with a press, whether through transfer paper or directly, fixes these vivid inks into the polyester substrate allowing the item to be washed time and time again. Moreover, sublimation inks offer good image printing and are also waterproof.
Regional Analysis
"Changing lifestyle is projected to enhance the Asia Pacific growth"
In 2018, Asia Pacific accounted for the largest share, in terms of revenue as well as volume, of the overall t-shirt market globally. The market here is principally governed by the huge consumer base in the region. The Asia Pacific is the largest market for apparel and related accessories. Thus, the region becomes a highly potential market for stylish and trendy accessories and apparel, such as T-shirts. With the increase in discretionary income of people here, spending on fashion clothing and accessories has risen substantially over the period of time. The region is also expected to witness the fastest growth with a growing domestic market in China, India, and Southeast Asia and increasing export from Asian countries.
China represents the largest individual market for t-shirts in terms of revenue and volume. The market here is primarily driven by the growing population and rise in disposable income. China is estimated to remain the dominant market throughout the forecast period. India is projected to register the highest growth rate in the Asia Pacific T-shirts market in the following years.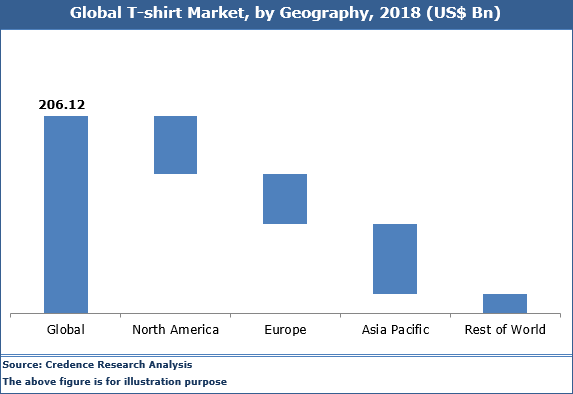 Key Industry Developments:
In March 2019, Levi Strauss & Co. launched Wellthread™ x Outerknown Spring/Summer collection. The new collection is the first foray into the use of "cottonied hemp" denim. The new collection includes t-shirt made from recycled jeans material.
List of Companies Covered:
CustomInk, LLC
Vistaprint B.V.
Threadbird
Printful Inc.
Nike, Inc.
Adidas AG
Levi Strauss & Co.
Tommy Hilfiger
Gianni Versace S.p.A
Guccio Gucci S.p.A
Hugo Boss AG
OP TIGER spol. S.r.o
Spreadshirt AG
Fanela Ltd.
Ateliar Almelot
Shirtracer GmbH
Woot, Inc.
Sunfrog, LLC
Zazzle, Inc.
ooShirts, Inc.
Teespring, Inc.
T-shirt Factory Thailand
Thai T-shirt Factory Co., Ltd.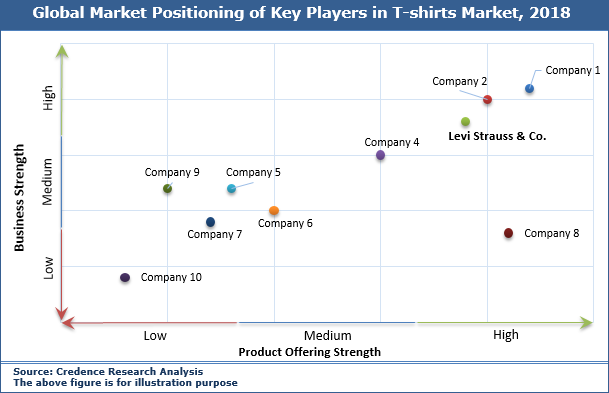 Historical & Forecast Period
This study report represents analysis for each segment from 2017 to 2027 considering 2018 to be the base year. Compounded Annual Growth Rate (CAGR) for each of the respective segments estimated for the forecast period from 2019 to 2027.
Market Segmentation
ATTRIBUTE
DETAILS
Research Period
2017-2027
Base Year
2018
Forecast Period
2019-2027
Historical Year
2017
Unit
USD Billion
Segmentation

By Material (2017-2017; US$ Bn)
• Cotton
• Polyester
• Linen
• Rayon
• Lycra
• Blends

By Type (2017-2017; US$ Bn)
• Customized
 Printed
 Embroidery
• Non-customized
 Printed
 Plain

By Ink Type (2017-2017; US$ Bn)
• Dyes Ink
• Sublimation
• Pigments

By Region (2017-2017; US$ Bn)
• North America (U.S., Canada, Mexico)
• Europe (U.K., Germany, France, Spain,Italy, Turkey, Romania, Poland, Russia, and Rest of Europe)
• Asia Pacific (China, Japan, India, Malaysia, Taiwan, Thailand, South Korea, Hong Kong, Vietnam, Philippines, Indonesia, Australia, Rest of Asia Pacific)
• Middle East and Africa (Saudi Arabia, UAE, South Africa, Rest of Middle East and Africa)
• Latin America ( Brazil, Argentina, Rest of Latin America)
The current report also comprehends qualitative and qualitative market valuation factors such as key market drivers, market trends, restraints, and opportunities to better understand the overall t-shirt market. The global report also comprises a graphical representation of the competitive landscape based on their market initiatives and strategies, product portfolio and business strengths.
Key questions answered in this report
What are the current market trends and dynamics in the t-shirt market and valuable opportunities for emerging players?
Which segment accounts for the fastest CAGR during the forecast period?
What are the drivers of the t-shirt market?
Notable developments going on in the t-shirt market.
What is the market trend and dynamics in emerging markets such as Asia Pacific, Latin America, and Middle East & Africa?
Comparative scenario for all the segments for years 2018 (actual) and 2027 (forecast)