Overview:
The global theodolite market was valued at US$ 754.4 Mn in 2018 and is projected to witness noteworthy growth, expanding at a CAGR of 5.4% during the forecast period from 2019 to 2027. Theodolite is an instrument used specifically in archaeology and survey testing for measuring vertical and horizontal angles. A theodolite comprises of a small telescope attached to devices that helps in measuring angles and has a variety of moving parts. They have the same constructional features regardless of their age or level of technology, and all of them basically perform the same functions. Theodolites have wide range of applicability in surveying like locating points on line, laying horizontal angles, prolonging survey lines, determining difference in setting out curves, elevation, aligning tunnels, etc. As a result, rising need of theodolite from surveying, civil engineering, and machine engineering sectors for making precise planar angle measurements is boosting the market for theodolite worldwide.
Market Snapshot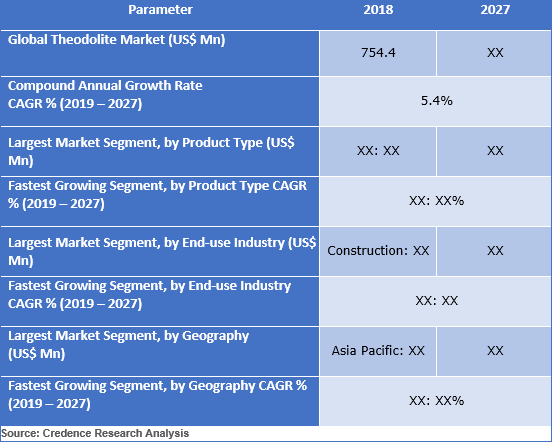 Get a sample copy for more information
"Construction garnered Largest Market Share in 2018
In 2018, construction industry segment accounted for the largest market share in the overall theodolite market. The segment is expected to grow at a significant rate during the forecast period from 2019 to 2026. Technological advancements in the construction industry has led to the introduction of new surveying instruments at regular intervals. These advances have made the work of planning construction projects an easier task. Earlier, surveying the construction project was performed manually by rotating an instrument, but now theodolites leverage data electronically for more precise measurements. For many construction firms, this means being able to accurately position and layout points on the construction jobsite. Moreover, rapid urbanization has led to increased mobility infrastructure. With growing global population, more people are migrating to urban areas. This has led to the need for more infrastructure and growth in construction activities which is thereby driving the market growth.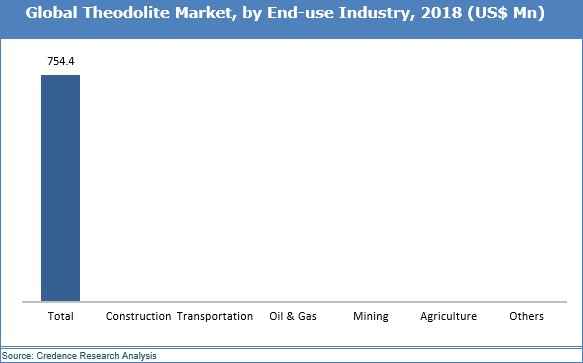 Get a sample copy for more information
'Asia Pacific to retain its Supremacy in the Theodolite Market during the Forecast Period from 2019 to 2027."
Based on geography, Asia Pacific represented the largest market for theodolite in 2018. The region is expected to continue with its dominance and grow at a substantial growth rate during the forecast period from 2019 to 2027. Development of smart cities in India, China and other Southeast Asian countries is driving the demand for theodolites in the region. Moreover, the use of theodolites for roadway and highway management, transportation management, precision farming, land and forestry management are some of the major factors boosting the market for theodolites in the Asia Pacific region.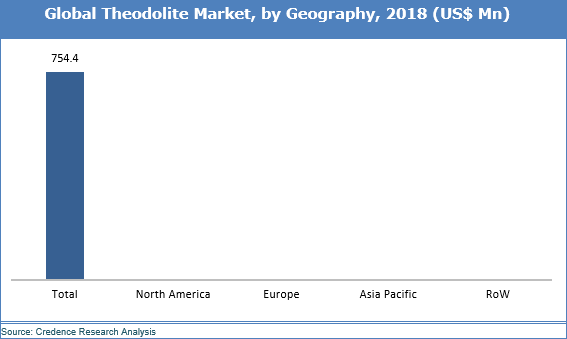 Get a sample copy for more information
Competitive Insights
The major players identified in the theodolite market include Hexagon AB, Topcon, Trimble, Inc., EIE Instruments, South Surveying & Mapping Technology CO., LTD, Horizon SG, Hilti Group, Robert Bosch GmbH, Beijing Bofei Instrument Co., Ltd., and Changzhou Dadi Surveying Science & Technology Co., Ltd. among others. These players are persistently engaged in strengthening their portfolio to satisfy the rising needs of the customers. Partnerships and new product development remains some of the major strategies adopted by the leading players to have an advantage over their equivalents.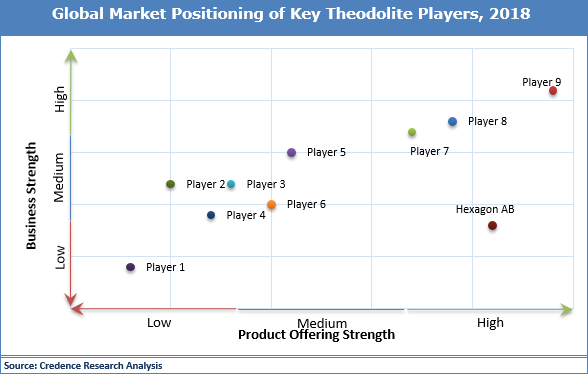 Historical & Forecast Period
The research report presents the analysis of each segment from 2017 to 2027 considering 2018 as the base year for the research. Compounded Annual Growth Rate (CAGR) for each respective segments calculated for the forecast period from 2019 to 2027.
Report Scope by Segments
Theodolite market report provides market size and estimates based on market dynamics and key trends observed in the industry. The report provides a holistic view of global theodolite market based on product type, end-use industry, and geography. Key segments covered in the report are as follows:
ATTRIBUTE
DETAILS
Research Period
2017-2027
Base Year
2018
Forecast Period
2019-2027
Historical Year
2017
Unit
USD Million
Segmentation

Product Type Segment (2017-2027; US$ Mn)
• Optical Theodolite
• Electronic Theodolite
• Vernier Theodolite

End-use Industry Segment (2017 – 2027; US$ Mn)
• Construction
• Transportation
• Oil & Gas
• Mining
• Agriculture
• Others

Geography Segment (2017-2027; US$ Mn)
• North America (U.S., Rest of North America)
• Europe (U.K., Germany, France, Rest of Europe)
• Asia Pacific (Japan, China, India, Rest of APAC)
• Rest of the World (Middle East & Africa, Latin America)
Key questions answered in this report
What was the market size of theodolite market in 2018 and forecast up to 2027?
What are the key factors driving the global theodolite market?
What are the key market trends and high-growth opportunities observed in the theodolite market?
What are the drivers of the theodolite market?
Which is the largest regional market for theodolite market?
Which segment will grow at a faster pace? Why?
Which region will drive the market growth? Why?
Which players are leading the theodolite market?
What are the sustainability strategies adopted by the key players operating in the market?