Day-night working capability of thermal imaging camera makes it popular device in defense and military sector for performing security and surveillance applications. This is increasing the uptake of thermal imaging technology in this sector. Also, increasing spending by defense and military on modernization of armed forces is boosting growth of the thermal imaging market. Fall in price of thermal imaging cameras and broadening application area of thermal imaging technology is expected to fuel growth of the market. However, budgetary cuts by defense and military especially in developed countries is posing challenge to growth of the market.

Report Scope
This report analyzes the global thermal imaging market in terms of type, application, end user, and geography. The global thermal imaging market has been segmented based on type into hardware, software and service. By application, the market is bifurcated into surveillance and security, monitoring and maintenance, automobile, veterinary, radiology, and other applications. On the basis of end user, the global thermal imaging market is segmented into defense and military, industrial sector, commercial sector, and residential sector. The global thermal imaging market covers major geographies such as North America, Europe, Asia Pacific, and Rest of World.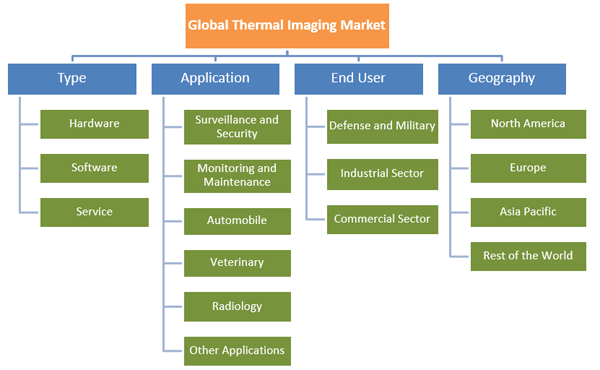 The thermal imaging market is consolidated in nature, with top 5 players constituting over 70% share of the overall market revenue. High capital requirement and technological expertise make it difficult for new players to enter the global thermal imaging market. Acquisition and strategic partnership are major strategies followed by key vendors operating in the market. This helps them to enhance their market share and customer base. Some of the prominent players identified in the thermal imaging market are FLIR System, BAE Systems Inc., Axis Communications AB, Danaher Corporation, DRS Technologies Inc., Raytheon Company, L-3 Communications Holdings, Inc., Testo AG, Honeywell International, Inc., and Fluke Corporation.
1.1 Report Description
Purpose of the Report
The purpose of this strategic research study titled "Global Thermal imaging Market - Growth, Share, Opportunities, and Competitive Analysis, 2016 – 2023" is to offer industry investors, company executives, and industry participants with in-depth insights to enable them make informed strategic decisions related to the opportunities in the global thermal imaging market.
Target Audience
Industry Investors
Thermal Imaging Camera Providers
Service Provider
Government Agencies
USP and Key Offerings
The report titled "Global Thermal Imaging Market- Growth, Share, Opportunities, and Competitive Analysis, 2016 – 2023" offers strategic insights into the global thermal imaging market along with the market size and estimates for the duration 2014 to 2023. The said research study covers in-depth analysis of multiple market segments based on type, application and cross-sectional study across different geographies. In order to help strategic decision makers, the report also includes competitive profiling of the leading thermal imaging vendors, their SCOT (Strength, Challenges, Opportunities, and Threats) analysis, market positioning, and key developments. Other in-depth analysis provided in the report includes:
Current and future market trends to justify the forthcoming attractive markets within the thermal imaging market
Market fuelers, market impediments, and their impact on the market growth
In-depth competitive environment analysis
Ecosystem Analysis
SRC (Segment-Region-Country) Analysis
Overall, the research study provides a holistic view of the global thermal imaging market, offering market size and estimates for the period from 2014 to 2023, keeping in mind the above mentioned factors.