"Tissue banking Market to Exhibit Productive Growth during the Forecast Period"
The global tissue banking market is growing fruitfully, was valued at US$ 1,656.7 Mn in 2017 and expected to reach US$ 3,674.5 Mn by 2026. Worldwide growing cardiovascular procedures, utilization of advanced equipment types for excessive storage and preservation of human cells & tissues drives the overall market growth.
Advancement in the field of biospecimen science and biorepository is growing significantly. New product launches with embedded software and robotic systems for automatic storage & preservation management is adopted in the developed regions. Higher usage of cold storage and freezers on a global scale is generating maximum revenue share, these systems are well equipped with temperature chart recorder, digital temperature display, and microprocessor controller.
Moreover, demand for regenerative medicines, organ transplantations, and cellular therapies for cord tissue is gaining traction during the forecast period. Additionally, rising medical tourism in developing economies, growing healthcare expenditure, adoption of advanced equipment for the preservation of cells, and favorable reimbursement and insurance policies fuels the demand for tissue banking market globally.
However, the high cost of tissue storage equipment, preservation, and bioethical issues are liable for limiting the growth of tissue banking market globally.
Market Synopsis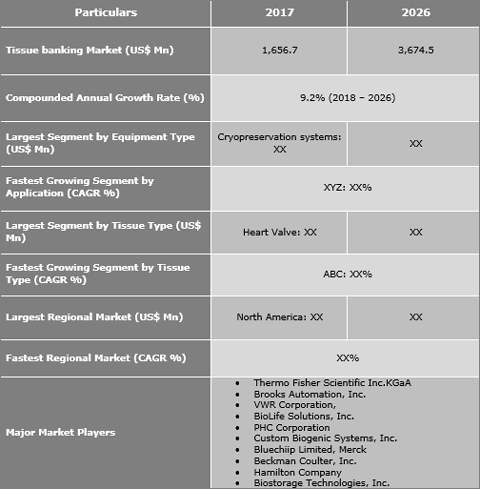 Get a sample copy for more information
"Cryopreservation Systems Equipment Type Segment is expected to Register Higher Growth by the End of 2026"
The wide range of equipment types in the market incorporates experts to meet the fluctuating demand of regenerative medicines and human cells for storage and preservation. Top equipment manufacturers have expanded their products in the overseas market, they are more focused to reinforce geological presence to acquire more client base, For instance, in June 2017, Bluechiip Limited (Australia) dispatched its order for Bluechiip Buttons, cryoboxes, and readers, as per the agreement with Labcon (USA). Also, in April 2018, Allele Biotechnology & Pharmaceuticals Inc. received a tissue bank license from the California Department of Public Health. In March 2016, Panasonic Healthcare launched a top end model of MCO-170M Ideal (multi-gas incubator), for numerous cell culture requirements that encompass CO2 and above-ambient oxygen control while processing.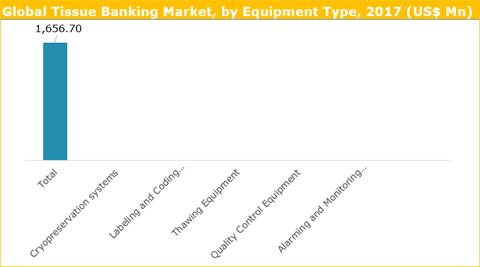 Get a sample copy for more information
"Increasing Applications in Clinical/Therapeutic Segment to Witness a Significant CAGR"
Expanding interest in tissue transplantation for the treatment of cancer and chronic diseases are remarkable variables expected for the growth & development of the market. Around 500,000 individuals in the U.S. are assisted with a transplant every year. Growing prevalence of cardiovascular diseases in Europe, India, and China is a major factor in expanding the growth of clinical/therapeutic application segment.
The rise in neurosurgical applications and usage of skin and fresher organic membranes for wound treatment is gaining traction. A noteworthy development in the preservation & storage of tissues inferable from immense progression in clinical preliminaries, medical research, and biopharmaceutical organizations has supported the administrations of tissue banking market.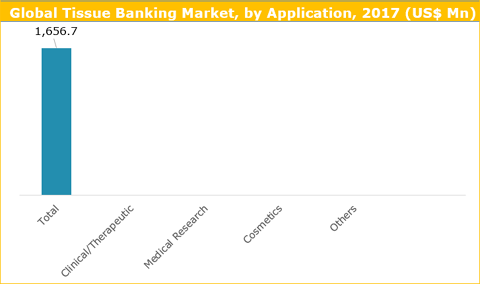 Get a sample copy for more information
"The Heart Valves Segment is expected to Register Higher Growth by the End of 2026"
Overall demand for tissues (heart valves, skin, and cord tissues) in biobanks, hospitals, and research & academic institutes expected to grow at a reasonably healthy rate. Moreover, changing consumer approach towards cellular therapies, organ transplant, blood transfusions, regenerative medicines, and vaccines, along with increasing procedures for the treatment of chronic diseases and cancer via utilizing various tissues is generating maximum share during the forecast period.
In addition, the heart valve in the tissue type segment is generating maximum revenue growth, due to the growing prevalence of cardiovascular diseases and obesity globally. For instance, in 2017, as indicated by WHO report, more than 17 million people die due to cardiovascular diseases worldwide. Moreover, cord tissue banking demand would surge during the forecast period due to growing awareness about cord blood storage and tissue stem cell for therapeutic applications for the treatment of heart diseases, diabetes, Parkinson's disease, cancer, and others.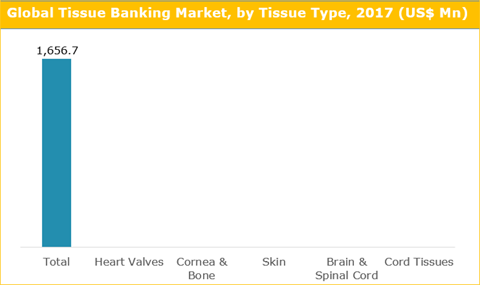 Get a sample copy for more information
"Increasing Population, New Product Launches and the Presence of Top Players Holds North America in Dominant Position"
North America to contribute maximum revenue share in the overall growth of the tissue banking market attributed to the aging population, rising prevalence of cancer, heart attack, skin diseases, and other lifestyle diseases. Higher adoption of branded and costly equipment along with advanced services such as high storage & preservation, screening, processing, serological & microbial testing is growing at a significant pace. Major factors contributing to the growth include increasing awareness and programs held by top trained and skilled professionals, higher patient safety and the presence of top key manufacturers in the U.S.
Few external factors enhancing the overall tissue banking industry include the high demand for regenerative medicines and human cells globally. Also, increased spending biobanking technology, advancements in the cryopreservation techniques, and cellular therapy are gaining traction during the forecast period. Increasing partnerships, growing medical tourism, and demand for advanced equipment are on a rise. However, in low economic nations such as South Africa, Asia, and Latin America, the availability of advanced systems and services is limited. Lack of physicians, poor supply chain, less accessibility of treatment along with high cost is limiting the overall growth of the market.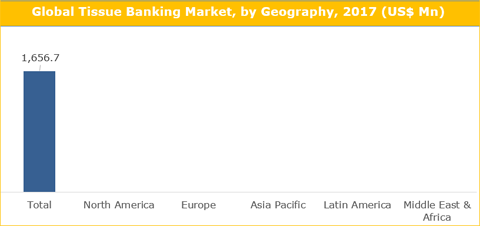 "Dominance of Multinational Manufacturers with Strong Equipment Type Portfolio in the Developed Regions"
Major players in the tissue banking market are Beckman Coulter, Inc., BioLife Solutions, Inc., Thermo Fisher Scientific Inc.KGaA, Brooks Automation, Inc., Bluechiip Limited, VWR Corporation, PHC Corporation, Custom Biogenic Systems, Inc., Merck, Hamilton Company, Biostorage Technologies, Inc. and others. Top manufacturers are implementing growth strategies along with new technology assessment in advanced equipment models, new product launch, and merger & acquisitions with medical technology companies. For instance, in July 2018, PHC Corporation presented the brand new VIP ECO series 1 (85°C ultra-low temperature freezer) using natural refrigerants 2 in Japan. In Feb 2018, BioLife Solutions, Inc. completed an OEM agreement with MilliporeSigma, to supply its HypoThermosol cell storage and CryoStor cell freeze media. Also, in July 2017, under asset acquisition agreement Cesca Therapeutics Inc. the cell processing systems of SynGen Inc.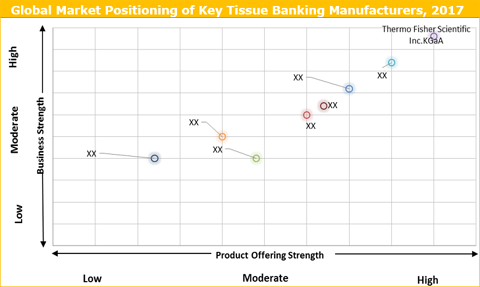 Historical & Forecast Period
This study report represents analysis for each segment from 2016 to 2026 considering 2017 to be the base year. Compounded Annual Growth Rate (CAGR) for each of the respective segments estimated for the forecast period from 2018 to 2026.
Report Scope by Segments
ATTRIBUTE
DETAILS
Research Period
2016-2026
Base Year
2017
Forecast Period
2018-2026
Historical Year
2016
Unit
USD Million
Segmentation

Equipment Type (2016–2026; US$ Mn)
• Cryopreservation systems
• Labeling and Coding Equipment
• Thawing Equipment
• Quality Control Equipment
• Alarming and Monitoring Systems

Application Segment (2016–2026; US$ Mn)
• Clinical/Therapeutic
• Medical Research
• Cosmetics

Tissue Type Segment (2016–2026; US$ Mn)
• Heart Valves
• Cornea, Bone
• Skin
• Brain & Spinal Cord
• Cord Tissues

Geography Segment (2016–2026; US$ Mn)
• North America (United States and Canada)
• Europe (U.K., Germany, Rest of Europe)
• Asia Pacific (China, Japan, Rest of Asia Pacific)
• Latin America (Brazil, Mexico, Rest of Latin America)
• Middle East and Africa (GCC, Rest of MEA)
The current report also comprehends qualitative and qualitative market valuation factors such as key market drivers, market trends, restraints and opportunities that gives a better market understanding of the overall tissue banking market. Additionally, the global report also comprises graphical representation of competitive landscape based on their market initiatives and strategies, Equipment Type portfolio and business strengths.
Key questions answered in this report
What are the current market trends and dynamics in the tissue banking market and valuable opportunities for emerging players?
Market positioning of major key players operating in the market?
Which segment accounts for the fastest CAGR during the forecast period?
Which tissue type holds a larger market share and why?
What is the impact of high cost of equipment on the tissue banking market?
Are low and middle-income economies investing in the tissue banking market?
What is the market trend and dynamics in emerging markets such as Japan, Latin America and Middle East & Africa?