Industry Outlook
Transplant diagnostics are an integral step in organ transplant procedures. Transplant diagnostics are performed to study the organ donor and recipient compatibility, and these methods also play a critical role after transplantation procedure. Performing diagnosis methods at every stage of transplant procedure assist physicians and surgeons to safeguard patients by controlling the risk of organ failure or transplant rejection. As the global incidence of chronic diseases is increasing, the cases of organ failure are also on the rise. This has consequently resulted in increased growth of transplant diagnostics market. Growing number of organ donations has further led to additional growth of the global transplant diagnostics market.
Precise diagnosis is the prerequisite for deciding medication in transplantation. It was only recently that the precision in defining the mechanism of transplant rejection has increased. Such development was mainly driven by the introduction of new diagnostic tools such as solid phase HLA antibody testing and C4d staining. However, the current empirically derived diagnostic criteria for biopsy assessment are prone to varied interpretations, therefore are of limited accuracy. Furthermore, the previously employed platforms and approaches for assessment and monitoring of alloantobodies were also subject to institutional variation. Such previous lack of precision in diagnostic methods and interpretation methods has had an impact on patient management.
Additionally, identification of allograft injury is also vital for increasing the longevity of the transplant. Cases of acute rejection that cause from a variety of immune and non-immune reasons pose a major risk to organ acceptance. The last decades have marked a growth in the discovery of new transcriptomic, proteomic and genomic biomarkers in molecular diagnostics, offering evolved potential for personalized patient management. The field of transplant diagnostics is seeking new methodologies that will allow multiplexing to simultaneously identify multiple targets, therefore provide more precise biomarkers and better understand transplant mechanism.
Market Synopsis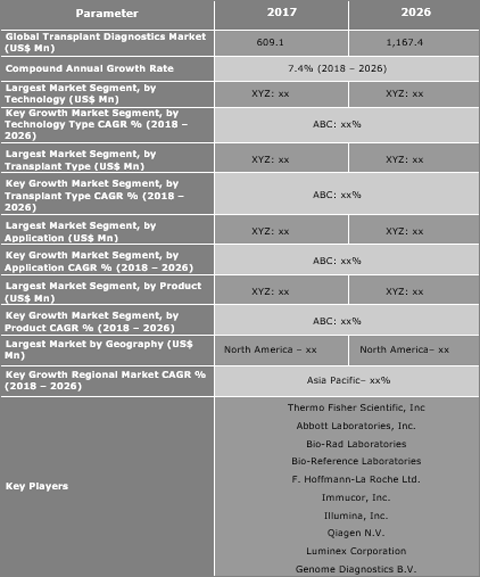 Higher Preference to Molecular Assays Observed as a Global Trend
Non-molecular assays are currently the dominant technology segment in the global transplant diagnostics market in terms of revenue. Increasing preference for non-invasive molecular assays is observed surpassing the demand for serological assays. Benefits such as greater accuracy, and less risk of deviant test results contribute to this trend. Non-molecular assays represent conventional methods for transplant diagnostics and are employed worldwide for detection of transplant rejection. Furthermore these methods allow the practice of antibody-based histocompatibility offering low resolution typing. Non-molecular assays address challenges faced during molecule identification that are involved in immune rejection of mismatched grafts. In molecular assays segment, PCR based molecular assays hold prominent market share, globally. Sequencing based molecular assays comprising Sanger sequencing and next generation sequencing is anticipated to progress at considerable pace during the forecast period.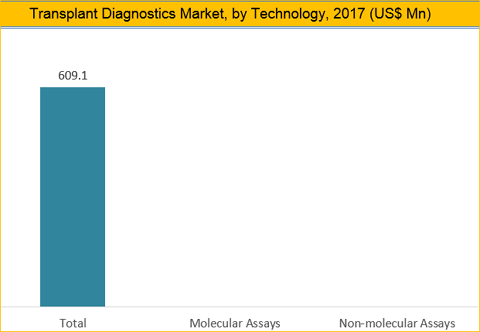 Large Procedure Rates Contribute to the Dominance of Solid Organ Transplant Diagnostics
Based on type of transplants, the global transplant diagnostics market is categorized into solid organ transplantation and stem cell transplantation. Between these, solid organ transplantation segment is expected to contribute to the leading share in the global market. factors facilitating the dominance of this segment include higher procedure rates of kidney, liver and heart transplants; growing incidence of end stage renal diseases and cardiac conditions, and rising demand for new organs for cancer treatment. Supportive reimbursements in developed countries in treatment of end stage diseases have also led to high market demand for solid organ transplantations. On the other hand, technological developments in the field of stem cell transplantation and increased application areas of the same will allow rapid growth of this segment.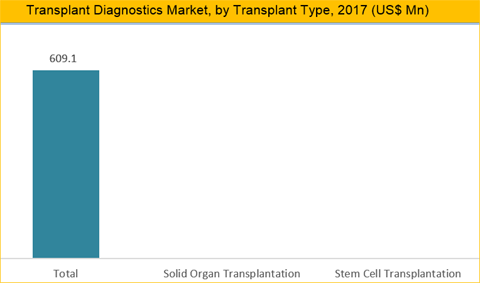 Pre- and Post-transplant Diagnosis Spearhead the Global Market
Due to higher rates of solid organ transplantation, the market share of pre- and post-transplant diagnosis is significantly high in the global market. Greater incidence of renal, liver and cardiac diseases has urged more and more patients to opt for transplants. Therefore for verification of histocompatibility before transplantation procedure and follow-up tests for reducing the risk of transplant rejection up to several years following transplantation has contributed to higher share of these segments. Additionally, technological evolution in HLA typing has further increased the uptake of pre-transplant diagnostics globally. On the other hand, growing drug discovery initiatives and evolution in the field of stem cell transplantation has urged increasing demand for both molecular and non-molecular diagnostic methods in research application.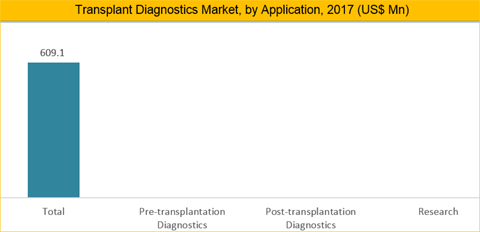 Reagents and Consumables, Hospitals and Transplant Centers have a Major Influence on Market Size
Based on the product types, the global transplant diagnostics market is segmented into instruments, reagents and consumables, and software. Among these, reagents and consumables segment contribute to larger revenues share globally. Higher consumption rate of these products across all applications and end-uses along with greater replacements rates despite less cost is the key attribute of this segment. Additionally, hospitals and transplant centers, research and academia, and pathophysiology laboratories are the prime usage areas cumulative to this market. hospitals and transplant centers are anticipated to take a major revenue share in the global market. Higher patient footfall, and greater post-transplant diagnosis processes being performed at these locations are attributed to the leading position of this segment. Pathophysiology laboratories segment will progress at above benchmark rate during the forecast period due to increasing trend of outsourcing of test procedures.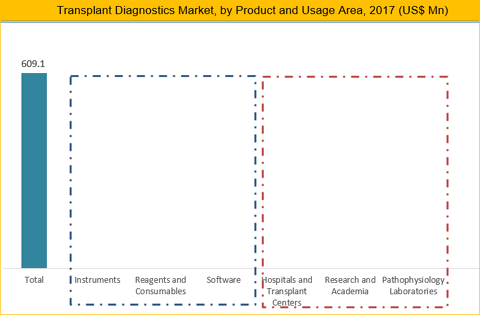 United States Leads the Global Transplant Diagnostics Market due to Greater Awareness and Supportive Business Environment
North America dominated the global transplant diagnostics market in 2018. The dominance of North America is mainly driven by increasing geriatric population, growing incidence of chronic diseases leading to organ failure, and high adoption of transplantation techniques. Furthermore, reduction in cost of gene sequencing, and growing private and public funding for evolution of diagnostic techniques are other key drivers characterizing North America market. Additionally, increasing awareness programmes for patient population, rapidly evolving skills of healthcare professionals, and increasing incomes are facilitating the fast market growth of Asia Pacific region. In this region, China and Japan shall be the key revenue holders through the forecast period.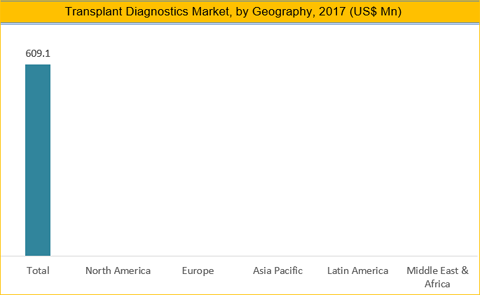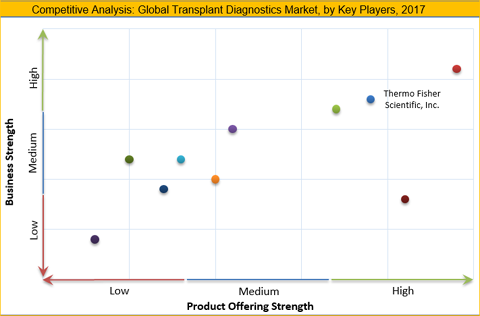 Historical & Forecast Period
2016 – Historical Year
2017 – Base Year
2018-2026 – Forecast Period
This research report presents the analysis of each considered segment for the period from 2016 to 2026, having 2017 as the base year for estimations. Compounded annual growth rates (CAGRs) for each segment are calculated for the forecast period from 2018 to 2026.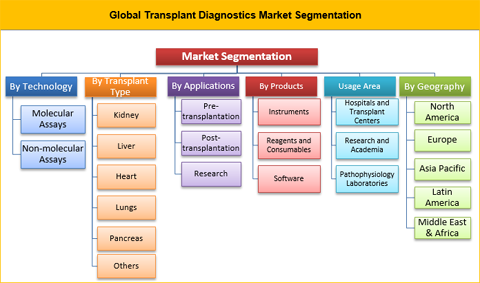 Report Scope by Segments
This report includes qualitative and quantitative information on the transplant diagnostics industry, mapped for the period from 2016 to 2026. Qualitative information of this market is presented in the form of analysis for each market segment and drivers, challenges, opportunities, and competitive landscape. The global transplant diagnostics market is segmented in terms of technology, transplant type, application, usage area, and geography.
By Technology (2016–2026; US$ Mn)
Molecular Assays

PCR Based Molecular Assays
Sequencing Based Molecular Assays

Sanger Sequencing
Next Generation Sequencing

Non-molecular Assays

Serological Assays
Mixed Lymphocyte Culture (MLC) Testing
By Transplant Type (2016–2026; US$ Mn)
Solid Organ Transplantation
Stem Cell Transplantation
By Application (2016–2026; US$ Mn)
Pre-transplantation Diagnostics
Post-transplantation Diagnostics
Research
By Products (2016–2026; US$ Mn)
Instruments
Reagents and Consumables
Software
By Usage Area (2016–2026; US$ Mn)
Hospitals and Transplant Centers
Research and Academia
Pathophysiology Laboratories
Geography Segment (2016–2026; US$ Mn)
North America

Europe


U.K.
Germany
Rest of Europe

Asia Pacific (APAC)

Latin America (LATAM)


Brazil
Mexico
Rest of Latin America

Middle East and Africa (MEA)


GCC
Rest of Middle East and Africa
The research study also includes profiling of major market players engaged in this industry. Such profiling is performed on the following companies based on parameters such as business overview, financial information, product portfolio and key developments: Thermo Fisher Scientific, Inc., Abbott Laboratories, Inc., Bio-Rad Laboratories, Bio-Reference Laboratories, F. Hoffmann-La Roche Ltd., Immucor, Inc., Illumina, Inc., Qiagen N.V., Luminex Corporation, and Genome Diagnostics B.V.
Key questions answered in this report
What is the current position of the global transplant diagnostics market in the base year 2017?
How will the market progress through the forecast period from 2018 to 2026 to the forecasted market size?
Which are the prime diagnostic technologies occupying dominance in the global transplant diagnostics market?
Which transplant type holds the lead position in terms of market size?
Why hospitals and transplant centers are the key revenue-generating segment in the global transplant diagnostics market and how pathophysiology centers segment is challenging its position?
Will Asia Pacific surpass the lead of North America and Europe during the forecast period?
What are the key market movements observed from the strategies adopted by the major market players?