Report Scope
This report analyzes the global vacuum tube lifter market in terms of application, end-use, and geography. Based on application, the global vacuum tube lifter market is segregated into glass handling, sheet and plate handling, concrete handling, and manual handling. Similarly, on the basis of end-use, the market for vacuum tube lifter is further classified into construction and heavy equipment, automotive and transport, chemical and pharmaceutical, and industrial manufacturing. The geographical distribution of the global vacuum tube lifter market considered in this study encompasses regional markets such as North America, Europe, Asia Pacific, Middle East and Africa, and Latin America.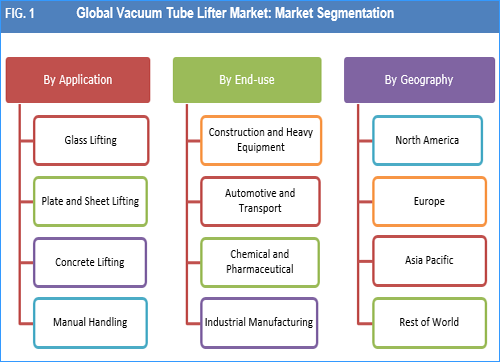 Overview
Growing industrial automation coupled with the resurgence in the manufacturing and construction sectors is identified as the major factor driving vacuum lifting equipment demand worldwide. In addition, the advancements in suction technology has allowed manufacturers to develop vacuum lifters for lifting, handling, and transporting heavy voluminous and complex objects like concrete slabs, metal sheets and plates without damage at the requisite site. These factors are expected to contribute towards a CAGR of 4.5% during the forecast period 2015 – 2022. However, issues such as lack of product differentiation resulting in price wars and profit crunching pose moderate challenge to the market growth.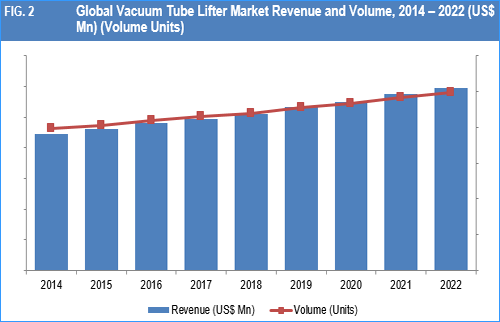 1.1 Report Description
Purpose of the Report
The purpose of this strategic research study titled "Vacuum Tube Lifter Market - Growth, Share, Opportunities, and Competitive Analysis, 2015 – 2022" is to offer industry investors, company executives, and industry participants with in-depth insights to enable them make informed strategic decisions related to the opportunities in the vacuum lifter market.
1.1.1 Target Audience
Industry Investors
Vacuum Lifter Manufacturers
Material Handling Equipment Manufacturers
Component Manufacturers
Distributors, Retailers, and End-users
1.1.2 USP and Key Offerings
The report titled "Global Vacuum Tube Lifter Market - Growth, Share, Opportunities, and Competitive Analysis, 2015 – 2022" offers strategic insights into the global vacuum lifter market along with the market size and estimates for the duration 2014 to 2022. The said research study covers in-depth analysis of multiple market segments based on product type, application, and cross-sectional study across different geographies. In order to help strategic decision makers, the report also includes competitive profiling of the leading vacuum tube lifter manufacturers, their SCOT (Strength, Challenges, Opportunities, and Weaknesses) analysis, market positioning, and recent developments. Other in-depth analysis provided in the report includes:
An overview of the global vacuum tube lifter market
Current and future market trends to justify the forthcoming attractive sub-markets within the vacuum tube lifter market
Qualitative assessment tools such as market drivers, challenges and future prospects, value chain, and attractive investment proposition.
Focus on each level of market segmentation based on product approvals, launch, and current and anticipated market dynamics.
A general overview of the industry structure
Company profiles highlighting key information about the major players operating in the global vacuum tube lifter market
Market competition scrutiny tools such as market share analysis, fractal map, etc.
SRC (Segment-Region-Country) Analysis
Overall, the research study provides a holistic view of the global vacuum tube lifter market, offering market size and estimates for the period from 2014 to 2022, keeping in mind the above mentioned factors.