Veterinary pain management market accounted for a market value of US$ 1,078.5 Mn in 2017 and projected to grow at a CAGR of 7.9% during the forecast period from 2018 to 2026. Rising humanization of animals due to developing trend of nuclear family, continuous development in the research & development activities related to the veterinary pain management, and scheduled diagnostics sessions for livestock to maintain the quality of the meat, milk and other products. Improper feeding and unorganized health management of pets & livestock animals leads to obesity and finally leading to joint pain and other disorders. In addition to that, pet and livestock owners are also being counselled & trained by non-government organizations or veterinary doctors to manage health of animals.
Market Synopsis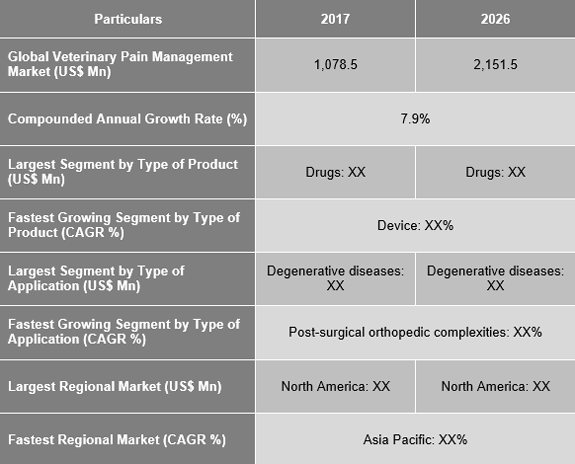 Get a sample copy for more information
"Drugs are preferred for its instant and target specific therapeutic effect to manage pain in pets & livestock"
The drugs preferred in pain management are opioids, α2-adrenergic agonists, non-steroidal anti-inflammatory drugs, disease-modifying anti-rheumatic drugs, and others including sedatives and corticosteroids. Thus, the choice of drug based on the type of disease and intensity of pain. Drugs have been and will always remain primary choice for pain management in veterinary. The key factors responsible for growth of drugs segment are rising prevalence of pain-inducing disorders, increasing advancements in clinical trials for veterinary pain management, and wide range of drug options provide flexibility to veterinary doctor to manage pain management.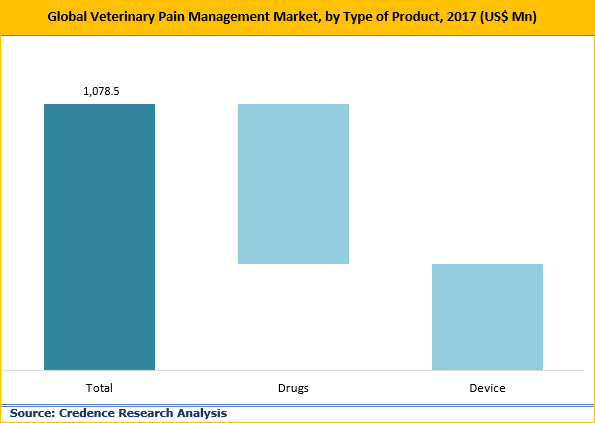 Get a sample copy for more information
"Increasing humanization of pets, and rising awareness related to diagnosis & treatment of livestock in Asian countries will drive the market for veterinary pain management"
Asia Pacific expected to grow significantly throughout the forecast period from 2018 to 2026, the major market drivers assisting its growth are rising prevalence of degenerative diseases in Asia, rising awareness related to diagnosis & treatment of diseases affecting pets & livestock, and rising adoption & humanization of pets trending in Asian countries. According to industry experts, every year in India around 600,000 pets (as of 2016) adopted and the rising population of pets has open several opportunities for occupations & businesses related to pet healthcare in the country. According to the National Bureau of Statistics of China, in 2014 China had 27.4 million pet dogs and 58.1 million pet cats. Thus, Indian & China observed as the most promising and potential veterinary pain management markets in the near future.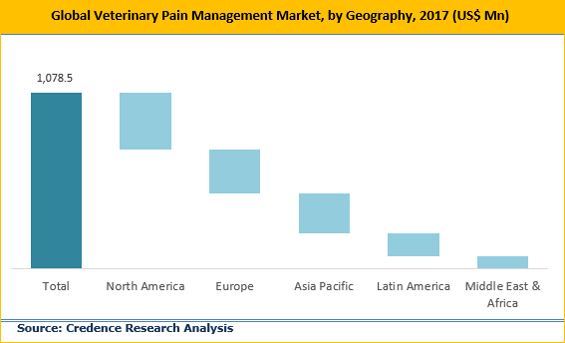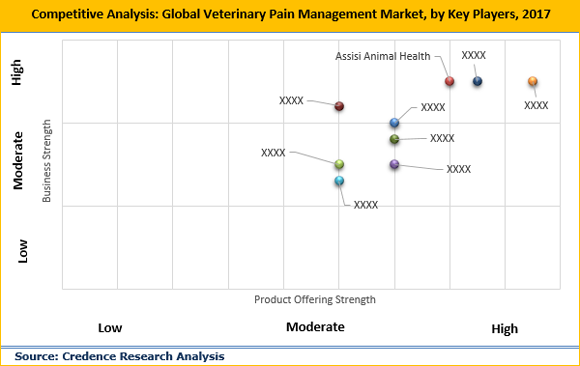 Get a sample copy for more information
Historical & Forecast Period
The veterinary pain management market analyzed considering current market trends for base year 2017 and based on future trends CAGRs calculated for the forecast period from 2018 to 2026.
Report Scope by Segments
This report provides in-depth analysis related to veterinary pain management market including market interpretations and conclusions presented based on qualitative and quantitative data extracted through secondary and primary research. Industry experts have helped to analyze and derive market drivers, opportunities & challenges further narrowed down to region-level & country-level. This report also covers detailed analysis of global veterinary pain management market segmented as types of product, application, and geography. The report also provides competitive analysis of the key players present in veterinary pain management market that covers in-depth data related to the companies along with latest business strategies & product profiles.
ATTRIBUTE
DETAILS
Research Period
2016-2026
Base Year
2017
Forecast Period
2018-2026
Historical Year
2016
Unit
USD Million
Segmentation

Type of Product Segment (2016–2026; US$ Mn)
• Drugs
o Opioids
o α2-adrenergic Agonists
o Local Anesthetics
o Nonsteroidal Anti-inflammatory Drugs (NSIDs)
o Disease-Modifying Anti-Rheumatic Drugs (DMARDs)
o Others (Sedatives, Corticosteroids etc.)
• Devices
o Laser Therapy
o Electromagnetic Therapy

Application Segment (2016–2026; US$ Mn)
• Degenerative diseases (e.g., osteoarthritis, Cushing's disease)
• Post-surgical orthopedic complexities
• Neurologic impairments
• Chronic musculoskeletal laxity
• Dermatologic diseases
• Postchemotherapy gastrointestinal disease

Geography Segment (2016–2026; US$ Mn)
• North America (U.S., Canada)
• Europe (U.K., Germany, Rest of Europe)
• Asia Pacific (Japan, China, Rest of APAC)
• Latin America (Brazil, Mexico, Rest of LATAM)
• Middle East and Africa (GCC, Rest of MEA)
The major companies present in the market profiled based on product portfolio, latest market updates, financial information, and key strategies. This report also covers attractive investment proposition analyzed with the assistance of comprehensive geographical research based on PESTEL analysis. Key companies analyzed in the report are Zoetis, Chanelle Veterinary Limited, Assisi Animal Health, Boehringer Ingelheim, Merck Animal Health, Vetoquinol, Norbrook, Elanco, Ceva Santé Animale, Bayer, K-Laser, and Dechra Pharmaceuticals among others.
Key questions answered in this report
Which is the trending product type in the market preferred for veterinary pain management & Why?
What are the recent market strategies applied by key players & competitive analysis specific to veterinary pain management market?
Which are the major geographical markets (regions and countries) in veterinary pain management market?
Which is the largest and fastest growing intracranial stent types globally?
How is the competitive landscape of veterinary pain management market and policies of major players present in this industry?