Industry Outlook
Vinyl Ester Market is expected to reach US$ 1312.8 Mn by 2026 with 5.6 % CAGR during the forecast period from 2018 to 2026. In 2017, Asia Pacific led the vinyl ester market. It is also estimated to be the fastest growing region between 2018 and 2026.
Vinyl esters are high performance unsaturated resins that are basically produced through esterification process of an epoxy resin combined with monocarboxylic acid. It is strengthen by the addition of epoxy resins and are designed specifically as they are hybrid form of polyester resins. However, vinyl esters resins have superior physical properties and remarkable corrosion resistance compared to conventional polyester resins. In addition, it also possesses high thermal stability and also has the capacity to absorb large impacts without damage. Vinyl ester is used in various applications that includes construction, pipes and tanks, transportation and paint and coatings industries among others. Hence it is considered as a preferred material over various other materials. In addition, vinyl ester oligomers forms an important matrix resin for thermosetting polymer composites when diluted with styrene. Vinyl ester resins are also compatible with carbon fiber, aramid fibers and glass fiber. In addition, these are also used for yachts, chemical resistant plastic tanks and production of wind turbine.
Trend shows that with the increase in environmental regulations and concerns on hazardous emissions, demand for flue gas desulfurization (FGD) installation is expected to rise which in turn is expected to boost the market demand. Vinyl ester resins mainly finds application in the FGD process which include stack liners and limestone slurry piping. These resins can be effectively used in in flake glass lining systems followed by retrofit and new FGD applications. In addition, growing demand for corrosion resistant materials are also expected to augment the market growth during the forecast period. Increasing demand in various end user industries that includes tanks, pipes, waste water treatment and chemical followed by increasing investments in infrastructures is also catapulting the market growth. Vinyl ester resins offer more benefits than epoxies and are considered stronger than polyesters which in turn makes it more preferable over similar products. Moreover, vinyl ester resins are also economical compared to polyester and epoxies. However, easy availability of substitutes followed by low shelf life is expected to hamper the growth of this market during the forecast period. Strict government regulations to reduce the VOC content of these resins is also expected to restrain the market growth. In addition, growing number of wind turbine installations worldwide followed by increasing applications of vinyl ester in mass transit buses and railways serves as opportunity in the global vinyl ester market during the forecast period.
Market Value and Volume Synopsis (US$ Mn) (Tons)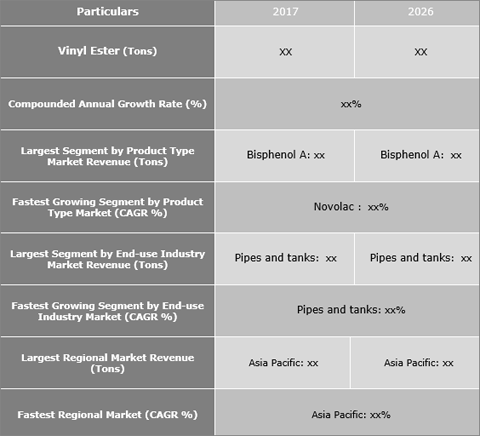 Bisphenol A Propelling the Growth of Vinyl Ester Market
Currently, Bisphenol A is one of the leading product type both by volume and value, and expected to maintain its dominance with highest CAGR during the forecast period. It mainly finds application in spray-up, hand lay-up, filament winding, pultrusion processes and SMC where resistance to heat and chemical followed by mechanical properties are required. Hence, various chemical resistance properties of Bisphenol A at a low cost followed by mechanical properties are expected to augment the segment demand during the forecast period. In addition, owing to corrosion resistance property of Bisphenol A, it also finds application in FGD processes which is expected to spike the market demand for this segment. Bisphenol A vinyl ester resins are also used in the marine industry as gel coats, barrier coats and in various composite body parts of ships. In addition, toughness followed by superior elongation properties of Bisphenol A provides Fibre-reinforced plastic (FRP) equipment with less cracking and better impact resistance.
Manufacturers are also focusing on new product development as a key strategy to expand their Bisphenol A product portfolio to cater to the increasing demand of this segment during the forecast period. For example, in March 2017, AOC based in U.S, launched Vipel F013 Series under its Bisphenol A vinyl ester product portfolio. This new product is basically suitable for various moldings which are subjected to dynamic loads or high static applications that includes flooring, tanks, pipes and duct work among others. However, novolac product type segment is expected to be the fastest growing segment during the forecast period owing to its rising applications that mainly requires good resistance to better heat resistance, oxidizing acids and superior solvent resistance.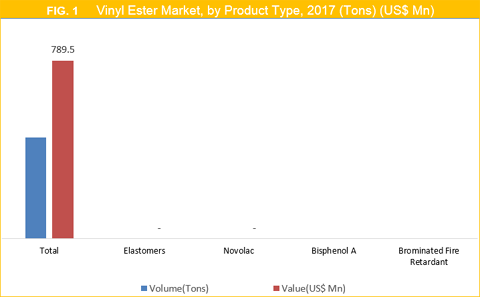 Pipes & Tanks Identified as the Dominant End-use Industry Segment in 2017
Pipes and tanks segment dominated the global market owing to its increasing applications in high temperature formulations, such as chemical reactors and chemical storage vessels. In addition, it also finds application in topcoats used for metal containers and electro refining tanks. Companies are continuously focusing on developing new products for pipe and tanks application with an objective to expand their product portfolio. For example, with the addition of Vipel L085-PPA, AOC, based in U.S, expanded its cured-in-place pipe (CIPP) resins product portfolio. This product is mainly designed for applications that need resistance to high heat and aggressive chemical solutions. In addition, this new product also aims to provide durability, corrosion resistance and toughness in various formulation packages that are designed for CIPP processing. In addition, Chemco International Ltd, based in U.K, deals with various products such as Chem-glass 200 Series that are basically designed for tank lining solutions. This product deals with conductive, putty grades, laminating, primer, topcoat and for other specialist applications. Increasing demand for corrosion resistance and lightweight pipe and tank products in various infrastructure rehabilitation projects are other factors boosting the demand of this segment during the forecast period.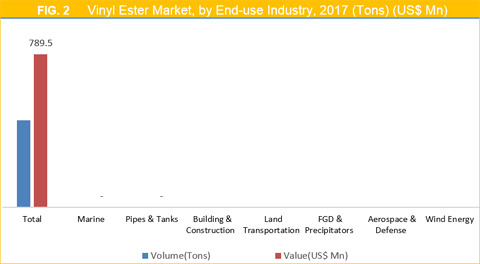 Asia Pacific is the Largest Region in the Global Vinyl Ester Market
Asia-Pacific is projected to witness fastest growth as well as held the largest market share both in terms of value and volume during the forecast period from 2018 to 2026. Increasing investment in construction, industrial and building followed by growing demand for corrosion resistance pipe and tanks are the main factors augmenting the growth of this market in Asia Pacific region. Japan, India and China are the major countries owing to the increasing investment in wind energy and oil & gas sectors. In addition, increasing demand for FGD systems in this region owing to the various environmental regulations on harmful emissions has resulted in increasing demand of vinyl ester linings thereby protecting these systems from corrosion. North America followed Asia Pacific in the global vinyl ester market. U.S held the largest market share in this region both in terms of value and volume and growth of this market is mainly attributed to the increasing demand of vinyl ester in the marine industry in this region. In addition, vinyl ester mainly prevents water entry into the yachts and ships and since there has been increasing production of ships and yachts in North America region, the market for it is expected to grow during the forecast period.
Business Expansion Followed by Mergers and Acquisitions are the Key Strategies Adopted by the Key Players
Key notable players operating in the global vinyl ester market includes Ashland Inc., Reichhold, Swancor Holding, Showa Denko, Aliancys, Interplastic Corporation, Sino Polymer Co., AOC, Polynt and Scott Bader Company among others. In August 2015, Ashland Performance Materials announced that it has nominated GRP Solutions Ltd. as a distributor of its products in Ireland and U.K. The distribution agreement aims at expansion of products of Ashland Performance Materials in U.K and Ireland to cater to the growing demand of vinyl ester in these countries. The various products included under the distribution agreement includes epoxy vinyl ester resins, polyester resin and gel coat among others. In May 2017, Polynt and Reichhold merged to form Polynt-Reichhold. This merger was aimed at expanding the vinyl ester product portfolio across North America, Europe and Asia thereby making it the world's second largest player in this market.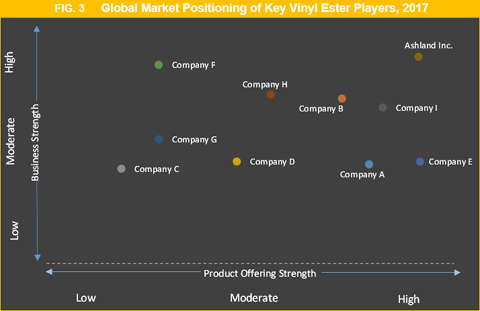 Historical & Forecast Period
Historical Year - 2016
Base Year - 2017
Forecast Period - 2018-2026
This research considers 2017 as the base year and presents analysis of segments from 2016 to 2026. In addition, forecast period from 2018 to 2026 is considered for Compounded Annual Growth Rate (CAGR) calculation for each respective segment.
Report Scope by Segments
Vinyl ester market report represents understanding about the current market dynamics and strategies. It also focuses on quantitative and qualitative analysis of the overall market. The report covers the global vinyl ester market by categorizing the market in terms of product type, end-use industry and geography. Publishing this broad research report aims to aid the vinyl ester market stakeholders and professionals in assisting strategic initiatives and decisions in the vinyl ester market.
Product Type Segment (2016–2026; Tons, US$ Mn)
Elastomers
Novolac
Bisphenol A
Brominated Fire Retardant
End-use Industry Segment (2016–2026; Tons, US$ Mn)
Marine
Pipes & Tanks
Building & Construction
Land Transportation
FGD & Precipitators
Aerospace & Defense
Wind Energy
Geography Segment (2016–2026; Tons, US$ Mn)
North America

Europe


United Kingdom
Germany
Italy
Rest of Europe

Asia Pacific (APAC)


Japan
China
India
Rest of APAC

Latin America (LATAM)


Brazil
Mexico
Rest of LATAM

Middle East and Africa (MEA)

Key questions answered in this report
Who are the distributors, traders and dealers of Vinyl Ester market?
What are expected largest product type and end-use segments in the market during the forecast period from 2018 to 2026?
What are the fastest growing segments in the market for the forecast period?
What are the current market trends in the vinyl ester market and valuable opportunities for the players?
How the regulatory framework affects the global as well as the regional markets?
Which are the key players operating in the global market and what are the strategies adopted by them?
What are sales, revenue, business strategy and product portfolio of top manufacturers of Vinyl Ester market?
What is the market size and trend in emerging and developed markets?