Industry Outlook
The growth of wheel aligner equipment market is growing consistently in proportion with the growth in global automotive market. Wheel alignment is a vital aftersale service and is performed by owner multiple times during the lifecycle of an automobile. Realizing the growth opportunities, several vendors are starting new ventures for wheel alignment services. Owing to this, global wheel aligner equipment market registered market value of US$ 627 Mn in 2017 and expected to reach US$ 1039.12 Mn by 2026. The market is estimated to grow with a compound annual growth rate of 5.8% throughout the forecast period from 2018 to 2026.
Market Synopsis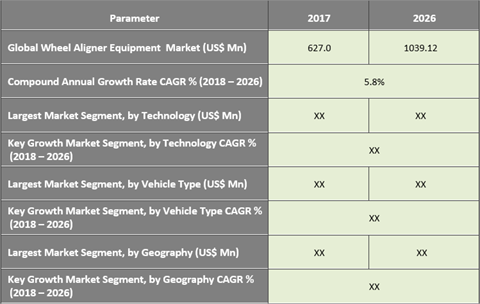 Get a sample copy for more information
"CCD Wheel Aligner Equipment Projected to Reign Supreme in Coming Years"
By technology, wheel aligner equipment is broadly classified into CCD wheel aligning equipment and 3D wheel aligning equipment. Both the technology works completely on different working principal and are not replacement of each other. The technologies have same output and the alignment offered by the two have marginal differences depending upon the operator and other working condition. However, the CCD wheel aligner equipment is much affordable compared to 3D aligner equipment. Cost of equipment is the sole reason owing to which CCD wheel aligner lead the global wheel aligner equipment market in terms of market value. However, 3D wheel aligner equipment is expected to grow gradually throughout the forecast period.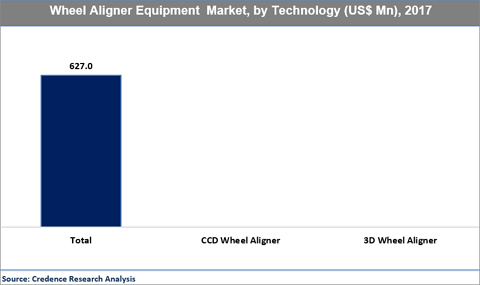 Get a sample copy for more information
"Growth in Demand for Passenger Cars Resulted in the Growth of Wheel Aligner Equipment Market for Passenger Cars"
A variety of wheel aligner equipment and set-ups are available for different vehicles types such as passenger cars, light commercial vehicle (LCV) and heavy commercial vehicles (HCV). Wheel aligner equipment for passenger cars claims the majority of market share thus, leading the market in terms of market value. Continuously growing demand for passenger cars powered by rising disposable income will help wheel aligner equipment market for passenger cars to retain its dominance in coming years.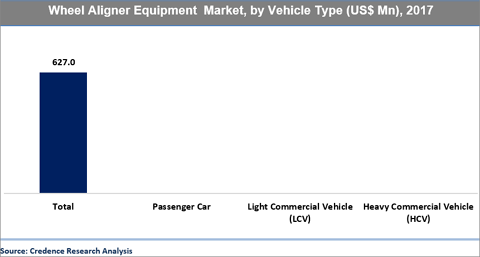 Get a sample copy for more information
"Flourishing Automotive Industry in Asia Pacific Offers Tremendous Growth Potential for Wheel Aligner Market"
Asia Pacific region currently holds the global leader title in overall wheel aligner market in terms of market value. Notable economic growth allowed people in the region to raise their standard of living and a considerable positivity of it is stimulating automotive industry. Consequently, Asia Pacific offers tremendous growth opportunity for wheel aligner equipment market. Asia Pacific is followed by North America and Europe market in terms of market value. Revolution of electric cars in these developed regions is also offering potential for the wheel aligner market to grow.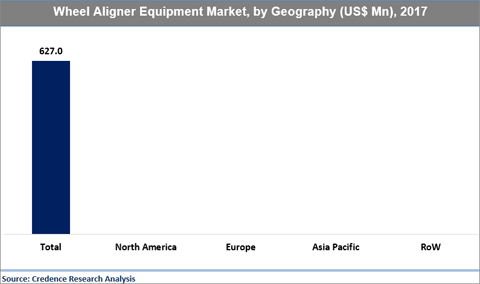 Market Segmentation
ATTRIBUTE
DETAILS
Research Period
2016-2026
Base Year
2017
Forecast Period
2018-2026
Historical Year
2016
Unit
USD Million
Segmentation

By Technology (2016–2026; US$ Mn)
• CCD Wheel Aligner
• 3D Wheel Aligner

By Vehicle Type (2016–2026; US$ Mn)
• Passenger Car
• Light Commercial Vehicle (LCV)
• Heavy Commercial Vehicle (HCV)

Geography Segment (2016–2026; US$ Mn)
• North America (U.S. and Rest of North America)
• Europe (U.K., Germany, France, and Rest of Europe)
• Asia Pacific (Japan, China, India, and Rest of Asia Pacific)
• Rest of World (Middle East & Africa (MEA), Latin America)
Competitive Landscape
The research study covers some of the leading wheel aligner equipment manufacturers including Atlas Auto Equipment, Delta Equipments, Eagle Equipment, Fori Automation, Hofmann TeSys, Hunter Engineering Company, Manatec Electronics Private Limited, RAVAmerica, Sunrise Instruments Private Limited, Snap-on Incorporated, and Vehicle Service Group. Major wheel aligner equipment manufactures faces stiff competition with each other and local players in order to maintain their market position. Several business strategies such as geographical expansion and technological development are adopted by these companies to face their competitions. The market competition is expected to go even tough with consistent new entrants entering into the market.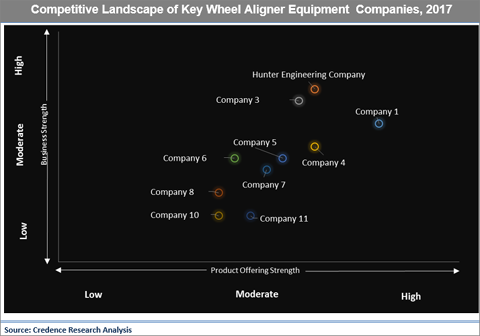 Key questions answered in this report
What are the positive effect growth in automotive sector on the wheel aligner equipment market?
Which are the most prominent vehicle types and how their growth is assisting wheel aligner equipment market to grow?
What are different types of wheel aligner equipment and their market position in terms of market value?
How advancement in imaging technology and sensors play made an impact on the demand for wheel aligner equipment?
How top grossing region such as Asia Pacific and Latin America are expected to make an impact on overall wheel aligner equipment market?