Wheelchair accessible vehicles are vehicles which allow easy access for wheelchairs to board a vehicle. The wheelchair along with its carrier can easily board a vehicle either with a help of a ramp or a wheelchair carrying lift. This system allows the person to drive the vehicle or commute as a passenger without excess exertion to get on to the vehicle from the wheelchair. The vehicle converter manufacturing companies have been engaged in developing strong, safe and efficient wheelchair accessible solutions. These companies offer a wide variety of accessible solutions with different entry point and mode of entry. This has aided the overall wheelchair accessible vehicle converters market to flourish by targeting potential customers with different requirements and conditions.
Increasing need for convenient solutions for people suffering from physical disability is one of the prime factors for the rise in the demand for wheelchair accessible vehicles. Hospitals, healthcare centers and families associated with persons with physical disabilities are preferring wheelchair accessible vehicle to ensure stress free commute. In addition, the technology allows physically disabled persons to drive a vehicle. This has inculcated a sense of independence among such persons thereby, boosting their confidence for performing simple daily chores. With diversified end-use applications such as healthcare centers, hospitals and old-age homes, among others, the adoption of wheelchair accessible vehicles has increased considerably in the past few years and is further expected to demonstrate a strong growth throughout the forecast period.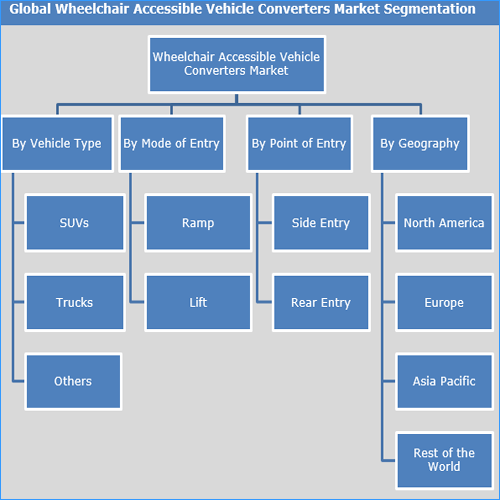 The report titled "Wheelchair Accessible Vehicle Converters Market- Growth, Future Prospects and Competitive Landscape, 2017-2025" offers strategic insights into the global wheelchair accessible vehicle converters market with a focus on the market size and estimates for the duration 2015 to 2025. The said research study covers in-depth analysis of market segments based on vehicle type, mode of entry, point of entry and cross-sectional study across different geographies. The study covers the comparative analysis of each sub-segment for the years 2016-2025. The report also provides a prolific view on market dynamics such as market drivers, restraints, and opportunities.
In order to help strategic decision makers, the report also includes competitive profiling of the leading wheelchair accessible vehicle converters manufacturers, their strategies, market positioning and key developments. Some of the major players profiled in the report include ATConversions, GM Coachwork, Advance Mobility, Freedom Motors USA, Vantage Mobility International, Sirus Automotive Ltd, AMS Vans, Inc., Sidewinder Conversions & Mobility Ltd., BROTHERWOOD AUTOMOBILITY LIMITED, Taxi & Bus Conversion Ltd. and Parfit Ltd.
Other in-depth analysis provided in the report includes:
Current and future market trends to justify the forthcoming attractive markets within the wheelchair accessible vehicle converters industry.
Market fuelers, market impediments, and their impact on the market growth
Market inclination insights and key trend analysis for wheelchair accessible vehicle converters market
In-depth competitive environment analysis
Trailing 2-Year market size data (2015 – 2016)
Overall, the research study provides a holistic view of the global wheelchair accessible vehicle converters market, offering market size and estimates for the period from 2017 to 2025, keeping in mind the above-mentioned factors.