Industry Outlook
The global xenon light source market is expected to reach US$ 526.5 Mn by 2026, and exhibit sluggish compound annual growth rate of 1.2% during the forecast period from 2018 to 2026. Xenon light sources are characterized by high power and true color projection making in ideal for endoscopy surgeries that require bright light. Moreover, xenon lights are widely used as illumination sources for a large number of investigations in wide-field fluorescence microscopy, and other life science applications such as in-vitro diagnostics, proteomics, drug discovery, and blood analysis. The xenon light source market is projected to grow at a sluggish rate due to growing preference of LED lights over xenon lights. LED lights offer lower risk in compared to xenon lights especially during surgeries as it overheats, making it difficult to handle and posing a potential risk to the patient as well as the medical practitioners. Hence, growing uptake of LED lights would hinder the growth of xenon light sources market.
Market Synopsis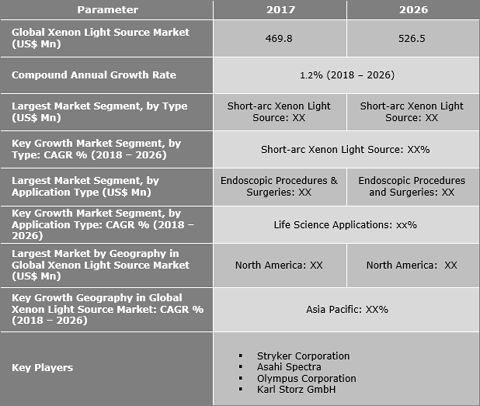 Short Arc Xenon Light Source to Retain Dominance through the Forecast Period
Short arc xenon light sources offer intense and small light focused in optical systems. Xenon short arc lamps currently dominate the market and generate ultraviolet light and readily pass through the fused quartz lamp envelope. Therefore, some short arc xenon light sources have envelopes made from ultra-pure synthetic fused silica allowing emission of useful light into vacuum ultraviolet region. Xenon short arc lamps found in two variants: pure xenon and xenon-mercury. Long arc lamps are mainly used where spectrum is like sunlight such as in test laboratories demanding heavy exposure to sunlight. Xenon long arc lamps have wide application encompassing non-biological uses such as age testing of materials, assessment of plant growth and rapid thermal processing. However, long arc lamps have limited exposure in life science application, yet commonly used in monitoring photochemical reactions.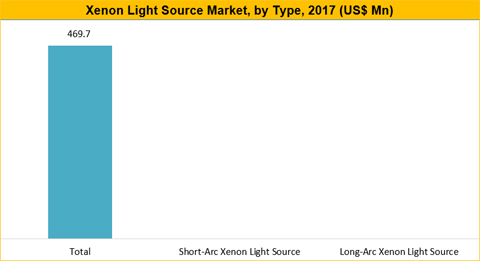 Lifescience Applications to Render Stability to the Global Market
Xenon arc lamps used for lifescience applications encompass microscopy processes. These products have replaced mercury lamp sources as they have enhanced intensity across the visible spectrum and do not have high spectral intensity peaks. Short arc xenon lamps are more desirable in lifescience applications due to their smaller arc size, therefore, avoiding wastage of light intensity. Xenon arc lamps also have a longer lifetime. Xenon arc lamps are more suitable for applications requiring simultaneous excitation of multiple fluorophores with wide wavelength range. However, the introduction of LED light source will challenge the position of xenon light sources as they have an average lifetime of 10,000 hours and emit less heat.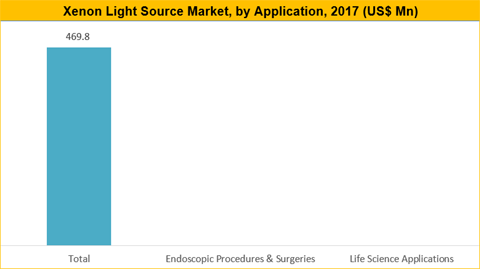 Flourishing Contract Research and Manufacturing Industry in Asia Pacific will Reflect Sustenance in the Region
At present, North America is dominating the global xenon light source market. Greater outreach of healthcare infrastructure, persistent RD activities, and higher affordability are the key factors driving the dominance of this region. Additionally, adoption of novel technologies is also very swift in the region. This has therefore led to the rapid replacement of xenon light sources with LED counterparts, therefore rendering sluggish growth in North America. This scenario has further resulted in the diverted attention of major manufacturers to the emerging markets of Asia Pacific and Middle East & Africa. The proliferation of local players in Asia Pacific is also high. Flourishing CRO and CMO activities in the region has also led to swift uptake of xenon light sources in this market.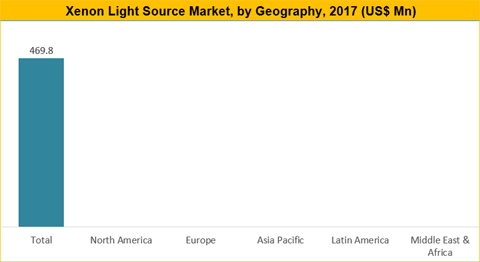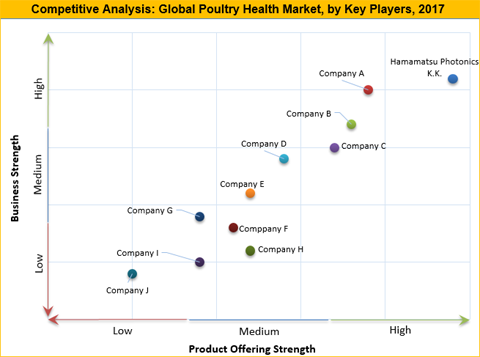 Historical & Forecast Period
2016 – Historical Year
2017 – Base Year
2018-2026 – Forecast Period
This study offers an analysis of every mentioned segment for the period from 2016 to 2026 while considering 2017 as the base year for further forecasting. Moreover, compounded annual growth rates (CAGRs) for every segment are covered and calculated for the period from 2018 to 2026.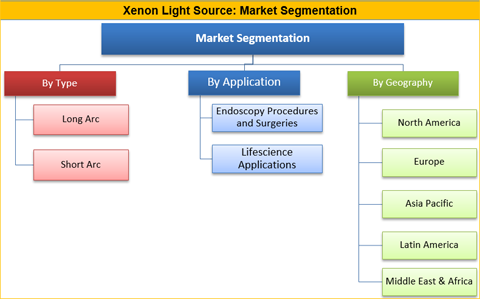 Report Scope by Segments
This report on xenon light source offers quantitative assessment in terms of current and future market size, along with qualitative analysis considering the market dynamics and competitive environment. For this purpose, the market is segmented by product types, applications, and geographical distribution.
By Type (2016–2026; US$ Mn)
Long Arc Xenon Light Source
Short Arc Xenon Light Source
By Application (2016–2026; US$ Mn)
Endoscopy Procedures and Surgeries
Lifescience Applications
Geography Segment (2016–2026; US$ Mn)
North America

Europe


U.K.
Germany
Rest of Europe

Asia Pacific (APAC)

Latin America (LATAM)


Brazil
Mexico
Rest of Latin America

Middle East and Africa (MEA)


GCC
Rest of Middle East and Africa
The market trends prevalent in the global xenon light source market are scrutinized while considering the current and future roadmap of the market. Assessment of market dynamics such as drivers, restraints, and opportunities offer comprehensions about the pros and cons of the market. This report also assesses the positions of the major market players and offers their brief profiles based on the business overview, product portfolio respective to the market, financial information and key developments. The players profiled in this report include Asahi Spectra USA, Inc., Avantes BV, Cogentix Medical, Inc. (LABORIE Medical Technologies), Hamamatsu Photonics K.K., KARL STORZ SE & Co. KG, Ocean Optics, Inc., Olympus Medical Systems (Olympus Corporation), SOPRO-COMEG GmbH, Smith & Nephew Plc, Stryker Corporation, and Excelitas Technologies Corp.
Key questions answered in this report
How is the current status of the xenon light source market in 2017?
How will the market progress through the forecast period?
What are the major drivers and challenges prevalent in the global xenon light source market?
What could be the future prospects of this market?
Which product type currently governs the hold in this market and what will be its status over the forecast period?
What impact will the penetration of LED light source has on the global xenon light source market?
What is the current status of Asia Pacific market in the global xenon light source market?
Will the market position of North America be challenged by Asia Pacific within the forecast period?
What is the current competitive scenario in the global market?