Automated storage and retrieval system (ASRS) is an automated system dedicated to material storage, handling, and retrieval when required. ASRS is divided into two parts; first part comprises a central computer with the human interface. The second part is the storage and retrieval machine. Attributes such as increased accuracy and quick operation are making industries across the world to adopt ASRS, thus boosting the growth of ASRS market.
Automated storage and retrieval system market is highly driven by the ever increasing requirement for effective material management system across industrial organizations. Manufacturing firms spend a fortune for accurate material storage, retrieval, and handling. However, human labor does not appropriately justify the time and money involved for material storage and retrieval. In order to overcome such issues, manufacturing units and warehouses are opting for automated storage and retrieval systems. Customization and flexibility are another major factors boosting the ASRS market growth. However, factors such as high installation costs and overall maintenance cost are few restraints which affect the ASRS market growth, as small plants cannot prefer for such costly automation.
Automated storage and retrieval system is divided, based on their types into unit load ASRS, mini-load ASRS, vertical lift module, carousel type ASRS and micro-load ASRS. ASRS is further segmented, on the basis of end-use industry, into automotive, food and beverages, chemicals, metals and machinery, electronics and semiconductors, e-commerce, third-party logistics and others. Others include aviation, textile, paper, and healthcare.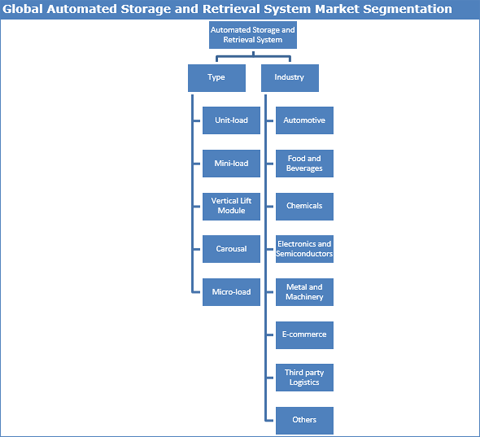 The report titled "Automated Storage and Retrieval System- Growth, Future Prospects, Competitive Landscape and Forecast, 2016-2024" offers strategic insights into the global automated storage and retrieval market with focus on the market size and estimates for the duration 2014 to 2024 The said research study covers in-depth analysis of multiple market segments based on product types, end-use industry and cross-sectional study across different geographies. The study covers the comparative analysis of different segments for the years 2015 & 2024. The report also provides a prolific view on market dynamics such as market drivers, restraints, and opportunities.
In order to help strategic decision makers, the report also includes competitive profiling of the leading automated storage and retrieval system manufacturers, their strategies, market positioning and key developments. Some of the major players profiled in the report Daifuku Co. Ltd., Schaefer Holdings International GmbH, Murata Machinery Ltd., Mecalux S. A., Vanderlande Industries, Swisslog AG, Kardex AG, Beumer Group GmbH, Fives Group, Knapp Logistics Automation GmbH, TGW Logistic Group GmbH, KuKa System North America, Legris Industries, Wintron GmbH, Flexlink AB, Wynright, Viastore Systems, Electtric 80, Dearborn Mid-West Conveyor Co. and others. Other in-depth analysis provided in the report includes:
Current and future market trends to justify the forthcoming attractive markets within the automated storage and retrieval system.
Market drivers, market impediments, and their impact on the market growth
In-depth competitive environment analysis
Trailing 2-Year market size data (2014 – 2015)
SRC (Segment-Region-Country) Analysis
Overall, the research study provides a holistic view of the global automated storage and retrieval system, offering market size and estimates for the period from 2016 to 2024, keeping in mind the above-mentioned factors.