Automotive interior ambient lighting are increasingly becoming popular in the overall automotive industry. Due to high added aesthetic value to the vehicle, consumers also have an emotional view towards installing ambient lighting in their vehiclesAmbient interior lighting also ensures driver safety as it enhances the effective visibility of dashboard and other control systems for drivers in case of low visibility.Subsequently, automobile manufacturers are incorporating ambient lighting as differentiator to their vehicles.
Ambient lighting has primarily dominated the high-end luxury cars since several years. These lighting systems are typically installed on instrument panels, door panels and also roof liners of the luxury automotive vehicles. Nevertheless, due to decline in prices of lighting coupled with the demand for more aesthetic and attractive interiors, the trend is increasingly being followed across different class of vehicles.
Automotive interior ambient lighting systems are intended towards delivering appropriate brightness which increases the overall aesthetic value of automotive interior along with driver visibility safety. The market is largely driven by the rising demand for aesthetic lighting coupled with the ever-rising automotive industry worldwide. With the advent of technologically advanced lighting systems (e.g. touch-free lighting), the overall market is estimated to continue witnessing strong growth in the coming years.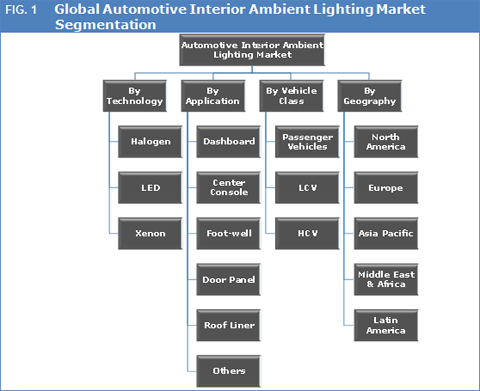 The report titled "GlobalAutomotive Interior Ambient Lighting Market- Growth, Share, Opportunities and Competitive Analysis, 2016 – 2023" offers strategic insights into the global automotive interior ambient lighting market along with the market size and estimates for the duration 2013 to 2023. The said research study covers in-depth analysis of multiple market segments based on technology, applications, vehicle classand cross-sectional study across different geographies and sub-geographies. The study covers the comparative analysis of different segments for the years 2015&2023. The report also provides a prolific view on market dynamics such as market drivers, restraints and opportunities. In addition, the report covers a section providing analysis on consumer behavior towards automotive interior ambient lighting.
In order to help strategic decision makers, the report also includes competitive profiling of the leading automotive interior ambient lightingmanufacturers, their SCOT (Strength, Challenges, Opportunities and Weaknesses) analysis, market positioning and key developments. Some of the major players profiled in the report are HELLA KGaAHueck& Co., OSRAM Licht AG, Koito Manufacturing Co., Ltd., NXP Semiconductors N.V., MagnetiMarelliS.p.A, Melexis Microelectronics Systems, Valeo, AGM Automotive, Stanley Electric Co., Ltd.and others. Other in-depth analysis provided in the report includes:
Current and future market trends to justify the forthcoming attractive markets within the automotive lightingindustry
Market fuelers, market impediments, and their impact on the market growth
In-depth competitive environment analysis
Trailing 2-Year market size data (2013 – 2015)
SRC (Segment-Region-Country) Analysis
Overall, the research study provides a holistic view of the global automotive interior ambient lighting market, offering market size and estimates for the period from 2016 to 2023, keeping in mind the above mentioned factors.