Key Market Insights
"Burgeoning demand for passenger cars coupled with new and advanced technological development will boost the market"
The global automotive pillar market is growing competently, expected to grow at a CAGR of 7.0% during the estimated period from 2019 to 2027, starting from US$ 4.49 Bn in 2018.
The markets are radically varying, owing to the accelerated rise of new technologies, development in emerging markets, sustainability policies, and changing consumer preferences around ownership. Additionally, increasing automation, new business models, and digitization have revolutionized automotive industries on a global scale. Furthermore, the application of technology-driven trends such as electrification, autonomous driving, connectivity and diverse mobility in the automotive sector expected to drive the market for automotive pillar over the forecast period.
Moreover, the technological advancement like advanced driver assistance systems (ADAS) will play a vital role in preparing consumers, regulators, and corporations for the transition towards driverless cars. In addition, policy and regulation for electric and hybrid vehicles, consumer preferences towards passenger cars, and availability coupled with the price of new business models will strongly swerve the market growth for automotive pillar. Furthermore, automakers are obliged to comply with the crash ratings and statutory norms which in turn is also impelling technological advancements. The rising number of vehicles on-road coupled with repairing of vehicles post-accident is also fueling the demand for automotive pillar globally.
Market Synopsis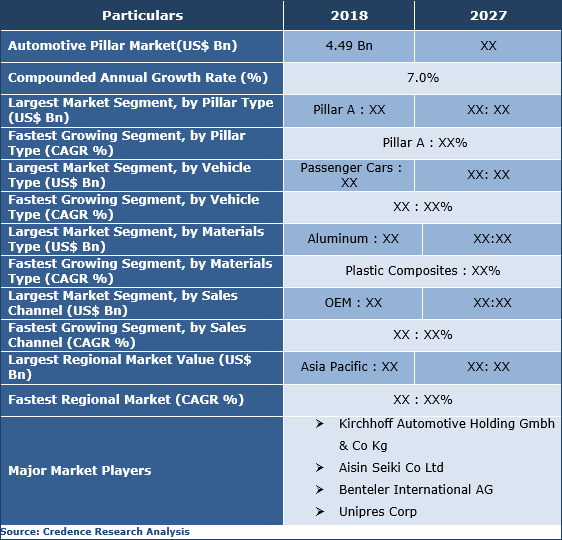 Get a sample copy for more information
Vehicle Analysis
"Diversified mobility-industry landscape coupled with penetration of new market entrants worldwide will spark market growth for passenger cars"
The growth in the automotive industry has seen a drastic change and consolidation over a couple of years. For instance, numerous new players have emerged in between top-15 automotive original-equipment manufacturers (OEMs) in the last years. Furthermore, a paradigm shift towards an increasing number of new entrants coupled with mobility as a service along with in the market will predictably force traditional car manufacturers to compete on multiple fronts. Additionally, mobility providers such as Ola and Uber, specialty OEMs like Tesla, and technology giants such as Google, Apple is likely to raise the complexity of the competitive landscape. Growing consumer demand for passenger cars will make the automotive manufacturers work under continuous pressure to improve fuel efficiency, reduce costs and fuel emissions, thereby leading to shifting market positions in the evolving mobility and automotive industries. The aforementioned factors are expected to boost up the market for automotive pillar across the globe.
Furthermore, software competency is progressively becoming one of the most important distinguishing factors for the automobile industry, which include various areas such as connectivity, ADAS/active safety, and infotainment. Many more new players like high-tech companies and startups are likely to enter the market, thereby upsurge the market for automotive pillar over the forecast period. In addition, the new entrants are wielding more influence with regulators like increasing interest for new mobility, and favorable regulation of new technology and growing consumer's interest is likely driving the market growth.
"The growing government initiatives for passenger cars worldwide will boost the vehicle segment"
Continued government focus for supporting the automotive segment through the National Electric Mobility Mission Plan (NEMMP), Automotive Mission Plan, and other initiatives is likely to expand the market revenue for passenger cars, thereby driving the market for automotive pillar globally. In addition, the government objectives such as reduce emissions and oil dependency along with facilitating long-term growth in the automobile industry will further expand the market. For instance, in India, according to the "Automotive Mission Plan 2026", the government and industries set an objective to triple its revenues for around US $300 billion, and expand its exports by US $80 billion.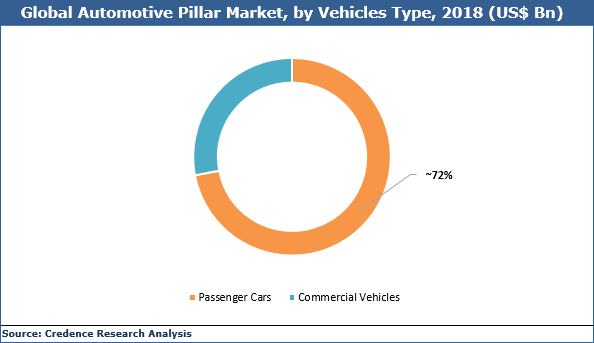 Get a sample copy for more information
Regional Analysis
"Dominance is led by the burgeoning population coupled with stringent regulations towards consumer safety."
The Asia Pacific market estimated to hold a lead position in the global automotive pillar market, owing to the rapidly increasing population coupled with varying consumer needs. Additionally, rising per capita income in the APAC region have increased the demand for automobiles and its related parts considerably. Furthermore, the government's stringent regulations concerning towards safety of passengers in cars have obligated car manufacturers to opt for advanced support systems, which will upsurge the demand for automotive pillar across the region. Moreover, rising demand for hybrid and electric vehicles across the region is likely to supplement the growth of the automotive pillar market. Rising adoption of hybrid and electrical vehicles (HEVs) globally, with the growing implementation of rigorous emission control measures, and environmental regulations. Increasing automation industry and consumer preference towards hybrid and electric vehicles will increase the demand for automotive pillar in the APAC market. In addition, the buyers and vehicle manufacturers look out for more eco-friendly alternatives, thereby expanding the market for electric and hybrid cars, which in turn will accelerate the demand globally.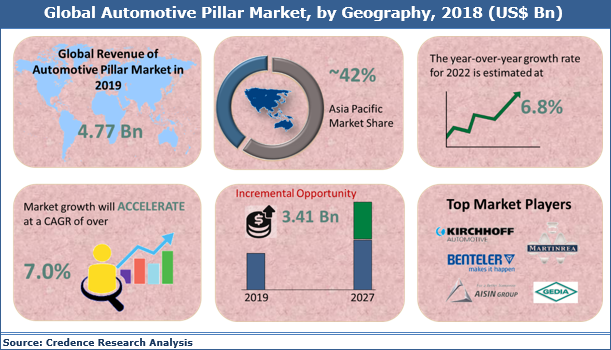 Get a sample copy for more information
List of Companies Covered:
Kirchhoff Automotive Holding Gmbh & Co Kg
Aisin Seiki Co Ltd
Benteler International AG
Unipres Corp
Toyotomi Kiko Co Ltd
Martinrea International Inc
Magna International Inc.
Gestamp Automocion SA
GEDIA Automotive Group
Shiloh Industries, Inc.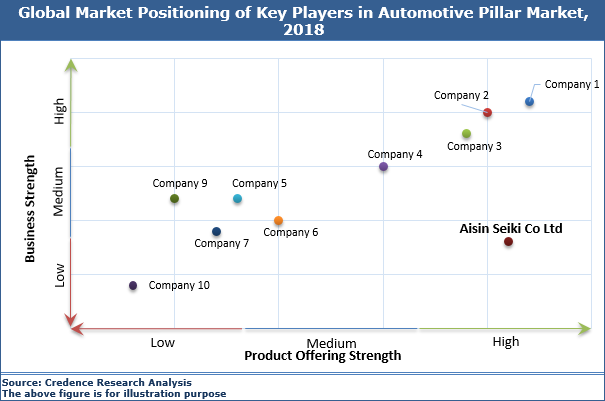 Key Industry Development:
In August 2017, Toyota has come up with a patent i.e. "Apparatuses and methods to make an object appear transparent", which involved A-pillars on the sides of the windshield. This system would stretch the driver an unhindered 360-degree view.
In April 2017, Arcelor Mittal showcased the world's first "door ring" and "b-pillar", a five-piece laser-welded hot-stamped at SAE WCX17 World Congress Experience in Detroit, Michigan.
In June 2017, Teijin Limited announced its first polycarbonate resin pillar-less front window used in Tommykaira ZZ, an electric sports car developed by an EV manufacturer GLM Co. Ltd.
Historical & Forecast Period
This study report represents analysis for each segment from 2017 to 2027 considering 2018 to be the base year. Compounded Annual Growth Rate (CAGR) for each of the respective segments estimated for the forecast period from 2019 to 2027.
Market Segmentation
ATTRIBUTE
DETAILS
Research Period
2017-2027
Base Year
2018
Forecast Period
2019-2027
Historical Year
2017
Unit
USD Billion
Segmentation

Pillar Type (2017–2027; US$ Bn)
• Pillar A
• Pillar B
• Pillar C
• Pillar D

Vehicle Type (2017–2027; US$ Bn)
• Passenger Cars
• Commercial Vehicles

Material Type (2017–2027; US$ Bn)
• Aluminum
• Steel
• Plastic Composites

Sales Channel (2017–2027; US$ Bn)
• OEM
• Aftermarket

Geography (2017–2027; US$ Bn)
• North America (U.S., Canada)
• Europe (U.K., Germany, Spain, Italy, Rest of Europe)
• Asia Pacific (Japan, China, India, Rest of Asia Pacific)
• Rest of the World (Latin America, Middle East & Africa)
The current report also comprehends qualitative and qualitative market valuation factors such as key market drivers, market trends, restraints and opportunities that give a better market understanding of the overall water-soluble packaging market. Additionally, the global report also comprises graphical representation of competitive landscape based on their market initiatives and strategies, product portfolio and business strengths.
Key questions answered in this report
What are the current market trends and dynamics in the automotive pillar market and valuable opportunities for emerging players?
Which segment accounts for the fastest CAGR during the forecast period?
Which pillar type segment holds a larger market share and why?
Are low and middle-income economies investing in the automotive pillars market?
What is the market trend and dynamics in emerging markets such as Asia Pacific, Latin America, and Middle East & Africa?