Market Excerpt
The global bike-sharing services market expected to expand at a CAGR of 12.5% during the forecast period from 2018 to 2026. Bike-sharing services have gained remarkable popularity and acceptance among people over the last two years. Factors such as global warming, traffic congestion, and high cost associated with everyday shuttles has encouraged urban crowd to opt for bike-sharing services for their daily commute. Rising popularity of bike sharing, especially among urban population has enticed several companies around the globe to invest in this business. Through bike-sharing model, bicycles have made a comeback as an effective mode of commutation within cities and projects such as smart cities have backed the bike-sharing services. With almost endless merit list, bike-sharing service market is expected to grow leaps and bounds during the forecast period from 2018 to 2026.
Market Synopsis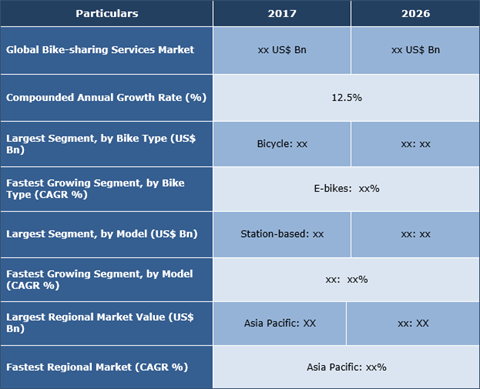 Station-based Bike Sharing Services to Continue Dominance
Trips on station-based bikes follow common commuting trends, with peaks during office hours. On the other hand, trips on dockless bikes spike in the evening after office hours and on the weekends, thereby suggesting that dockless trips are preferred by users for fun rather work. Thus, each of these models fulfills completely different needs. In 2017, the value contribution from station-based bike-sharing services was greater than dockless bike-sharing services. The value contribution of station-based bike sharing services stood at over 86% in the global bike-sharing services market 2017. The total number of dockless bikes have increased significantly over the last few years, but station-based bike sharing still accounts for over 78% of total bike-sharing trips worldwide. Although dockless bike sharing offers more convenience for users (users need not worry about the status of stations on arrival), it gives major headaches to both local federal agencies (who must control & manage a clutter of bicycles on pedestrian ways) and system operators (who must rebalance bikes to meet requisite demand). The scattered nature of dockless bike sharing operations also poses challenges related to bicycle durability, maintenance, and economic sustainability that station-based bike sharing services provide. Effective co-ordination between cities and operators is key for successful adoption of dockless bike sharing services in the coming years.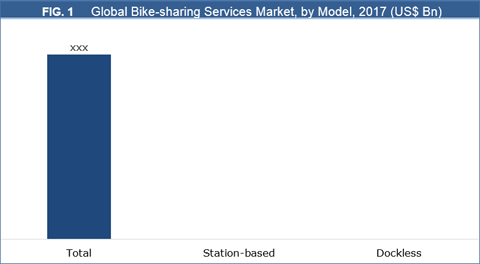 Asia Pacific to Register Strong Growth throughout the Forecast Period
Several countries across Europe and Asia Pacific have adopted bike-sharing services on a huge scale. For instance, in China the number of bike-share rides between 2013 and 2017 outnumbered rideshare rides in the United States during the same period. Popularity of bike-sharing services in Asia Pacific and Europe are a result of cumulative efforts by the local government, federal agencies, and service providers. Investments made by the governments in setting-up reliable bike-sharing service infrastructures bodes well for the market growth in these regions. In addition, government encouragement to concepts such as smart cities and willingness to upgrade city infrastructures with minimum negative impact on the environment are instrumental in driving adoption of bike-sharing services in these regions. With over 430 bike-sharing programs, China remains the frontrunner in terms of bike sharing, but with the entry of established transportation companies like Uber, the popularity of bike sharing is catching on in the U.S. as well. Thus, bike-sharing services market in North America is expected gather momentum with increasing number of companies investing to gain early movers advantage.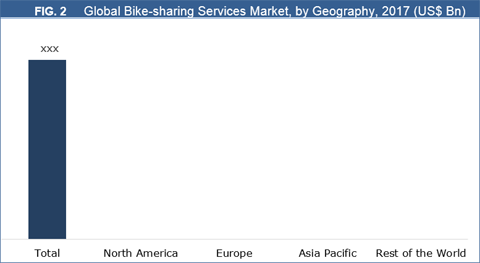 Bicycles to Dominate; E-bikes to Register Maximum Adoption
In 2017, value generated through conventional bicycle sharing was highest in the global bike-sharing services market. It accounted for over 80% of the value generated worldwide in the same year. Relatively lower cost of conventional bicycle sharing services makes them the preferred option among commuters. Despite advancements made in range of new technologies (batteries, positioning systems, and sensing), limited availability and uneven distribution of charging stations have posed significant challenge to adoption of e-bikes for bike sharing business. To address this challenge and support adoption of e-bikes, several service providers across the globe are planning to develop charging stations and charging poles over the next few years. For instance, LimeBike, one of the leading bike-sharing service providers in the U.S. is planning to develop a 10:1 ratio of bikes to charging stations. While integrating electric bikes into bike-sharing program is still a niche mode of transportation, it is poised to register strong growth during the forecast period from 2018 to 2026.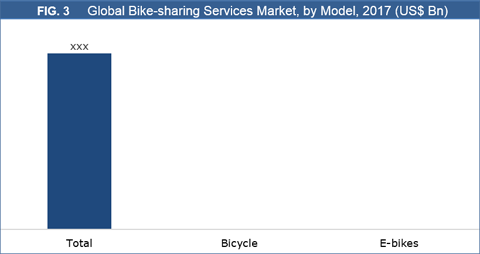 Some of the leading vendors profiled in the study include NYC Bike Share, LLC, Hangzhou Public Transport Corporation, GOBEE.BIKE, LimeBike, Dropbike, Ofo, Beijing Mobike Technology Co., Ltd., Uber Technologies Inc., Zagster, and GrabTaxi Holdings Pte Ltd. among others.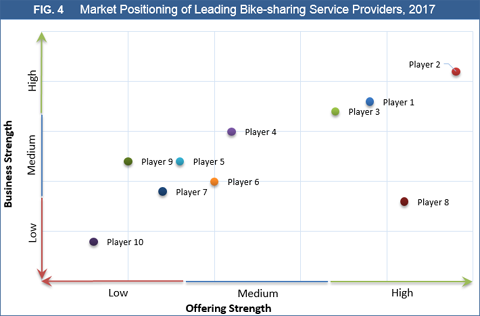 Historical & Forecast Period
2016 – Historical Year
2017 – Base Year
2018 - 2026 – Forecast Period
This research study provides qualitative as well as quantitative insights for each segment and sub-segment from 2016 to 2026, considering 2017 as the base year for the research. CAGR (Compounded Annual Growth Rate) for each segment and sub-segment is calculated for the forecast period from 2018 to 2026.
Report Scope by Segments
Key segments covered in the report are as follows:
Bike Type Segment (2016–2026; US$ Bn)
Model Type Segment (2016–2026; US$ Bn)
Station-based Bike Sharing
Dockless Bike Sharing
Geography Segment (2016–2026; US$ Bn)
North America


United States
Rest of North America

Europe


United Kingdom
Germany
France
Rest of Europe

Asia Pacific (APAC)


China
Japan
India
Rest of Asia Pacific

Rest of the World (RoW)


Middle East & Africa (MEA)
Latin America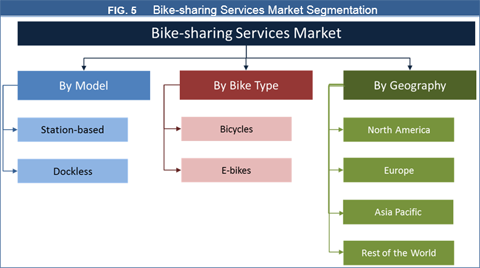 Key questions answered in this report
Worldwide market size for bike-sharing services in 2016 and 2017
Estimated forecast and market projections up to 2026
Which is largest regional market for bike-sharing services?
Which bike segment has the largest penetration of bike-sharing services?
Which bike-sharing business model has the largest penetration?
Which are the key trends driving the global bike-sharing services market growth?
Who are the leading global bike-sharing service providers worldwide?
Key strategies adopted by the leading bike-sharing service providers worldwide