Industry Outlook
Growing regulatory pressure and challenge of litigations over adverse or side effects, rapidly changing demographic patterns, drying product pipelines and consistent growth in competition from generic manufacturers are some of the prime challenges faced in the life sciences business. Further growth in cost of drug development, approvals and growing responsibilities and obligations on the regulatory front have driven organizations to adopt outsourcing services for regulatory operations. These activities are proven to result in improved cost efficiencies, while manufacturers becoming more focused on their core competencies. Diversification of several ancillary activities allows organizations to focus in improving core business while the third party vendors deliver optimal services. Some major advantages derived from regulatory affairs outsourcing are increased speed of market approvals, effective maintenance of product success in new and emerging markets, and swift and convenient extension of brand indications and formulations. Regulatory affairs outsourcing is also of high advantage for mid and small size companies that lack expertize in certain departments. This also reduced the work-load on the employees and management while also ensure appropriate timely and prompt regulatory submissions.
Market Synopsis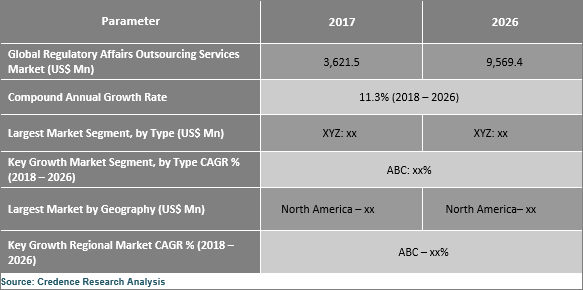 Get a sample copy for more information
"Regulatory writing and publishing to be the major revenue generator, while clinical trial and product registration services to pick pace within the forecast period"
Among the major regulatory affairs outsourcing services, regulatory writing and publishing occupy the largest revenue share in the global market. As the global market is condensing, there is a prominent visibility of distinct regulatory scenarios in different regions. Companies domiciled in Europe and North America often face challenge in terms of regulatory submissions to emerging markets of Asia Pacific, and Middle East & Africa. The regulations worldwide are also changing rapidly due to growing interest to ensure rapid commercialization of products with assured safety profile. Therefore, it has become imperative for manufacturers to provide timely data updating of regulatory submissions and literature. Furthermore, it is anticipated that the market for clinical trials and product registration services shall be witnessing rapid growth during the forecast period. Impending patent expiries, and increasing focus of drug manufacturers on delivering drugs for rare diseases have prompted emergence of pipeline for specialty drugs. With growth in the number of such drug candidates, the demand for clinical trial and product registration services shall be growing in the years to come.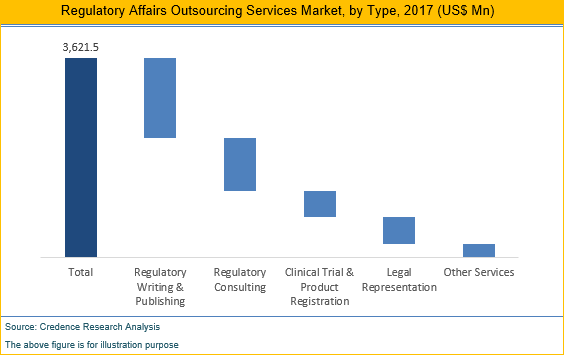 Get a sample copy for more information
"Asia Pacific to become the global outsourcing hub"
Manufacturers of several blockbuster drugs are domiciled in Europe and North America, where the patents for such drugs are rapidly expiring. In order to enable extension to the product life cycle, several of such manufacturers have increased their efforts in introducing their drugs and medical devices to the emerging markets of Asia Pacific. Companies are harnessing the potential of the emerging economies as an introduction opportunity for their businesses and products in the developed markets. CDMO and regulatory outsourcing activities are being increasingly set up in emerging economies due to cheap labor, improving skills and low service costs.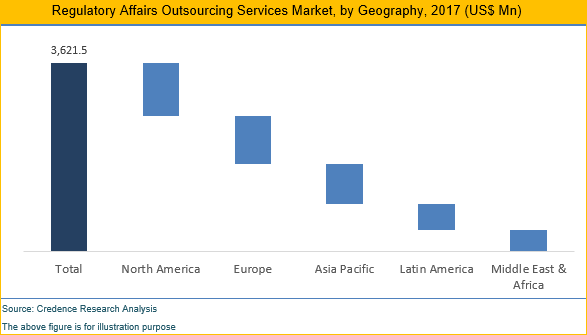 Get a sample copy for more information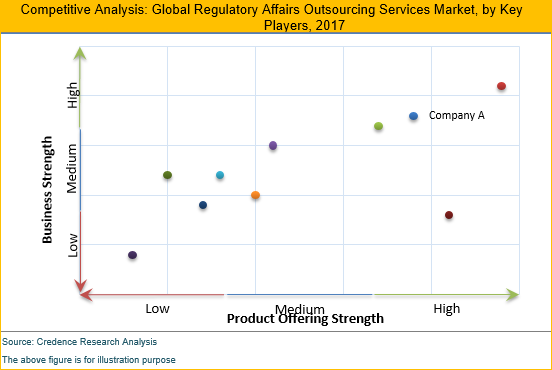 Historical & Forecast Period
This research report presents the analysis of each considered segment for the period from 2016 to 2026, having 2017 as the base year for estimations. Compounded annual growth rates (CAGRs) for each segment are calculated for the forecast period from 2018 to 2026.
Report Scope by Segments
The Regulatory Affairs Outsourcing Services market report provides quantitative assessment of the industry terms of current and forecasted market size, while also presenting the market dynamics. This market is segmented based on types, usage areas and geography.
ATTRIBUTE
DETAILS
Research Period
2017-2027
Base Year
2018
Forecast Period
2019-2027
Historical Year
2017
Unit
USD Million
Segmentation

Type (2016–2026; US$ Mn)
• Regulatory Writing & Publishing
• Regulatory Consulting
• Clinical Trial & Product Registration
• Legal Representation
• Other Services

Geography Segment (2016–2026; US$ Mn)
• North America (U.S., Canada)
• Europe (U.K., Germany, France, Italy, Rest of Europe)
• Asia Pacific (China, Japan, India, Australia, Rest of APAC)
• Latin America (Brazil, Mexico, Rest of Latin America)
• Middle East and Africa (GCC, South Africa, Rest of Middle East and Africa)
This report also includes company profiles section that gives insights on the company overview, product portfolio, financial information and key developments of major market players. The major players profiled in this report include ICON plc, Quintiles Transnational Corporation, PAREXEL International Corporation, Covance, Inc., Clinilabs, Inc., Charles River Laboratories International, Inc., Accell Clinical Research, LLC, Criterium, Inc., Medpace, Inc., Promedica International, WuXi App Tec, Genpact Ltd, PRA Health Sciences, Inc. and Pharmaceutical Product Development (PPD), LLC.
Key questions answered in this report
What is the current and projected market size of the global regulatory affairs outsourcing services market through 2026?
Which are the key trends observed in the global market along with the most prominent growth facilitators?
What are the major strategic initiatives taken up by the major market players for ensuring stability in the global markets?
What are the key attributing factors for the dominance of North America and Europe in the global market?
Which factors contribute to the rapid growth of Asia Pacific market?
Which service type is currently in huge demand from the drug manufacturers and why?