Blockchain technology in healthcare is being acknowledged to have revolutionary impact on the healthcare system enabling its complete transformation through digitization. As digitization of all industries has continued to expand over the decades, the blockchain technology entered the market in 2016, despite its introduction in 2008. Blockchain technology has touched several industries deployed with vast information, technologies and artificial intelligence. The concept of blockchain represents a network of blocks that continuously grow and change, that adapt to specific industry. Blockchain is based on distributed ledgers containing facts and information.
Blockchain has also brought significant changes in healthcare. Healthcare conventionally uses centralized technologies. However with the expansion of healthcare system decentralization of such information has become imperative. Several healthcare blockchain technology providing companies have already entered the healthcare industry. Process evolution in pharmaceutical manufacturing and control mechanism are also including blockchain technology. Blockchain thus enables strengthening of processes in healthcare by enabling storage and recording of information, and delivering auditable information and its transmission through automation.
There are several ways how blockchain is associated with healthcare and interdisciplinary interaction. Supply chain, claim settlement and information transmission are some of the most prominent areas where blockchain technology is increasingly deployed. In clinical trials, blockchain is already being used for file transfers, recording and transfer of patient data, and maintenance of patient networks.
Market Synopsis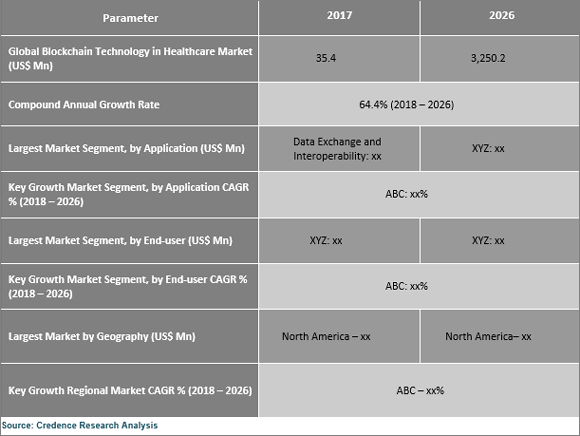 Get a sample copy for more information
"Data Exchange and Interoperability to Remain the Dominant Area of Application"
One of the prime challenges in healthcare interoperability is that organizations are at different operation levels in terms of governance, data quality and operation standards. Several organizations use CDA standards whereas some ten to deploy Fast healthcare Interoperability Resources (FHIR) and so on. Such varying standards reduce the interoperability of the healthcare system. Here enters blockchain to help overcoming these challenges by accessing data via APIs. This assists in achieving standardization for different data formats for enabling seamless data transport and transmission, despite the varying capabilities of EHRs for communication. Furthermore, blockchain also addresses the emergent challenges with respect to synchronization of patient data with multiple healthcare information systems, while ensuring data security and privacy through a framework for management of patient identity. Over the last couple of years, a vast number of healthcare institutions have adopted HER systems, leading to widespread digitization of the healthcare system. Growth in volume based medical practices have resulted in augmenting the demand and deployment rate of blockchain technology in healthcare for ensuring data safety.
Blockchain's application in drug supply chain is anticipated to witness rapid growth during the forecast period. Pharmaceutical supply chain often uses digital technologies, and yet is vulnerable to several risks in terms of information and product safety. Increasing number of counterfeit drugs cross the globe has been causing significant harm to the wellbeing of patients as well as monetary adversities to pharma companies. Application of blockchain in relay reduction, and fraud elimination is anticipated to further augment during the forecast period.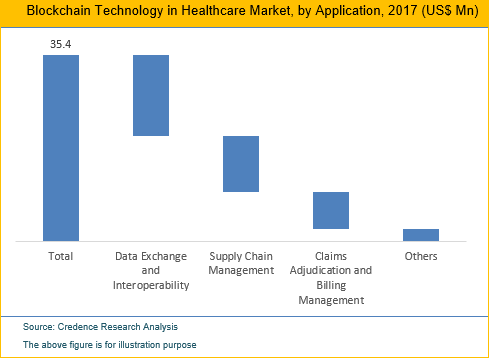 Get a sample copy for more information
Pharmaceutical companies are the largest user base of blockchain technology in healthcare. Growing concerns regarding drug supply chain management and clinical trials has have resulted in augmenting the application of blockchain in healthcare in modernizing, revamping and securing the pharmaceutical industry. Therefore, growing applications of blockchain technology in pharmaceutical supply chain, clinical trials, production management and many more will support the dominance of this segment through the forecast period. Healthcare payers is another segment where the usage of blockchain shall undergo significant market growth. The use of blockchain among healthcare players will minimize the concerns in terms of security violations. Therefore, this technology will assist in enabling patient management systems, and create seamless exchange of crucial patient data among other stakeholders.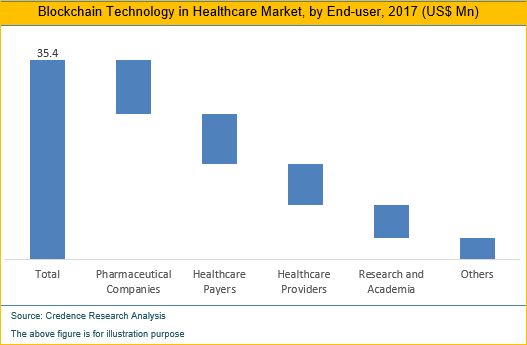 Get a sample copy for more information
"United States Spearheads the global Blockchain Technology in Healthcare Market"
U.S. dominated the global blockchain technology in healthcare market. The American healthcare infrastructure operates with a significantly large volume of patient and healthcare information. Moreover the region also houses several pharmaceutical giants while being a prominent location for significant clinical research and trials. Proliferation of EHRs in the U.S healthcare infrastructure is also prominent. Growth in demand and adoption of blockchain technology in healthcare facilities in the U.S. will also drive the markets in other regions. Western Europe is also expected to witness rapid growth during the forecast period. Countries such as Germany, Switzerland and U.K. will witness significant uptake of blockchain technology in operations and management of the healthcare systems and related stakeholders.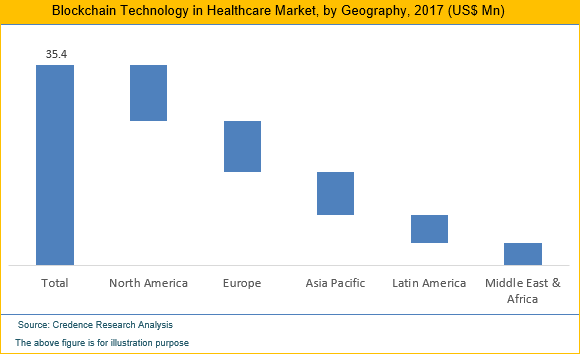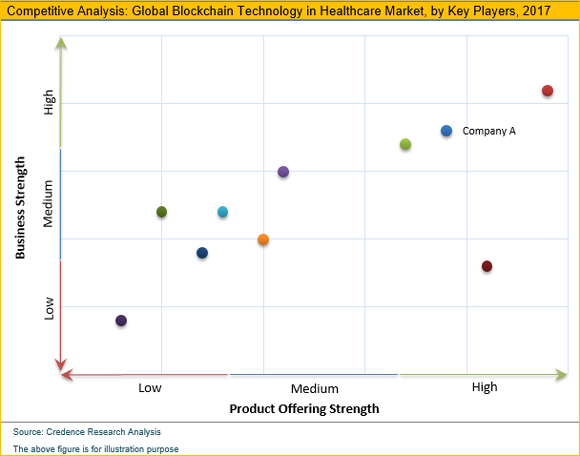 Historical & Forecast Period
This research report presents the analysis of each considered segment for the period from 2016 to 2026, having 2017 as the base year for estimations. Compounded annual growth rates (CAGRs) for each segment are calculated for the forecast period from 2018 to 2026.
Report Scope by Segments
The blockchain technology in healthcare market report provides quantitative assessment of the industry terms of current and forecasted market size, while also presenting the market dynamics. This market is segmented based on applications, end-users, and geography.
ATTRIBUTE
DETAILS
Research Period
2016-2026
Base Year
2017
Forecast Period
2018-2026
Historical Year
2016
Unit
USD Million
Segmentation

By Application (2016–2026; US$ Mn)
• Data Exchange and Interoperability
• Supply Chain Management
• Claims Adjudication and Billing Management
• Others

By End-user (2016–2026; US$ Mn)
• Pharmaceutical Companies
• Healthcare Payers
• Healthcare Providers
• Research and Academia
• Others
• Gels

Geography Segment (2016–2026; US$ Mn)
• North America (United States and Canada)
• Europe (U.K., Germany, Rest of Europe)
• Asia Pacific (China, Japan, Rest of Asia Pacific)
• Latin America (Brazil, Mexico, Rest of Latin America)
• Middle East and Africa (GCC, Rest of MEA)
This report gives major insights on the global blockchain technology in healthcare market in the form of prevalent trends, future prospects and overall market outlook. Market dynamics factors such as drivers, challenges and opportunities are discussed in an exclusive section along with competitive analysis by key players and regional investment propositions. Moreover the company profiles section of the report includes brief profiling of key market players based on parameters such as business overview, product portfolio, financial information and key news. The major companies profiled in this report are IBM Corporation, Guardtime, Microsoft Corporation, Proof.Works, PokitDok, Inc., SimplyVital Health Inc., Gem OS, iSolve, LLC, Patientory, Inc., FarmaTrust, EncrypGen, Medicalchain, Nebula Genomics, Hashed Health an Chronicled (MediLedger).
Key questions answered in this report
What is the current and projected market size of the global blockchain technology in healthcare market?
At what CAGR will this market progress through the forecast period from 2018 to 2026?
Which regions currently hold the dominant position in the global blockchain technology in healthcare market and why?
What are the prime factors that have urged the emergence of application of blockchain technology in healthcare?
What are the prime opportunities and challenges to be witnessed in this market during the forecast period?
Which is the prime application area where the highest revenue shall be generated?
What are the major strategies employed by the key market players to establish their stronghold?