"Increasing Online Payments Has Increased the Demand for Cryptocurrency Market"
The global cryptocurrency market accounted for US$ 1,783.7 Mn in 2018 and is anticipated to grow at a CAGR of 7.2% throughout the forecast period from 2019 to 2027.
A cryptocurrency can be defined as a digital currency, which is secured with the help of cryptography, that leads to nullify, counterfeit or double-spend on a product. Currently, there are various types of cryptocurrencies present in the market including Bitcoin, Etgereum, Bitcoin Cash, and Ripple among others. Cryptocurrencies uses decentralized networks based on blockchain technology. A combination of factors including high remittances in developing nations, transparency of distributed ledger technology, high cost of cross border remittance, and growth of venture capital investment among others are factors proliferating the growth of cryptocurrency market. The cryptosphere is developed into more complicated machine in recent years following scams of Silk Road, and Mt. Gox, which astounded the cryptocurrency prices. For Instance, according to Bloomberg, more than 50% of global digital asset exchanges are based in the Asia Pacific region and accounts for approximately 43 of the 90 exchanges in existence. Followed by Europe, with 24% of exchanges, and North America with 15% of all exchanges.
Additionally, increasing acceptance of digital currency by various industries, fluctuation in monetary regulations, and significant opportunities in developed and emerging markets are bolstering the growth of cryptocurrency market globally. For instance, the US Patent and Trademark Office, according to a filling the retailing giant Walmart applied for a patent to use digital coin integrated with fiat currency which will allow for faster and cheaper transactions. Apart from this, benefits offered by cryptocurrency such as low ownership cost, safe and faster transactions are factors further boosting the market growth across the globe. However, uncertain regulatory status, lack of awareness and technical understanding of cryptocurrency coupled with concerns regarding security, control, and privacy are factors hindering the growth of the market.
Market Synopsis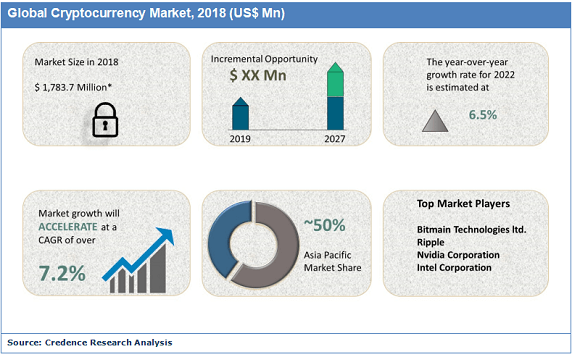 Get a sample copy for more information
"Trading segment dominates the global cryptocurrency market"
In 2018, trading segment dominated the cryptocurrency market and accounted for a share of more than 40.0% of the total revenue generated globally. This can be associated with rising business activities across different industrial verticals and organizations are showing interest in cryptocurrency for trading. Various companies use cryptocurrencies to transfer funds directly between two parties, as it eliminates the requirement of third parties such as banks or credit card companies. For instance, Microsoft Corporation allows the use of bitcoin to top up the Microsoft account. Wikipedia is also one such company which accepts donations in bitcoin through BitPay. Using these digital currencies, the use of public keys and private keys further secures the real-time transfers. This, in turn, is bolstering the demand of the market.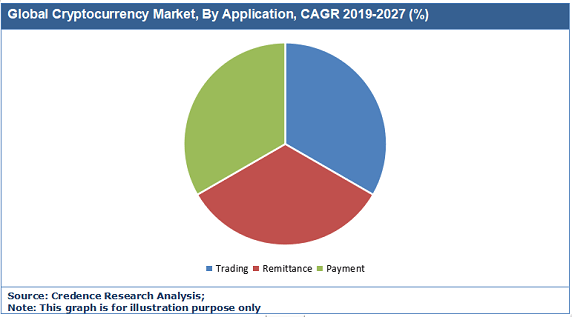 Get a sample copy for more information
"Asia Pacific region dominates the global cryptocurrency market"
Asia Pacific region dominated the global cryptocurrency market with a market share of more than 50% in the year 2018. This can be associated with the crypto-friendly approach, relative affordability of electricity, and exchange activity in the region especially in countries such as China, Hong Kong, Japan, and South Korea among others. For instance, South Korea has been trading digital goods related to gaming since past two decades. This, in turn, is proliferating the cryptocurrency market growth in the region.
However, western regions including North America and Europe are expected to grow at a significant rate. Owing to institutional money flooding back in the cryptocurrency market, and regulatory compliance of digital assets among others. For instance, in 2018, the US SEC is set to decide on several bitcoin-based ETF and a number of investment banks, NASDAQ and Bakkt platform are set to launch this year.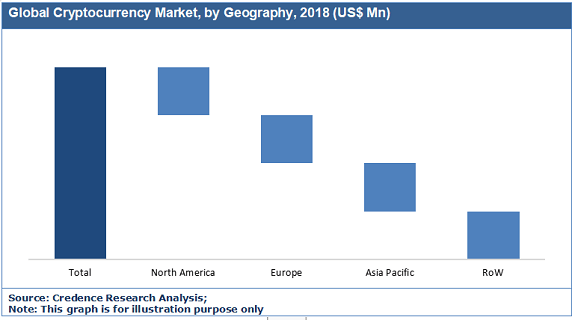 Get a sample copy for more information
List of Companies
Bitmain Technologies Ltd.
NVIDIA Corporation
Advanced Micro Devices, Inc.
Xilinx Inc.
Bitfury Group Limited
Intel Corporation
Ripple
Ethereum Foundation
Coinbase
BitGo
Binance
Canaan Creative Co., Ltd
Zhejiang Ebang Communication Co. Ltd.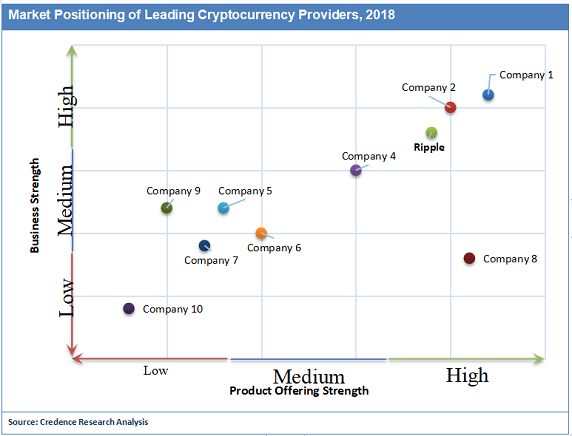 Key Industry Development:
In May 2018, Ripple, the US blockchain firm behind the XRP cryptocurrency announced partnership agreement with Kuwait Financial House to provide cross-border instant payment. Further, in 2019, the company started operating an instant cross-border remittance service through Ripple's blockchain.
In February 2020, Bitmain has announced the launch of two upcoming miners Antiminer S19 and Antiminer S19 Pro, which will boast a hash rate of 95 terahashes per second and the pro model will offer 110 terahashes per second.
Historical & Forecast Period
This study report represents analysis for each segment from 2017 to 2027 considering 2018 to be the base year. Compounded Annual Growth Rate (CAGR) for each of the respective segments estimated for the forecast period from 2019 to 2027.
Market Segmentation
ATTRIBUTE
DETAILS
Research Period
2017-2027
Base Year
2018
Forecast Period
2019-2027
Historical Year
2017
Unit
USD Million
Segmentation

Component Segment (2017–2027; US$ Mn)
• Hardware
o Asic
o Gpu
o FPGA
o Wallet
• Software
o Mining Platform
o Coin Wallet
o Exchange

Applications Segment (2017–2027; US$ Mn)
• Trading
• Remittance
• Payment

Type Segment (2017–2027; US$ Mn)
• Bitcoin
• Ethereum
• Bitcoin Cash
• Ripple
• Dashcoin
• Litecoin
• Others

Geography Segment (2017–2027; US$ Mn)
• North America (U.S., Rest of North America)
• Europe (U.K., Germany, France, Rest of Europe)
• Asia Pacific (China, Japan, India, Rest of Asia Pacific)
• Rest of the World (Middle East & Africa, Latin America)
The current report also comprehends qualitative and qualitative market valuation factors such as key market drivers, market trends, restraints and opportunities that gives a better market understanding of the overall cryptocurrency market. Additionally, the global report also comprises graphical representation of competitive landscape based on their market initiatives and strategies, product portfolio and business strengths.
Key questions answered in this report
What are the current market trends and dynamics in the cryptocurrency market and valuable opportunities for emerging players?
Estimated forecast and market projections up to 2027
Which segment accounts for the fastest CAGR during the forecast period?
Which application segment holds a larger market share and why?
Are low and middle-income economies investing in the cryptocurrency market?
Which is largest regional market for cryptocurrency?
What is the market trend and dynamics in emerging markets such as Asia Pacific, Latin America and Middle East & Africa?
Worldwide market value of the cryptocurrency market in 2017 and 2018
Which are the key trends driving the global cryptocurrency market growth?
Who are the leading providers of cryptocurrency market worldwide?