Industry Outlook
The human microbiome market is set to reach US$ 1,990.5 Mn by 2026 from US$ 840.1 Mn in 2017 at a compound annual growth rate (CAGR) of 10.1% during the forecast period from 2018 to 2026. According to the research findings of World Health Organization (WHO), the burden associated with non-communicable diseases is set increase to 57% by 2020. The mortality rate related to chronic diseases will be more pronounced in the developing regions in comparison to the developed regions.
The major factors related to gastrointestinal disorders related to dietary problems are stress, low dietary intake, taking antacids frequently, sedentary lifestyle and craving for junk food etc. As mentioned in Lancet Research Journal 2016, chronic diseases such as diabetes, cardiovascular diseases, ulcerative colitis and even cancer can be prevented by maintaining healthy lifestyle and healthy dietary intake rich in probiotics, prebiotics and micronutrients.
Market Synopsis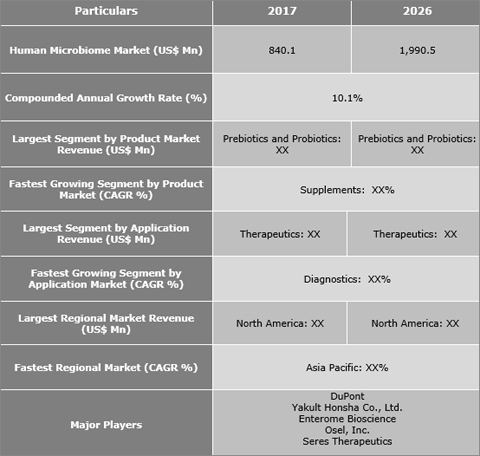 Get a sample copy for more information
Prebiotics and probiotics are the largest product segment owing to its therapeutic efficacy
Probiotics are healthy microorganism which aid in fighting against impending gastrointestinal diseases. They have been found beneficial in building the immune defense mechanism. The rich source of probiotics are dairy products especially yoghurt. Prebiotics are basically food for probiotics, they are fiber in nature which are consumed by probiotics in the intestinal tract releasing essential short chain fatty acids, essential amino acids etc. The rich sources of prebiotics are chicory root, Jerusalem artichoke, dandelion greens, garlic, leeks, onions etc. Probiotics and prebiotics are dominating the market due to rising prevalence of gastrointestinal disorders and increasing public health awareness. Supplements are gaining prominence on account of developing nutraceutical industry and growing importance of micronutrients in daily dietary intake.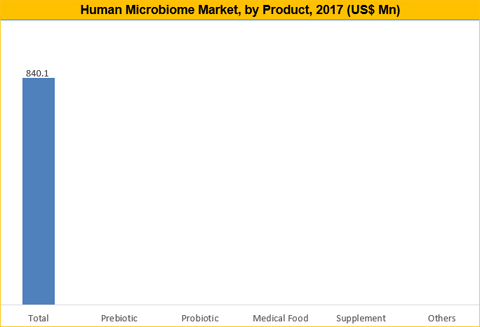 Get a sample copy for more information
Growing importance of gut microflora in diagnosing gastrointestinal disorders propel the human microbiome market
In the last two decades diligent research activities conducted in the nutraceutical and medical food industries has proven the therapeutic importance of human microbiota. There are millions of microbial gut flora which are either symbiotic or pathogenic in nature are present in the human intestine. Symbionts are very helpful in the digestion and absorption of nutrients, synthesis of certain amino acids and aid in building the immune system. Probiotics mimic these helpful microbial gut flora to maintain proper homeostasis of the human health. Researchers throughout the globe have concluded that microbes finding safe harbor in the human gut habitat can be harnessed to detect diseases ranging from acute infection to chronic inflammatory conditions.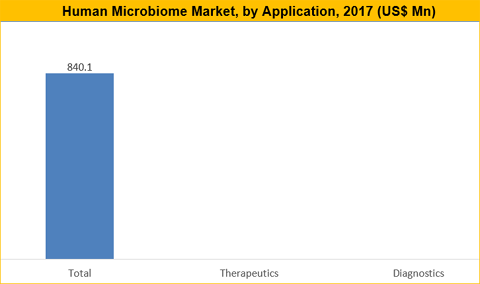 Get a sample copy for more information
Rising prevalence of gastrointestinal disorders and established healthcare R&D segment drives the North America market
In the present scenario North America is the clear leader in human microbiome market on account of the rising prevalence of gastrointestinal disorders and unhealthy eating and sedentary lifestyle. C.difficile infection, enterocolitis and diarrhea are the most occurring infectious intestinal diseases in North America. There is burgeoning requirement of probiotics to balance the microbial gut flora. In Europe the human microbiome market is driven by establishment of well-developed nutraceutical industry pioneering in prebiotics, probiotics and medical food. Asia Pacific is set to register excellent growth during the forecast period owing to key parameters such as increasing urbanization causing slums with poor civic amenities and lack of sanitation leading to intestinal diseases. In South East Asia infants suffer severely with cholera and diarrhea due to polluted drinking water. Asia Pacific serves as a lucrative market for medical food and supplement for the infants.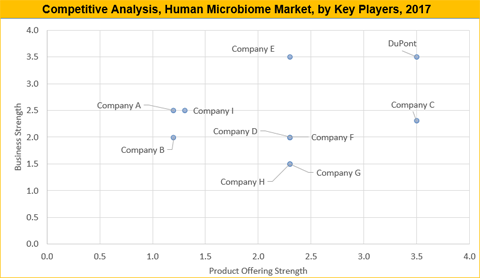 Historical & Forecast Period
This research report presents the analysis of each segment from 2016 to 2026 considering 2017 as the base year for the research. Compounded annual growth rate (CAGR) for each respective segments are calculated for the forecast period from 2018 to 2026.
Report Scope by Segments
Qualitative and quantitative market analysis were performed to determine the market estimation and compounded annual growth rate (CAGR). The market segment comprises of by product, application and geography.
ATTRIBUTE
DETAILS
Research Period
2016-2026
Base Year
2017
Forecast Period
2018-2026
Historical Year
2016
Unit
USD Million
Segmentation

By Product (2016–2026; US$ Mn)
• Probiotics
• Prebiotics
• Medical Foods
• Supplements
• Others

By Application (2016–2026; US$ Mn)
• Diagnostics
• Therapeutics

Geography Segment (2016–2026; US$ Mn)
• North America (United States and Canada)
• Europe (U.K., Germany, Rest of Europe)
• Asia Pacific (China, Japan, Rest of Asia Pacific)
• Latin America (Brazil, Mexico, Rest of Latin America)
• Middle East and Africa (GCC, Rest of MEA)
Market estimation and compounded annual growth rate were determined for human microbiome market by performing in depth analysis of the organic and inorganic growth strategies. Latest technological developments and recent trends prevailing in the human microbiome market are discussed thoroughly in the report. Patient compliance and their buying patterns related to supplements and medicinal food are thoroughly discussed in the report. Competitive landscape is covered to study the existing competitive nature among the major players of human microbiome market. Diverse varieties of food products are covered in the product portfolio segment. The major players providing human microbiomes are DuPont, Enterome Bioscience, Osel, Inc., Second Genome, Inc., Seres Therapeutics, Synthetic Biologics, Inc., Synlogic, Inc., Vedanta Biosciences, Inc., Vithera Pharmaceuticals and Yakult Honsha Co., Ltd.
Key questions answered in this report
What are the organic and inorganic growth strategies applied to perform the market assessment for human microbiome market?
Who are the leading human microbiome products providers?
What are the latest technological developments taking place in the human microbiome market?
What is the competitive scenario among the human microbiome providers?
Which is the leading and fastest growing products segment in the human microbiome market?
Which is the leading and fastest growing application segment in the human microbiome market?
Which is the leading and fastest growing regional segment in the human microbiome market?