Immunocytokines market to exhibit profitable growth during the forecast period
The global immunocytokines market is growing significantly. In recent years monoclonal antibodies are being utilized to treat a wide array of cancer-related diseases. These monoclonal antibodies are mainly mono-specific encompassing similar immune cells which are copies of a single parent cell and are concentrated towards a definite cellular target. These antibodies due to its customizable environment, it can be used to only treat the tumor cells ineffective of the normal ones in the living body. However, a huge number of immunocytokines in the pipeline, high prevalence with no or less medical efficiency in developing nations, less awareness, the high cost of treatment, inflexible government regulations towards cancer diagnosis are factors restraining the development of immunocytokines market globally.
Market Synopsis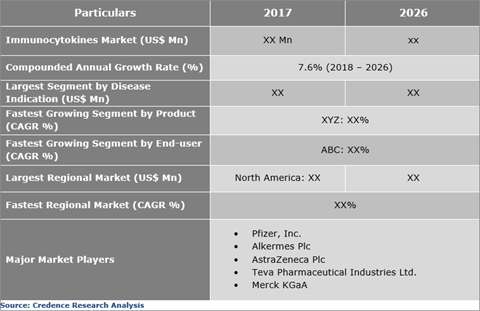 Get a sample copy for more information
Tumors and cancer segment is expected to register higher growth in the developing nations by the end of 2026
An increasing prevalence of cancer along with along with new technological assessment in genetic sequencing and target gene selection are factors driving the overall growth of the global immunocytokines market. Few human cytokines such as IL2 have been approved (Proleukin) for diseases such as metastatic renal cell carcinoma and metastatic melanoma. Chemotherapy and drugs are used to treat cancer. Various adverse side effects that comes with the medication has made the pharmaceutical organizations to concentrate on monoclonal antibodies along with immunocytokines. According to WHO, cancer is a leading cause of mortality on a global scale, in 2018, an estimated 9.8 million individuals passed away due to cancer. Majority of them were diagnosed with lung and breast cancer.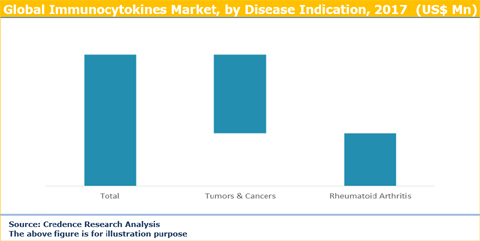 Get a sample copy for more information
Lung targeting site segment is expected to register higher growth in the developing nations by the end of 2026
Advancement in antibody-based delivery of IL2 and cytotoxics has shown promising results in recent years. As per WHO in 2018, more than 2.08 million cases were registered due to lung cancer globally. More than 11 types of immunocytokines are still in pipeline (phase I/II). They have been developed against various, tumor-associated antigens such as epithelial, cell-adhesion molecule, carbonic anhydrase 9, fibroblast activation protein, epidermal growth factor receptor, fibronectin splice variants, and, tenascin splice variants. For instance, scientists from Philogen (Italy) have developed immunocytokines based on IL2, IL12, IL4, IL10 and TNF, which are presently being inspected in pre-clinical studies. Increasing geriatric population, government or private funding for cancer research, and changing lifestyles resulting in chronic disorders are factors driving the growth of immunocytokines market.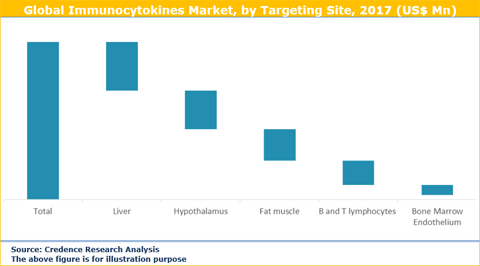 Get a sample copy for more information
Increasing prevalence of cervical cancer along with advanced diagnostic procedures is gaining traction in developing economies
North America spearheaded the market in 2017 owing to the presence of top pharmaceutical and research organizations along with increasing incidences for breast and lung cancer in the U.S., as indicated by a report published by American Cancer Society, in 2018, more than 1.6 million new cancer cases were diagnosed and around 600,000 deaths were registered. In recent years, top biotechnology and pharmaceutical companies in the U.S. and Europe have started investing in monoclonal antibodies. The driving factors include, heavy investment in R&D, approval for antibody-based molecules (more than 70), huge number of medications in pipeline and advancement in conjugated cancer therapies worldwide.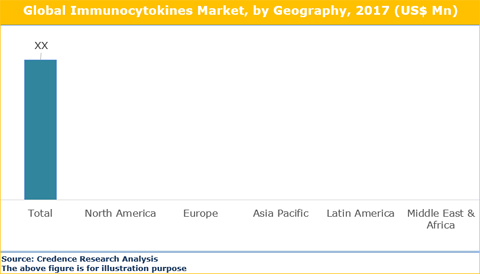 High prevalence of cancer, less availability of medications and treatment in the developing nations
Major players in the immunocytokines market are Alkermes Plc, AstraZeneca Plc, CytImmune, Cytune Pharma, Altor Biosciences Corporation, Apeiron Biologics AG, Paladin Labs, Teva Pharmaceutical Industries Ltd., Valor Biotherapeutics, Targa Therapeutics Corporation, Immunomedics, Inc., ImmunGene, Inc., MolMed S.p.A., Merck KGaA, Nektar Therapeutics, Pfizer, Inc., F. Hoffmann-La Roche, Ltd. and others. These companies are employing growth strategies along with new approvals for medications related to cancer.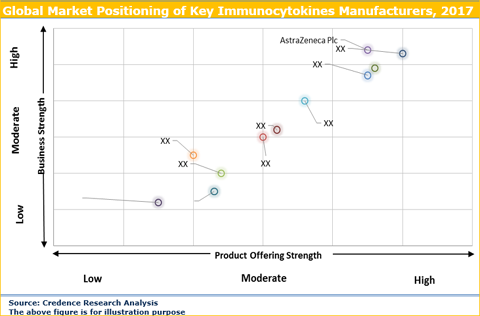 Historical & Forecast Period
This study report represents analysis for each segment from 2016 to 2026 considering 2017 to be the base year. Compounded Annual Growth Rate (CAGR) for each of the respective segments estimated for the forecast period from 2018 to 2026.
Report Scope by Segments
Immunocytokines market comprises current market trends and dynamics along with quantitative analysis of the global market. The report elucidates thorough information of global immunocytokines market by segmenting the market in terms of product, modality, end-use, and geography. This report would guide healthcare professionals and market players in decision-making and strategizing market position.
ATTRIBUTE
DETAILS
Research Period
2016-2026
Base Year
2017
Forecast Period
2018-2026
Historical Year
2016
Unit
USD Million
Segmentation

Disease Indication Segment (2016–2026; US$ Mn)
• Tumors and Cancer
• Rheumatoid Arthritis

Targeting Site Segment (2016–2026; US$ Mn)
• Liver
• Hypothalamus
• Fat muscle
• B and T lymphocytes
• Bone Marrow Endothelium

Geography Segment (2016–2026; US$ Mn)
• North America (United States and Canada)
• Europe (U.K., Germany, Rest of Europe)
• Asia Pacific (China, Japan, Rest of Asia Pacific)
• Latin America (Brazil, Mexico, Rest of Latin America)
• Middle East and Africa (GCC, Rest of MEA)
The current report also comprehends qualitative market assessment factors such as market trends, key market drivers, restraints and opportunities that gives a better market understanding of the overall immunocytokines market. Furthermore, the report also comprises graphical representation of competitive landscape based on their market initiatives and strategies, product portfolio and business strengths.
Key questions answered in this report
What are the current market trends and dynamics in the immunocytokines market and valuable opportunities for emerging players?
Which segment accounts for the fastest CAGR during the forecast period?
Which end-user holds a larger market share and why?
What is the market trend and dynamics in emerging markets such as Japan, Latin America and Middle East & Africa?