"Widespread Application of Accelerometers to Stimulate the Demand for MEMS Accelerometers across End-users"
MEMS accelerometers market set to grow with promising CAGR of 4.8% during the forecast period from 2018 to 2026. Essentially directed by Asia Pacific, MEMS accelerometers market majorly driven by wide application area of these accelerometers. Since its invention in 1979, MEMS accelerometers have found wide application area across various end-users. MEMS accelerometers incorporated with numerous electronic devices such as media players, gaming devices, simulation devices and other wireless electronic devices. In recent trend, smartphones are using MEMS accelerometers for step counters, user interface control and screen rotation applications. Similarly, camcorders use accelerometer for image stabilization and anti-blur image capturing. Further, MEMS accelerometers find application in contactless game controllers. IBM and Apple have recently started using MEMS accelerometers in laptops for protection of hard drives from damage. Further, these accelerators used for detecting car crashes and deploying airbags at right time. MEMS accelerators used to detect rapid negative acceleration of the vehicle to detect collision of vehicle. MEMS accelerometers also find real-time application in controlling & monitoring military and aerospace systems such as direct & indirect fire, aviation-launched and ship-launched missiles, rockets, projectiles are among these applications. Such wide application area along with constant technological advancements expected to drive the MEMS accelerometer market in following years.
Market Synopsis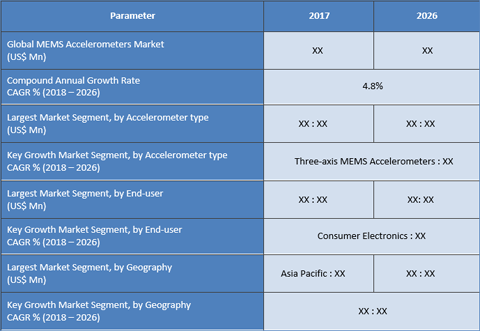 Get a sample copy for more information
"Three-axis MEMS Accelerometers to Witness Swift Adoption across the Forecast Period"
Three-axis MEMS accelerometers offer numerous advantages such as detailed machine condition monitoring, greater signal integrity smaller size and others. These MEMS accelerometers find primary application in dealing with vibrations in low-frequency range. Limitations of available system for both embedded and handheld condition monitoring largely overcame by transitioning from piezo-based sensors to MEMS based sensors. Further various application systems in which three-axis MEMS accelerometers plays vital role include leveling & alignment systems, inertia measurement units for heavy machinery, navigation systems, automatic guided vehicles (AGV) and construction & surveying tools. With benefits offered by three-axis accelerometers compared to other accelerometers, segment expected to witness promising growth in coming years.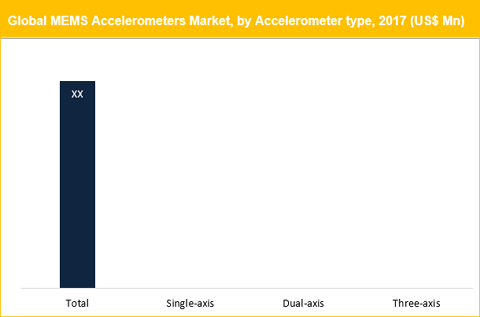 Get a sample copy for more information
"Considerable Growth of End-user Industry to Ensure Fastest Growth of MEMS Accelerometers Market in Asia Pacific"
At present, Asia Pacific market representing the highest shares of overall MEMS accelerometers market value worldwide. Region also expected to exhibit comparatively higher market growth throughout the forecast period, principally due to development of end-user industry. For instance, Asia Pacific driving the overall production of light motor vehicles with more than 30% of global production. Similarly, in 2018, China is the leading market value generating nation in global consumer electronics market accounting for more than 30% of global market value in same year. Further, Asia Pacific market as home for industrial sector. With swift growth end-use industries along with growing penetration of MEMS accelerometers expected to witness comparatively higher growth across the globe.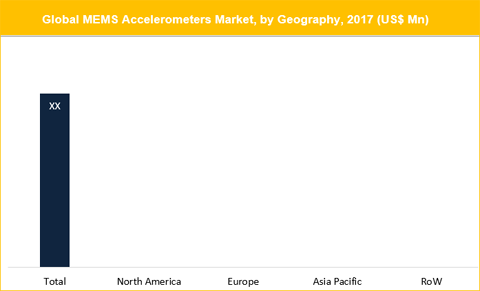 Get a sample copy for more information
"Technological Advancement of Accelerometers to Remain Key Strategy for MEMS Accelerometers Manufacturers"
MEMS accelerometers market profoundly fragmented in nature with presence of both international as well as domestic players. Number of players are aiming for technological advancement of product to specialize explicit application areas. For instance, In April 2017, Analog Devices, Inc. announced two latest high frequency and lesser noise MEMS accelerometers designed explicitly for industrial condition monitoring applications. Similarly, Robert Bosch GmbH announced edition of MEMS accelerometer especially for automotive application catering applications such as navigation & e-call services, vehicle dynamics data logging, car alarm and others. Key players of global MEMS accelerometers market includes Analog Devices, Inc., Robert Bosch GmbH, Honeywell International Inc., TDK Corporation, iXBlue SAS, Kearfott Corporation, AI Cielo Inertial Solutions Ltd., Meggitt PLC, Northrop Grumman LITEF GmbH, STMicroelectronics, Silicon Sensing Systems Ltd., Rockwell Automation, Inc., Murata Manufacturing Co., Ltd., Safran Colibrys SA, MEMSIC, Inc. and others.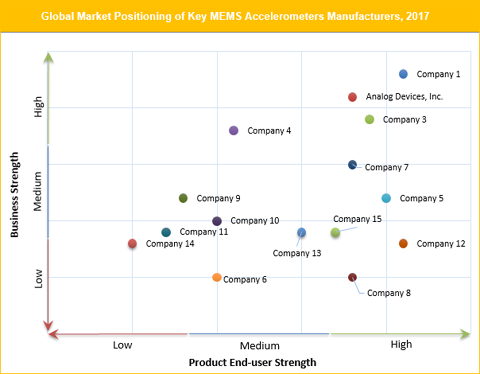 Historical & Forecast Period
This research report presents the analysis of each segment from 2016 to 2026 considering 2017 as the base year for the research. Compounded Annual Growth Rate (CAGR) for each respective segments calculated for the forecast period from 2018 to 2026.
Report Scope by Segments
MEMS accelerometers market report provides market size and estimates based on market dynamics and key trends observed in the industry. The report provides a holistic view of global MEMS accelerometers market based on accelerometer type, end-user and geography. Key segments covered in the report are as follows:
ATTRIBUTE
DETAILS
Research Period
2016-2026
Base Year
2017
Forecast Period
2018-2026
Historical Year
2016
Unit
USD Million
Segmentation

Accelerometer type Segment (2016–2026; US$ Mn)
• Single-axis MEMS Accelerometers
• Dual-axis MEMS Accelerometers
• Three-axis MEMS Accelerometers

End-user Segment (2016–2026; US$ Mn)
• Aerospace & Defense
• Industrial
• Consumer Electronics
• Automotive
• Others (Healthcare, Construction, Bioengineering, etc.)

Geography Segment (2016–2026; US$ Mn)
• North America (U.S. and Rest of North America)
• Europe (U.K., Germany, France, and Rest of Europe)
• Asia Pacific (Japan, China, India, and Rest of Asia Pacific)
• Rest of World (Middle East & Africa (MEA), Latin America)
Key questions answered in this report
What was the market size of MEMS accelerometers in 2017 and forecast up to 2026?
Which is largest regional market for MEMS accelerometers?
What are the key market trends observed in the MEMS accelerometers market and outlook for electromechanical industry?
Which is the most promising accelerometer type and end-user in MEMS accelerometers market?
Who are the key players leading the market?
What are the key strategies adopted by the leading players in market?
What are the key end-users' trends across different geographies and sub-geographies?