Demand for portable CMM (Coordinate Measuring Machine) software, growing acceptance for point cloud capabilities, and drive towards precision engineering are collectively driving adoption of metrology software solutions across the globe. In addition, their ability to integrate multiple functions within a single unit, thereby making device compact has further fueled market momentum in different verticals. These factors are expected to contribute towards a single digit compounded annual growth rate (CAGR) during the forecast period 2016 – 2023. The global metrology software market is expected to exceed US$ 652.1 Mn by 2023.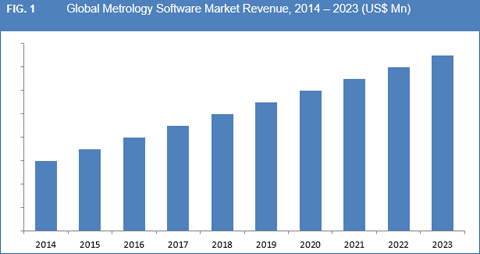 Report Scope
This report analyzes the global metrology software market in terms of end-use application and geography. On the basis of end-use application, the market for metrology software is further classified into industrial manufacturing, automotive, electrical and electronics, aerospace, and energy and power, and healthcare among others. The geographical distribution of the global metrology software market considered in this study encompasses regional markets such as North America, Europe, Asia Pacific, Middle East and Africa, and Latin America.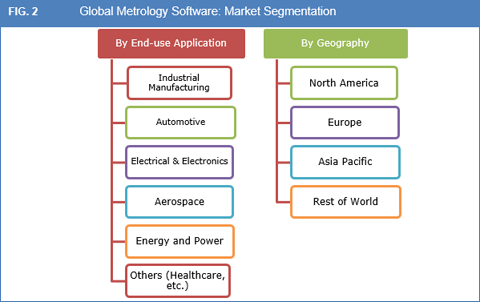 1.1 Report Description
Purpose of the Report
The purpose of this strategic research study titled "Global Metrology Software Market - Growth, Share, Opportunities, and Competitive Analysis, 2016 – 2023" is to offer industry investors, company executives, and industry participants with in-depth insights to enable them make informed strategic decisions related to the opportunities in the global metrology industry.
Target Audience
Industry Investors
Metrology Equipment Manufacturers
Metrology Software Providers
End-users
USP and Key Offerings
The report titled "Global Metrology Software Market- Growth, Share, Opportunities, and Competitive Analysis, 2016 – 2023" offers strategic insights into the global metrology software market along with the market size and estimates for the duration 2014 to 2023. The said research study covers in-depth analysis of multiple market segments based on applications and cross-sectional study across different geographies. In order to help strategic decision makers, the report also includes competitive profiling of the leading metrology software vendors their SCOT (Strength, Challenges, Opportunities, and Weaknesses) analysis, market positioning, and key developments. Other in-depth analysis provided in the report includes:
Current and future market trends to justify the forthcoming attractive markets within the metrology software market
Market fuelers, market impediments, and their impact on the market growth
In-depth competitive environment analysis
Value Chain Analysis
Historic Market Figures (2012 and 2013)
SRC (Segment-Region-Country) Analysis
Overall, the research study provides a holistic view of the global metrology software market, offering market size and estimates for the period from 2014 to 2023, keeping in mind the above mentioned factors.