Nurse call systems are communication equipment installed at various healthcare facilities to aid communication between patient and medical staff. The nurse call systems play a critical role in emergency notifications and ensuring timely delivery of care. In addition, these systems can be integrated with various other healthcare IT systems such as the electronic medical records (EMR) deployed within the hospital. Thereby, nurse call systems can form the basis of the framework to achieve clinical workflow integration. Common nurse call systems available in the market include nurse call buttons, intercom systems, mobile nurse call systems and integrated nurse call systems. Nurse call systems are highly useful for critical patients which cannot move to call for help. In addition, the ease of use and convenience offered by nurse call systems enables healthcare facilities to achieve better patient outcomes and enhanced patient satisfaction.
Factors such as increasing need to ensure timely delivery of care and achieve higher patient satisfaction scores have been fueling the growth in the nurse call systems market across the world. Healthcare providers across the globe are focusing towards increasing their efficiency and competency in healthcare services. Installing nurse call systems helps healthcare providers to provide better service and care to the patients along with enhanced patient security. Furthermore, technological advancement in communication systems and declining prices of nurse call equipment are other major factors fueling the growth in the global nurse call systems market. Nevertheless, stringent hospital budgets and lack of awareness among decision makers about the economic benefits of nurse call solutions pose as major challenges in the growth of nurse call systems market in some regions.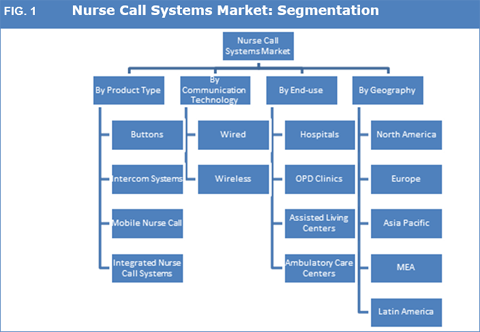 The report titled "Global Nurse Call Systems Market- Growth, Future Prospects and Competitive Analysis, 2016 – 2024" offers strategic insights into the global nurse call systems market along with the market size and estimates for the duration 2014 to 2024. The said research study covers in-depth analysis of multiple market segments based on product types, communication technology, end-use and cross-sectional study across different geographies. The study covers the comparative analysis of different segments for the years 2015 & 2024. The report also provides a prolific view on market dynamics such as market drivers, restraints and opportunities.
In order to help strategic decision makers, the report also includes competitive profiling of the leading nurse call system vendors, their SCOT (Strength, Challenges, Opportunities and Weaknesses) analysis, market positioning and key developments. Some of the major players profiled in the report are Rauland-Borg Corporation, Ascom Wireless Solutions, Hill-Rom Holdings, Inc., Honeywell International, Inc. (Ackermann), Azure Healthcare Ltd., Schrack Seconet AG, Static Systems Group Plc., Wandsworth Group Limited, Courtney-Thorne Ltd., Legrand SA, Hills Limited, Jeron Electronic Systems, Inc., TekTone Sound & Signal Mfg., Inc., West-Com Nurse Call Systems, Inc., CARECOM Co. Ltd., and AIPHONE CO. LTD. Other in-depth analysis provided in the report includes:
Current and future market trends to justify the forthcoming attractive markets within the nurse call and the healthcare IT industry
Market fuelers, market impediments, and their impact on the market growth
In-depth competitive environment analysis
Trailing 2-Year market size data (2014 – 2015)
SRC (Segment-Region-Country) Analysis
Overall, the research study provides a holistic view of the global nurse call systems market, offering market size and estimates for the period from 2016 to 2024, keeping in mind the above mentioned factors.