Industry Outlook
The global travel retail sector is not limited to only airports; it also includes cruise lines, ferries, and ports. However, an airport still enjoys the pole position in the market and remains the dominant player in upcoming years. Travel retail market was valued at US$ 63.59 Bn in 2017 for last two decades, the travel retail market has grown constantly, a trend that should continue between now and 2026. This growth can be explained by the combination of three factors
The huge growth in numbers of people traveling, with levels expected to triple from 3.6 to 12 billion travelers between 2000 and 2030
The rise of the middle class population, especially in emerging countries such as China, India, Brazil among others: their numbers are expected to triple to approximately 5 billion people between 2000 and 2030
Brands, retailers, and key transport-sector operators are continuously investing capital in order to maximize the capacity and quality of facilities in travel locations.
As a result, the travel retail market is expected to reach US$ 128.18 Bn by 2026, at a CAGR of 8.1% between 2018 and 2026. Since 2012, Asia Pacific has been a key region for travel retail market because of the rising number of Chinese travelers going abroad; the number of travelers is expected to cross 120 Mn by 2020. In the base year 2017, region accounted for more than 30% of the global market share and expected to dominate in upcoming years.
Market Synopsis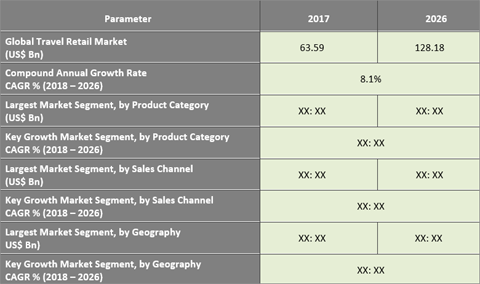 Get a sample copy for more information
Growing demand for perfumes & cosmetics sub-segment by product category type is likely to propel the market in upcoming years
In 2017, perfumes & cosmetics segment accounted for the major market share and expected to maintain its dominance over the forecast period. Wine & spirits and fashion & accessories segment followed perfumes & cosmetics segment with substantial market share in the base year 2017. Furthermore perfumes & cosmetics segment expected to witness highest CAGR in upcoming years owing to increasing demand for branded products from Asia Pacific consumers.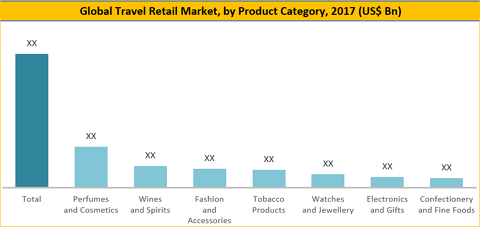 Get a sample copy for more information
Airport segment expected to dominate the travel retail market by sales channel throughout the forecast period
Though it has been observed that only 5-10% of the total number of travelers at airport tend to visit duty free shops, airport segment accounted for over 50% market share of global travel retail market in terms of market value in 2017. Market players are also paying more attention to the comfort and convenience of the customers coming at the airport. For instance, in Heathrow airport World Duty Free Group organizes staffing and product displays as per the flight schedule. This way with the needed cultural sensitivities, staff speaking their language welcome passengers.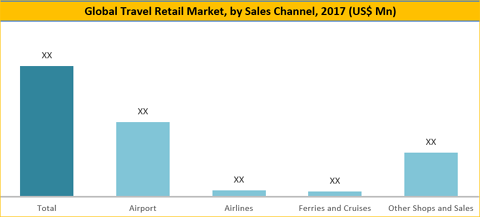 Get a sample copy for more information
Growing demand from Asia Pacific projected to catapult the market growth
Asia-Pacific travel retail market held the largest market value share in 2017. During the year, Asia Pacific witnessed increase in sales by 9% whereas other regions posted stagnant or negative growth. Asia-Pacific is also identified as the fastest growing market during upcoming years. Regional and global companies have attracted to recent tenders of arrivals duty free in China, Hong Kong and South Korea. Although regional traffic trends in 2017 remain positive in Asia Pacific, the year so far has seen pressure on the travel retail business in East Asia surrounded by the suspension of Chinese travel to Korea. However, across the region there is continued investment in airport and tourism infrastructure, pointing to a bright future ahead.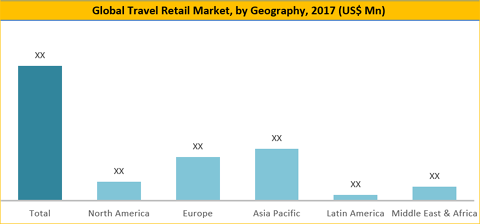 Leading brands are aggressively looking for expansion
As a part of strategic development leading companies such as Revlon, Estee Lauder, Rituals Cosmetics, L'Oréal, and others with an exclusive and wide range of fragrances and skin care products; expanding their businesses by opening their outlets at every international airport. Aer Rianta International (ARI), China Duty Free Group (CDFG), DFASS Group, DFS Group, Dufry AG, Gebr. Heinemann SE & Co. KG, King Power International Group, Lotte Group, Lagardère Group, The Naunace Group and The Shilla Duty Free among others are some of the prominent players in global travel retail market.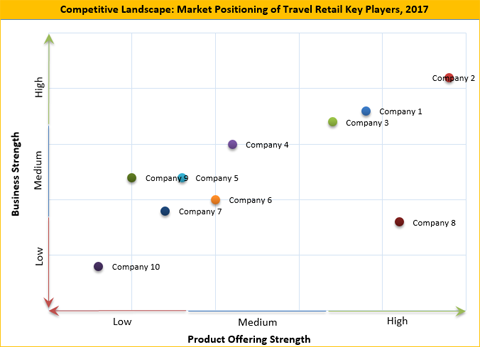 Historical & Forecast Period
Our study analyzed each market segment during the period of 2016 to 2026 with 2017 as the base year. Forecast period between 2018 and 2026 considered for the CAGR calculation.
Report Scope
The report enlightens the thorough outline of global travel retail market by categorizing the market in different segment given below:
ATTRIBUTE
DETAILS
Research Period
2016-2026
Base Year
2017
Forecast Period
2018-2026
Historical Year
2016
Unit
USD Million
Segmentation

By Product Category Segment (2016–2026;US$ Bn)
• Perfumes and Cosmetics
• Wines and Spirits
• Fashion and Accessories
• Tobacco Products
• Watches and Jewellery
• Electronics and Gifts
• Confectionery and Fine Foods

By Sales Channel Segment (2016–2026; US$ Bn)
• Airport
• Airlines
• Ferries and Cruises
• Other Shops and Sales

Geography Segment (2016–2026; US$ Mn)
• North America (United States and Canada)
• Europe (U.K., Germany, France, Rest of Europe)
• Asia Pacific (China, Japan, India, Rest of Asia Pacific)
• Latin America (Brazil, Mexico, Rest of Latin America)
• Middle East and Africa (GCC, Rest of MEA)
This research report describes leading continents and their major countries, along with profiles of key players operating in overall market and their planned developments. Our report further defines the overall market dynamics such as drivers, challenges, and opportunities prevalent in the market to understand global travel retail market more explicitly. Our in-depth quantitative and quantitative analysis of each segment up to country level highlights revenue pockets and investment opportunities in the market.
Key questions answered in this report
What are the current market trends in the travel retail market and valuable opportunities for the players?
How the regulations affect global as well as the regional markets?
Which are the prominent and recent innovations in the market?
Which is the most lucrative region for investment?
What is the market size and trends in emerging markets?
Which are the major sales channels of travel retail and their market sizes?
Which are the leading players and their market position?