Video surveillance refers to the monitoring and recording of physical activities occurring within the premises and around the perimeter of critical sites with the use of cameras. Video surveillance systems are comprised of numerous components including cameras, recorders, encoders, video management software, video analytics and other accessories used for camera mounting and control. In addition, the video surveillance system also includes a network for video monitoring and distribution. Depending on the application, end-users can choose to deploy closed loop network to ensure enhanced security or an IP-based network to achieve higher accessibility and scalability. Likewise, end-users can make use of various types of cameras such as analog, digital, fixed, pan/tilt/zoom (PTZ), panoramic, thermal and high definition (HD), among others. Such deployment of video surveillance systems at the end-users sites provides users with higher level of customization and control over monitoring capabilities. However, initial investments towards various equipment, infrastructure and software make it difficult for some of the end-users to adopt and deploy video surveillance systems. With increasing demand for affordable video surveillance capabilities, the market has witnessed a rise in the providers of video surveillance as a service (VSaaS). VSaaS has offered a viable solution for end-users to deploy latest video surveillance systems at an affordable timely fee. Thereby, video surveillance systems have gained immense adoption across the world in the recent years.
Some of the key driving factors in the video surveillance equipment and services market include increasing need to provide enhanced public security and safety. With increasing instances of crime and terror attacks, it has become imperative for various government bodies and business owners to deploy video surveillance systems to effectively monitor and record activities within and around the premises. In addition, technological advancements in camera and network technology has made it feasible for video surveillance providers to design and offer effective solutions to cater to the varying requirements of various end-use industries. Other factors such as declining equipment costs and rise of innovative applications using video analytics are further expected to fuel the growth of the video surveillance equipment and services market in the following years. However, lack of technological awareness and effective government regulations have been hampering the market growth in some of the developing economies.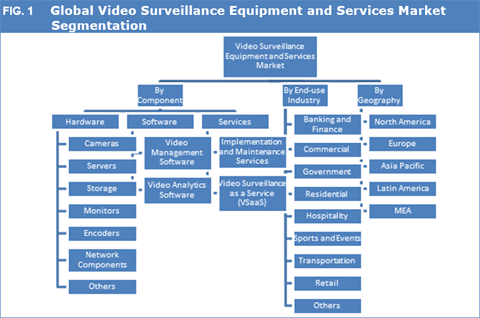 The report titled "Global Video Surveillance Equipment and Services Market- Growth, Future Prospects and Competitive Analysis, 2016 – 2024" offers strategic insights into the global video surveillance market along with the market size and estimates for the duration 2014 to 2024. The said research study covers in-depth analysis of multiple market segments based on component, end-use industry and cross-sectional study across different geographies and sub-geographies. The study covers the comparative analysis of different segments for the years 2015 & 2024. The report also provides a prolific view on market dynamics such as market drivers, restraints and opportunities. In addition, the report covers a section providing analysis on the key market trends including switch from analog to digital systems, high-definition cameras, and integrated security applications based on video surveillance in various end-use industries.