"Flourishing Automotive Sector to Shape the Automotive Exhaust Systems Market"
Automotive exhaust systems market valued at US$ 26.97 Bn in 2017, expected to grow with promising CAGR during the forecast period from 2018 to 2026. Essentially directed by Asia Pacific, automotive exhaust systems market majorly driven by rising production of automobiles across the globe. Post economic despondency, rapid demand for automobiles has been a major driving factor for the growth in global automotive equipment-manufacturing sector. Vehicles are marked as the largest source of urban air pollution in the developing world. However, ceasing the growth of motor vehicle production is neither feasible nor desirable, given the economic and other benefits of increased mobility. The challenge is to maximize benefits of motorized transport while minimizing its adverse impacts on the environment, and on society. Thereby, air pollution abatement policies have set the standards for reduction and control of pollutant emissions from motor vehicles, along with more proficient utilization of motor vehicles. Tougher emission regulations are urging OEMs to focus on emission reducing techniques. Such techniques incorporate advancement of exhaust systems using various alloying elements with stainless steel such as Chromium, Nickel, Manganese, Molybdenum, Carbon and others. Growing automotive production along with environment safety measurements expected to stimulate the demand for automotive exhaust systems throughout the forecast period.
Market Synopsis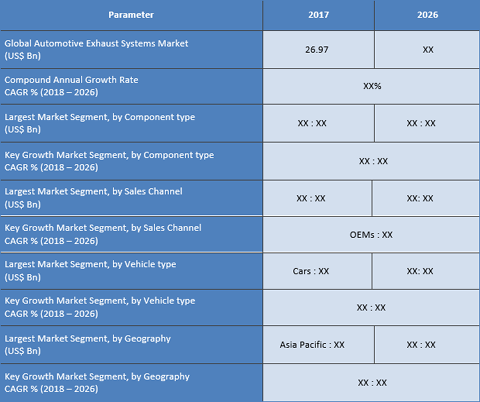 Get a sample copy for more information
"OEMs to Cement their Dominating Position in Automotive Exhaust Systems Market"
Number of players in unorganized sector offering automotive exhaust systems are far higher than in organized sector. Although lesser in number, organized sector accounts for more than 70% of turnover, globally. Growing customer focus on quality and assurance of equipment by OEMs with warranty services making it most favorable among customers. Further, with long average life span of automotive exhaust systems, aftermarket segment lags behind OEMs due to lesser replacement demand. Similarly, to expand customer base, manufacturers are focusing on swelling their distribution network. With growing automotive production as well as strong distribution network, OEMs to retain their dominant position throughout the forecast period.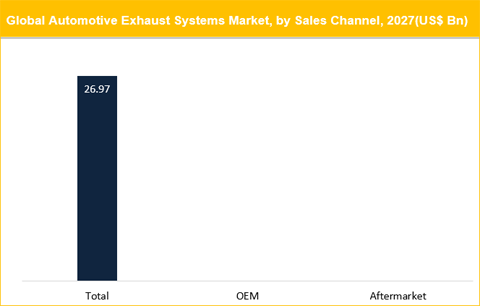 Get a sample copy for more information
"Persistent Development of Automobile Industry to Ensure Fastest Growth of Automotive Exhaust Systems Market in Asia Pacific"
At present, Asia Pacific market demonstrating more than 50% of the overall automotive exhaust systems market value, worldwide. Automotive industry is one of the major sectors driving overall economic growth of Asia Pacific. Region expected to witness comparatively higher market growth throughout the forecast period, principally due to rising production of vehicles. In 2017, China accounted for production of 24.80 Mn units of passenger cars, while Japan, South Korea and India accounting for 8.34 Mn, 3.73 Mn and 3.95 Mn respectively in the same year. Further, cost effective manufacturing base keeps the product cost lower relative to operations in Europe, North America and Latin America. Similarly, government initiatives to stimulate the automotive sector is driving the market growth here. For instance, National Automotive Testing and R&D Infrastructure Project (NATRiP), initiative by India, signifies collaboration between the Government of India and Indian automotive industry to generate a state of the art testing and R&D infrastructure in the country. With steady growth of automotive sector, subsequent automotive exhaust system market to experience promising growth throughout the forecast period.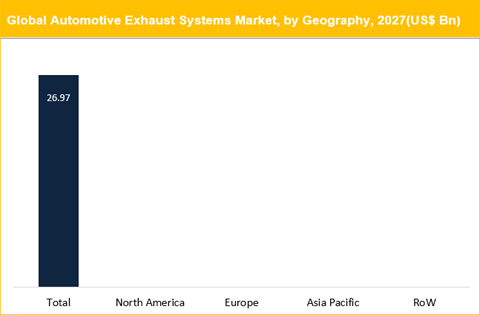 Get a sample copy for more information
"Mergers & Acquisition to Remain Key Strategy"
Automotive exhaust systems market intensely fragmented in nature with presence of both international as well as domestic players. Market players are aiming for opportunities for merging & acquisition of business to enhance their reach to customers. Prime instances includes joint venture of Eberspacher International GmbH with China Yuchai International Ltd.; acquisition of Sommer Allibert SA by Faurecia SA; acquisition of Federal-Mogul Corporation by Tenneco Inc., and others. Similarly, manufacturers are aiming for R&D activities to advance their product to follow stringent emission regulations. For instance, Eberspacher International GmbH invested US$ 181.42 Mn for automotive R&D activities. Similarly, Magneti Marelli S.p.A. has 12 R&D centers across the world. Key players in global automotive exhaust systems market includes Eberspacher International GmbH, Friedrich Boysen GmbH & Co. KG, Benteler International AG, Faurecia SA, Yutaka Giken Co., Ltd., Tenneco Inc., Futaba Industrial Co., Ltd., Magneti Marelli S.p.A., Harbin Airui Automotive Exhaust Systems Co. Ltd., SANGO Co., Ltd., Sejong Industrial Co., Ltd., Bosal International N.V. and others.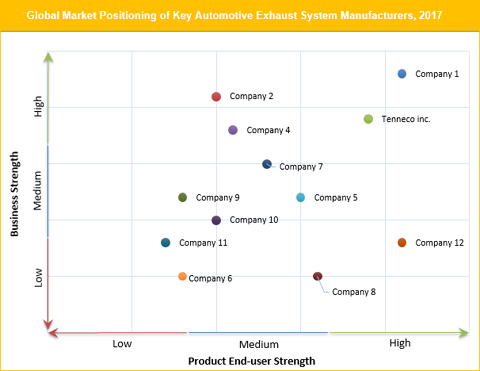 Historical & Forecast Period
This research report presents the analysis of each segment from 2016 to 2026 considering 2017 as the base year for the research. Compounded Annual Growth Rate (CAGR) for each respective segments calculated for the forecast period from 2018 to 2026.
Report Scope by Segments
Automotive exhaust systems market report provides market size and estimates based on market dynamics and key trends observed in the industry. The report provides a holistic view of global automotive exhaust systems market based on component type, sales channel, vehicle type and geography. Key segments covered in the report are as follows:
ATTRIBUTE
DETAILS
Research Period
2016-2026
Base Year
2017
Forecast Period
2018-2026
Historical Year
2016
Unit
USD Billion
Segmentation

Component Type Segment (2016–2026; US$ Bn)
• Exhaust Manifolds
• Mufflers
• Catalytic Converters
• Resonators
• Exhaust Pipes

Sales Channel Segment (2016–2026; US$ Bn)
• Original Equipment Manufacturers (OEM)
• Aftermarket

Vehicle Segment (2016–2026; US$ Bn)
• Two Wheelers
• Cars
• Heavy Vehicles
• Buses & Trucks
• Others (Three Wheelers, Industrial Vehicles etc.)

Geography Segment (2016–2026; US$ Bn)
• North America (U.S. and Rest of North America)
• Europe (U.K., Germany, France, and Rest of Europe)
• Asia Pacific (Japan, China, India, and Rest of Asia Pacific)
• Rest of World (Middle East & Africa (MEA), Latin America)
Key questions answered in this report
What was the market size of automotive exhaust systems in 2017 and forecast up to 2026?
Which is the largest regional market for automotive exhaust systems?
What are the key market trends observed in the automotive exhaust systems market and outlook for automotive industry?
Which is the most promising component type, sales channel and vehicle type in automotive exhaust systems market?
Who are the key players leading the market?
What are the key strategies adopted by the leading players in market?
What are the key automotive production trends across different geographies and sub-geographies?