Enterprise video comprises various one-way and two-way solutions such as video conferencing, web conferencing, webcasting & webinars and video streaming. These solutions are used for various applications such as corporate training, learning and development, knowledge sharing and others. Using enterprise video solutions enables business organizations cut-down significantly on the overheads required for traveling and accommodation of their employees in different locations. Additionally, since these solutions offer good scalability and reliability, the organizations can simultaneously connect/address to large number of people irrespective of their location. The market is highly driven by the rising adoption of video solutions in corporate enterprises so as to sustain in the ever-competitive industries.
One of the most important trends among the business enterprises is shift towards BYOD. This has led to increase in adoption of the cloud-based video communication solutions. With the overall growing shift towards cloud-based solutions, the market for cloud-based video solutions is estimated to expand substantially in the coming years. Although issues including limited channel capacity, frequency spectrum shortage, and complexity related with the deployment resulting in increased up-front cost have somewhat marred the market growth, the ongoing advancements in wireless technology are expected to tame the impact of these challenges over the forecast period.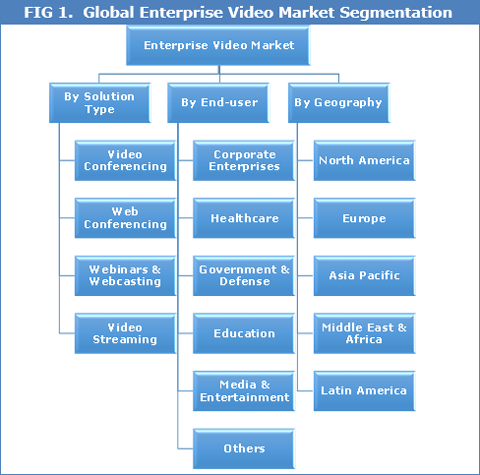 The report titled "Global Enterprise Video Market- Growth, Share, Opportunities and Competitive Analysis, 2016 – 2023" offers strategic insights into the global video solutions industry along with the market size and estimates for the duration 2014 to 2023. The said research study covers in-depth analysis of multiple market segments based on solution types, end-users and cross-sectional study across different geographies. The study covers the comparative analysis of different segments for the years 2015 & 2023. The video conferencing solution considered under the scope comprises revenue generated from both on-premise as well as cloud-based solutions. The market revenue for on-premise segment has been evaluated considering the basic components i.e. hardware, software and services. The report also provides a prolific view on market dynamics such as market drivers, restraints and opportunities.
In order to help strategic decision makers, the report also includes competitive profiling of the leading video solution vendors, their SCOT (Strength, Challenges, Opportunities and Weaknesses) analysis, market positioning and key developments. Some of the major players profiled in the report are Cisco Systems, Inc., IBM Corporation, Polycom, Inc., Avaya, Inc., Microsoft Corporation, Huawei Technologies Co., Ltd., Alcatel-Lucent and Netflix, Inc. among others. Other in-depth analysis provided in the report includes:
Current and future market trends to justify the forthcoming attractive markets within the enterprise video industry
Market fuelers, market impediments, and their impact on the market growth
In-depth competitive environment analysis
Trailing 2-Year market size data (2014 – 2015)
SRC (Segment-Region-Country) Analysis
Overall, the research study provides a holistic view of the global enterprise video solutions market, offering market size and estimates for the period from 2016 to 2023, keeping in mind the above mentioned factors.