Lime being an important raw material used for chemical manufacturing finds profound application as metallurgical flux, in waste and water management, agriculture industry, pH control in industries, construction and others. Calcium oxide (CaO) is lime, which is produced through calcination of limestone including calcined limestone, ground limestone and hydrated limestone. Production of lime is a complex industrial process and delivers two product forms quicklime and hydrated lime.
The growth of lime market is primarily fuelled by recovering and new construction activities in emerging economies along with urbanization due to rise in disposable income of middle class, resulting in expansion, upgrading and huge demand for infrastructural improvements. This has in turn led to intervention from both private as well as public players' at national and international levels for infrastructural improvement and improved export possibilities to neighboring countries. In addition, lime manufacturers have switched to modern kiln ensuring crushing, quarrying and screening in an efficient manner for improving usage of lime from building and construction to road building, where lime is used for clay soils stabilization along with significant demand for lime in mining industry. Globally, in developed countries there is indigenous production of lime as compared to less developed countries, characterized by limited lime production and distribution.
Based on the product type, lime market is categorized into quicklime and slaked/hydrated lime. In terms of revenue contribution, quicklime segment accounted for major share of the global lime market. It accounted for 84.7% market share in 2016. However, slaked/hydrated lime segment is anticipated to record the highest CAGR during the forecast period. Slaked/hydrated lime segment growth is attributed due to rise in demand from application such as flue gas desulphurization (FGD), waste water treatment, incinerators and water desalination, as usage of hydarted lime results in softening, improved hygiene during desalination of water and pH adjustment.
Based on end-use application, the lime market is segmented into building and construction, agriculture, waste-water treatment, paper production, and others (sugar production). Among these, mining and metallurgy accounted for major revenue share in the global market, capturing 36.7% share in 2016. Building and construction accounted as the second largest segment and accounted for 22.5% share of global lime market in 2016 and is expected to further increase during the forecast period. The market is driven by growing demand for lime in environmental and agricutlure sectors. By 2025, sugar production, paper production, and environment industries is anticipated to record significant growth.
By geography, the global lime market is categorized into regional markets viz., North America, Europe, Asia Pacific, Latin America, Middle East and Africa. In 2016, Asia Pacific was observed as the largest market for lime. Increase in both commercial and residential construction activities, rising advocation of government for infrastructure development, increasing mining activities for copper, zinc, nickel, gold, silver and aluminum are some of the factors bolstering lime market growth in this region.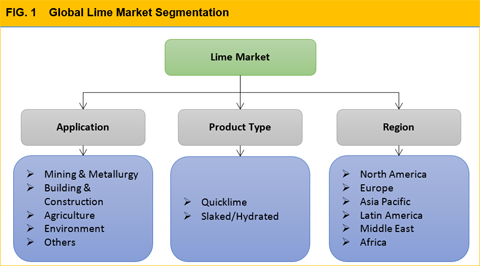 The report titled "Global Lime Market - Growth, Future Prospects, and Competitive Analysis, 2017 – 2025" offers strategic insights into the global lime market along with the market size and estimates for the duration 2015 to 2025. The said research study covers in-depth analysis of multiple market segments based on application, product type and cross-sectional study across different geographies. The report provides a prolific view on market dynamics such as market drivers, restraints and opportunities.
In-depth analysis provided in the report includes:
Current and future market trends to justify the forthcoming attractive markets within the lime industry
Market fuelers, market impediments, and their impact on the market growth
In-depth competitive environment analysis
Trailing 2-Year market size data (2015 – 2016)
SRC (Segment-Region-Country) Analysis
Overall, the research study provides a holistic view of the global lime market, offering market size and estimates for the period from 2015 to 2025, keeping in mind the above mentioned factors.